Hacienda notes that the rich pay few taxes in Spain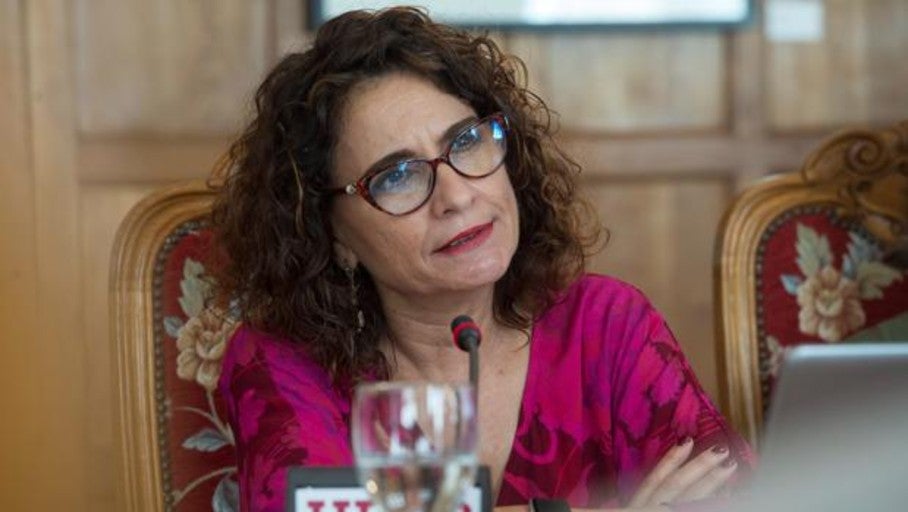 MadridUpdated:
The Acting Finance Minister, María Jesús Montero, has defended this Monday in Santander the need to "correct" and "revise" some taxes, such as Companies, Inheritance, Donations or Municipal Capital Gains, since, in his opinion, traditional taxation "is becoming less adapted" to current economic activities and to the "challenges" of the globalized world.
As an example, Montero considers that an "element to be corrected" are the benefits and exemptions of the Corporation tax because the ability of the great fortunes is being inferior to that of small and medium enterprises and "no longer responds to how the economy moves in the world and there are many areas that are not well reflected".
This is what the minister said during her speech at the inauguration of the course 'Imposition on wealth' of the Menéndez Pelayo International University (UIMP), which has been attended by several economists and lawyers with the aim of discussing how to tax and distribute wealth adapting to new market niches, economic activities and global challenges such as climate change.
Specifically, Montero has invited to debate on whether figures such as the Heritage tax, the Inheritance and Donations tax or the municipal capital gains tax have a correct regulation, since "its reason for being is discussed" and, in the case of inheritance , among the citizens «it seems that it does not make sense» For this reason, it has indicated that when a tax is "delegitimized" it may have to be subsumed in other fiscal figures to present it again as "a just subject".
In addition, he said that "the majority" of these "delegitimized" taxes are transferred to autonomous communities or local entities. He has alluded to that the taxation of the autonomous communities is «permanently in discussion»And has opined that the different territories are" fostering unfair competition to the bottom ".
Montero explained that fiscal co-responsibility is bound by the territorial model of the country and regretted that, "unfortunately", this exercise of co-responsibility "has not always resulted in an increase in the collection capacity", but has been used as an instrument electoral and "bait" so that citizens are inclined towards a certain political formation.
Therefore, he has urged «Update» those fiscal figures in the next regional financing debate, "that has to be already and that is urgent", and in which there has to be a "consensus" and see "if it is worth working on a policy of harmonization".
On the other hand, he insisted that Spain must "lead" and "be the vanguard" in international debates on tax issues and that is why it has already proposed measures with a Europeanist vocation.
In this regard, he said that Europe has to have a "harmonized" taxation and to address issues such as climate change, analyzing in a "globalized" way what energies to encourage, what industrial behaviors to develop and what behaviors to lead citizens to improve the planet and health.
In this regard, he recalled the case of the US, where millionaires "were claiming a greater ability to contribute to the taxation of the country because they believed that social justice was a tax on large fortunes," in a country "that has been always peculiar in this matter and has not made the welfare state a sign of identity, "he said.
For this reason, he believes that Spain should generate greater trust in institutions and make fiscal justice "a banner", speaking of redistribution of wealth linked to putting "in the forefront" the fight against inequalities and allow political stability And social.
In this sense, he has defended the need to carry out a "fiscal pedagogy" so that citizens see "meaning" and "usefulness" to taxes and "identify" the public services they receive with the contribution they make.
In this way, he regretted that «It seems that the downward taxation is what is fashionable»And has argued that« there is no progress if there is no social justice », so he trusts in reaching a consensus to find the« magic formula »that indicates how much" what is fair "that citizens contribute to« get the services fair ».
The minister has emphasized that she does not share the "dogma" that the taxpayers' money "where it is best is in their pockets", for her "a mantra" that is repeated "machacona" in the electoral campaigns. "It has never been proven that a decrease in the contribution is translated into an economic stimulus or a greater collection capacity," he has ruled.
For this reason, he has defended that taxes are the basis of the social status and the "essential" instrument for progressive parties that aspire to citizens being equal regardless of their level of income or place of origin, so they should know that what they pay throughout the year "in the end reverberates." "I do not think there is that feeling and we will have to work on making it visible," he said after detailing that each citizen receives about 4,174 euros average per year through the services you use.
In this sense, it has considered that if the greater part of collection is obtained from the middle class, this must see fulfilled demands in the public services, and for this it is necessary to "revitalize" them and "expand the offer of benefits".
Finally, he warned that "a country that renounces this task of analyzing and redistributing wealth and fiscal justice, is a country that will delve into social fractures, intergenerational gaps and lack of solidarity."
In addition, he pointed out that the taxation of wealth in Spain only represents 0.32% of public income and that the distribution of wealth is "more unequal than the personal distribution of income", since the richest 10% of the population accumulates 50-60% of wealth, and the poorest half only 5 or 10%, as indicated.
(tagsToTranslate) hacienda (t) rica (t) espana



Source link