Gull Lasègue, the challenge of serving twice as many people with bulimia and anorexia with the same resources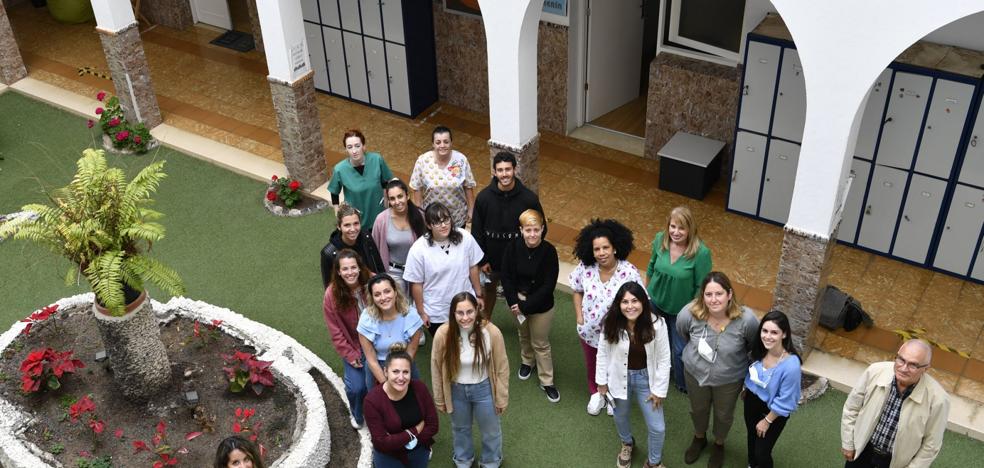 The incidence of eating disorders has grown after the pandemic and the association assists 140 patients in Las Palmas. Receive the same amount of Health since 2013
Eating disorders (EDs) are serious conditions of mental health that require a
specific health care that the public health system hardly offers. To cover this gap, in 1999 the
Gull Lasègue Association which, 23 years later, still barely fulfills this role. "We are nothing more than a group of relatives who founded the association before the
lack of system to treat these disorders as required by a disease of such severity", explains the president of the association, Miguel Suárez.
A few days ago, the collective launched a campaign in
change.org for
warn of the scarcity of means to deal with disorders such as bulimia or anorexia and demand more resources to respond to the increased demand that this association is assuming. "Right now we are serving some 140 affected people and we have another 20 on the waiting list," says Lindsay Ramos, a social worker for the association, who assures that, after the pandemic,
the number of people assisted by the group has doubled based in the Fátima Center, in the capital of Gran Canaria. "In 2021 we attended 145 new patients and so far in 2022 another 40 new ones," Ramos details about the work of the association whose main economic support is a
annual health subsidy of 100,000 euros, an amount that has not changed in the last nine years.
SERVICE DATA
Incidence
In the first half of 2021, the average daily diagnosis of eating disorders in the Canary Islands was 6.3 cases per day

day center
Some 35 people use the Gull Lasègue therapeutic dining room every day and receive psychological therapy

Ambulatory care
Weekly 130 people go Gull Lasègue to treat their disorder

Resources
Eating disorder patients are referred to mental health units. Health plans to create specific units for these pathologies this year
Most of those who come to the association do so on the recommendation of their doctors from family, professionals from the Mental Health Units or specialist doctors, but they are not referred through official channels. "Ideally, there would be a protocol for cases of hospital admission, but it all depends on the professional. From the Insular Materno they call us to come to the day center and have a follow-up, "explains Ramos about the most serious cases that require hospitalization for having a body mass index of less than 15. "
After hospital discharge, that person is not cured of the disorder. They are limited to taking a minimum body weight», explains Ramos about an ailment that has skyrocketed in young people. A) Yes,
while in 2019 and 2020 the average number of daily cases of eating disorders diagnosed in the archipelago was 2.2 per day, in 2021 the daily average rose to 6.3, that is, triple. "It is the most common chronic disease in adolescents," says Ramos.
However, adds the social worker,
there is no specific unit to address eating disorders.«
You can't fight an eating disorder with a date every two or three months, but it requires a shock work with an interdisciplinary team that addresses the problem from the psychological and nutritional point of view, through the
therapeutic dining room», Suárez points out.
From the Canary Health Service, they affirm that since 2009 there has been an action protocol to deal with eating disorders that establishes multidisciplinary teams to deal with the disease in the 33 mental health units of the archipelago. This network has two day hospitals for children and adolescents, although hospital admissions are made in the Pediatric hospitalization wards or in the Brief Psychiatric Internment Units.
The Ministry of Health plans to have specific outpatient and inpatient health units for patients with eating disorders throughout this year.
Until that arrives, Gull Laségue alone faces the increase in demand with the same resources as a decade ago.
Unheeded by Health

The main source of resources for the Gull Lasègue Association is an annual subsidy of 100,000 that it has been receiving since 2013. Since then,
demand has grown, as has the number of professionals and the services they provide to people affected by eating behavior disorders (ED), but the amount of the subsidy remains unchanged. «From the Ministry of Health it has not been seen that they want to help us.
We have been trying to hold a meeting with Blas Trujillo for six months and he is dragging us out», explains Miguel Suárez, president of the entity declared of public utility in 2011.
At Gull Lasègue a team of
16 professionals health psychology, nutrition, nursing, administration, social work, cooking and cleaning services. These people take care of
inform and advise people affected by eating disorders and their families and offer them nutritional, psychological and social treatment.
The Cabildo de Gran Canaria, which contributes 60,000 euros for the therapeutic dining room, gives the facilities of the Fátima center to the association, which are attended by
daily 35 people. There they have lunch, snacks and receive individualized treatment, in addition to participating in group therapy.
Another 130 people come weekly or fortnightly for outpatient treatment.
«
The economic survival of the association is not guaranteed», acknowledges Suárez, who asks the Canary Health Service to «get wet as it does with other diseases».
In any case, Suárez is confident that the association will disappear when public health attends to these disorders. "As long as they don't," he says, "we will continue to be vigilant and demanding."