Guiniguada celebrates World Theater Day with 'Diario de un loco'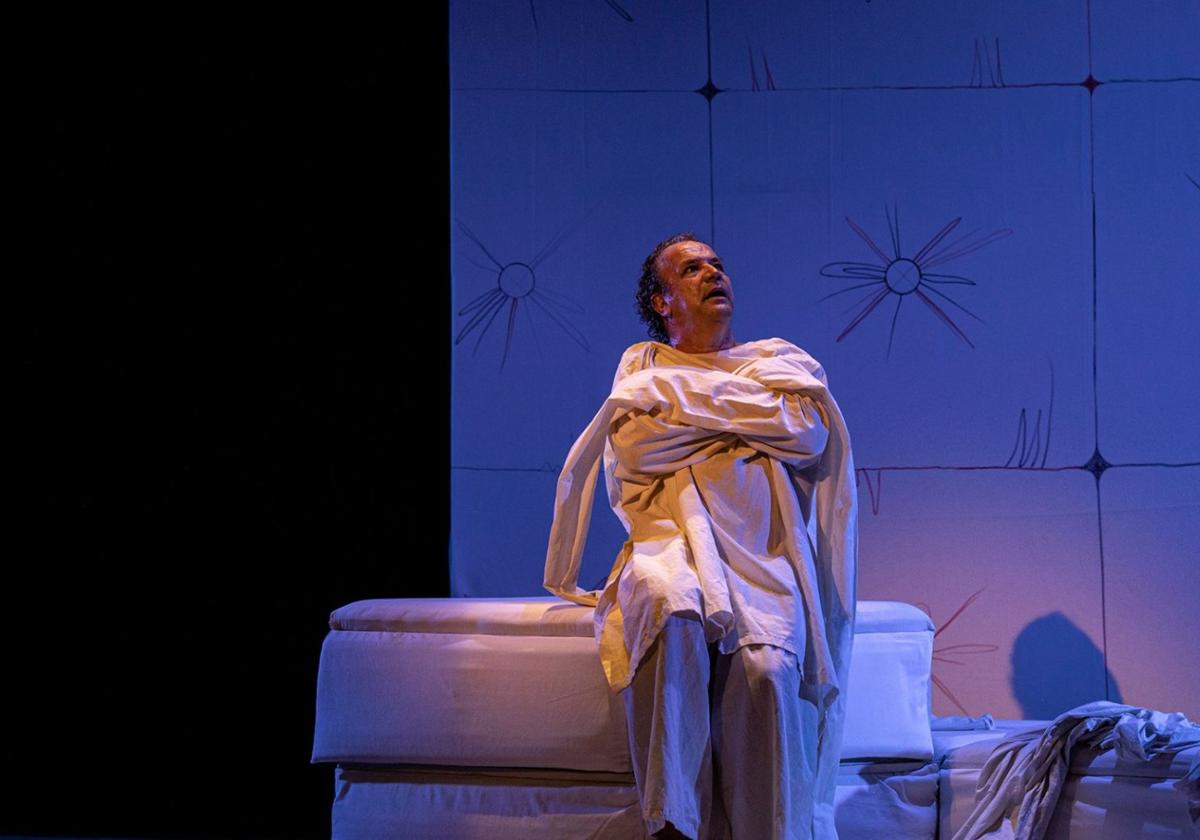 The Guiniguada Theater in the capital of Gran Canaria advances the celebration of World Theater Day this Saturday, the 25th, at 8:00 p.m.with the staging of 'Diary of a madman'a narrative that, in the form of a diary, recounts the descent into hell of madness of an administration official who ends up believing himself to be the King of Spain. Admission is free, but you must pick it up at the box office of the stage space managed by the Government in the capital of Gran Canaria.
Prior to the performance, as every year, the message will be read for World Theater Day, which is celebrated every March 27, and which this year is authored by the actress Samiha Ayoub (Egypt). In the Guiniguada, the person responsible for sharing it will be the actress Maria Carmen Sánchez
'Diary of a madman' is the most recent production of Prophets of Bar Furniturespecifically the latest work by one of its founding members, Juan Ramon Perezwho passed away last November, so this appointment with the theater is also a Tribute to the director, author and actor.
On stage, Fernando Navasinterpreter of the character created by Gogol in this version of Miguel Angel Martinez.
Navas is Pedro Petrofich Petrovthe only interpreter of this work structured as a diary, written in the first person by its unique protagonist on his way to madness.
The original text, from 1835, is a tale of Nikolai Gogol, a benchmark for Russian realistic narrative, although it cultivated various genres, especially dramaturgy. He is the author of fundamental works of universal literature such as 'Dead Souls' or 'The Inspector'.
'Diary of a Madman' is an example of Gogol's characteristic humor and a work that anticipates the bases of the Kafkaesque character. Miguel Angel Martinez amplifies and provides mythical and metatheatrical references.
The work affects the validity of the mechanisms by which a simple "misfit and misunderstood" functionary comes to want to be a great little dictator who intends to impose a type of universal personal justice», explains Martinez.
«Thus, although his gaze towards the character may to be acidic or spermeponic, he contemplates it in its individual and radically human dimension; in his role as a victim or scapegoat of a society that continues to ignore the delusional chasms of totalitarianisms open at the feet of the unwary, the weak or the wicked," says the author of the version. "Because unconsciousness, weakness and wickedness they have always existed and they are paths that can fatally converge towards the same hell of a collective unreason, "he adds.
'Diario de un loco', premiered in September of last year, counted for the creation of stage and sound spaces with Bartholome ruano and manual artilesrespectively.