Guillermo Busutil draws ideas in the air with his "word bow ties"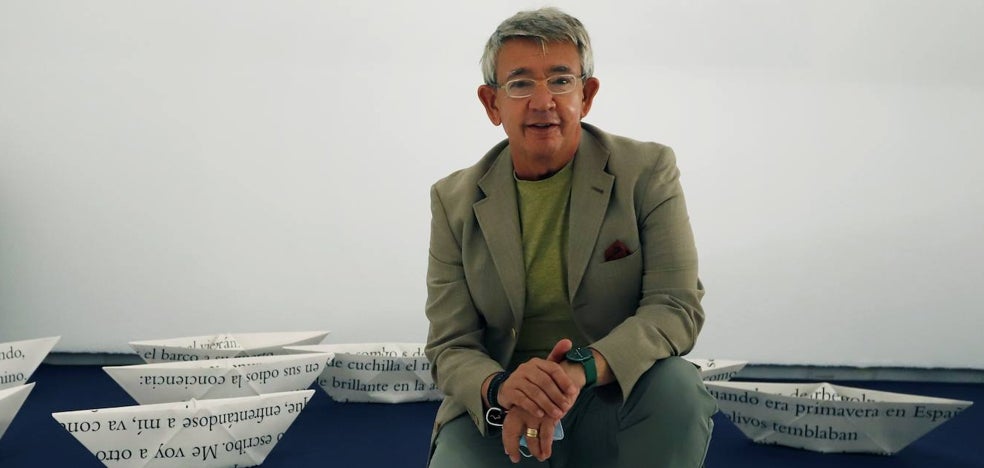 In 'Papiroflexia', the writer and journalist brings together hundreds of aphorisms in a special tribute to books and reading
"Writing aphorisms is like drawing thoughts in the air with words." This is assured by Guillermo Busutil (Granada, 61 years old), a writer and journalist who has culminated his first and successful foray into the ancient and demanding genre with 'Papiroflexia' (Fórcola). It is the particular and heartfelt tribute to the book and to reading by the winner of the 2021 National Award for Cultural Journalism, for whom reading is "the origami of the imagination" and a beneficial miracle that "allows us to do without almost everything."
His editor, Javier Jiménez, put him in the bind of bringing together in a single volume the brilliant flashes that Busutil is used to disseminating in his articles and texts. And he went further. Thus, of the 751 aphorisms that 'Papiroflexia' contains, 90% are newly coined and 10% come from previous texts.
Busutil carefully collected and illuminated these "bow ties of language", always halfway between philosophical thought and play with the lexicon that refer us to the greguerías of Ramón Gómez de la Serna, to the sharp maxims of Lichtenberg or La Rochefoucauld, or to the luminous aerolites of Carlos Edmundo de Ory. "It's about taking its geometry from language and drawing ideas with words," insists this polyhedral author from Granada who lives in Malaga, clarifying the essence of a book "that aims to leave questions and echoes."
He likes, he writes, "disobedient books", "writers with a frontier vocation" and "being alone with words". Thus, in 'Papiroflexia', he gives us phrases that, like butterflies and conch shells, flutter and whisper in our imagination, inviting us to read the books that have been accurate compasses in his life in the life of the author 'La Cultura, dear Robinson' and former director of Mercury magazine.
His great little book is also the mirror of an era that still passes from paper to bit, from the page of paper to the pages of light from a screen, «which create mirages that induce us to see what they want us to see ». She celebrates, however, the always beneficial effects of reading and the love of books. With them, Busutil establishes a lucid and loving relationship "through the self, through childhood, the creation of the reader, through the spaces and ideas that reading and language generate as a border space or through the sharpness that the word demands."
For Nuria Barrios, who prefaces 'Papiroflexia', the book is proof of "an intense love of imagination, language and books". «The same love that moves the sun and the stars, as Dante wrote in the 'Divine Comedy'. Without him, nothing is worth it, "concludes the writer.