Guillem Serrat: "I started cooking like a joke in confinement, but I played Play"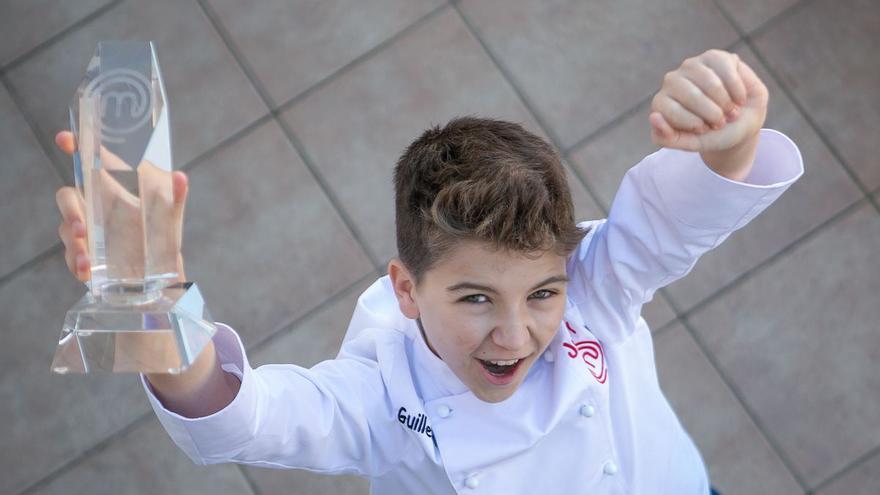 He already dazzled in the first program for his safety and organization, but in the final of this Thursday, at the time of the plating of his complex menu composed of those things that allow avant-garde techniques such as avocado popcorn, cheese spheres and the siphon cake, the Tarragona Guillem Serrat, it was already shown to his 12 years like a pro. The "winning horse" of Jordi Cruz, his 'mini-me', as the member of the jury confessed, stood with the triumph of 'Masterchef 9' and a promising future as a chef. Blessed lockdown which led him to cook.
By advancing the final, on Monday you will already be able to tell your secret at school. Did it cost you to maintain it?
Very much. But I knew that one day I could say it and that's it. And at school they will receive me as they are: with party, party and party.
During the contest you showed your mastery. But with the plating of the final menu it was already clear to everyone that you would win. Have you rehearsed it a lot?
I had practiced it, yes.But in the end I changed a few things on the fly. How it has to be done in the kitchen ...
Was the menu for the final duel your creation?
Yes, I made it myself. But the professional touches and the nitrogen I had to do with someone, because it was not someone my age. And then I was reading, looking at restaurant menus and how a menu has to be presented. And doing a tribute to Catalonia was because he saw that everyone was doing it to someone. And as all the dishes had something from my land ...
The kitchen bug got you into confinement. Instead of playing Play, you started a profession.
It has to be said that he also played Play (laughs). But I was amused. I started off as a joke. At first it was not so much passion, but it was a way of not wasting time.
Jordi Cruz saw his 'mini-me' in you. Did you think a lot about not failing him?
Obviously. I was already a fan of 'Masterchef' and I saw that he was the most critical judge. As Jordi was from Catalonia and a perfectionist, I really liked him. And when he told me that ...
'Masterchef' started when you were 3 years old. You have grown up watching it. Did you imagine that one day you would go and win?
I am the typical one who does not know anything. There were people who showed me YouTube videos and at that time I was cool just because of the suffering of the children. But in the confinement I began to pay more attention to the kitchen of 'Masterchef'. I saw it on Fridays, because during the week I couldn't. I told my mother that I wanted to sign up, but we thought that registration was closed. And it was not like that. And, although they put a lot of cane into me, I passed the 'casting'.
You said that before you went to bed thinking that you were worthless.
Me, as a student, of course not. But I had not found what I liked. Well, I liked soccer, but, although I was not terrible at it, I was not super good either.
How good that you are so clear about being a cook. Is it what you will study?
At the moment I am going to pass ESO, but I would like to train in these types of schools. They ask me if I plan to open a restaurant. But first I have to think about an ESO and a high school, in case this does not suit me. I think about the future, but not so much.
When they gave you the duelist jacket, you slept with it to give you superpowers. You also took to the duel the saint that Pablo, your companion, gave you. But what are your superpowers really?
Very well I don't know. I am very crazy, but creative. And having clear ideas and trusting me is what has made me win the contest. And having a hand, obviously, because it is not to believe it, but if not, you do nothing.
Paula Alós, winner of 'Masterchef 4' has a program on El Super 3 and has even broadcast the Parade. Would you like to do something on TV?
Before my passion for cooking I already liked this world. If something comes out I'll accept it, obviously.