Guilherme Hage: "These games are the ones that every player wants to play"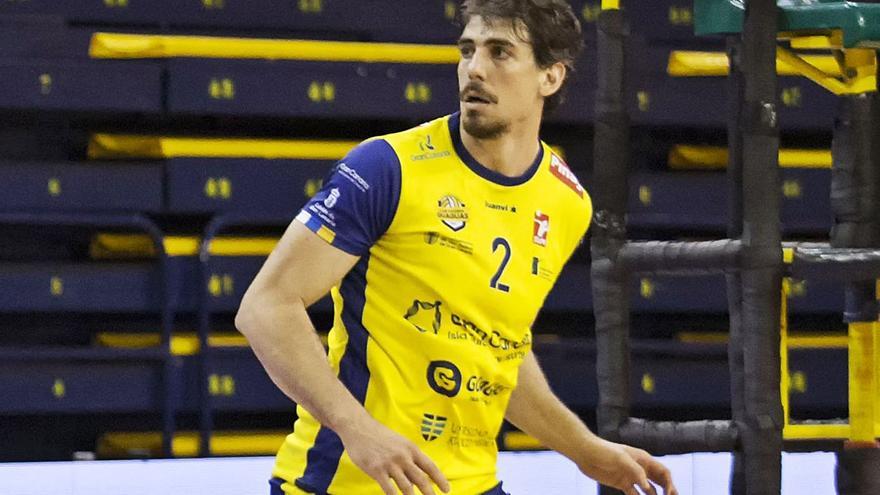 The Guaguas, tomorrow, can certify their pass to the final of the Men's Super League if they beat Melilla in their fort in the Insular Center.Does he arrive with the lesson learned after what happened in the first set of last week's clash in Melilla, where started losing and then came back?
In that first set we did a rotation that did not hook, but it is something natural. When you play a semi-final, it is not a match the same as the regular season. Melilla has come this far because it has a level. The important thing after that first set was to remain calm, to remain lucid both technically and tactically to overcome a game that became very difficult. On their court, they are a very difficult opponent, but now we play at home and everything is different, we are stronger.
How was the preparation for the match?
Playing last Friday was good for us because we had a day and a half off, and we were able to have a strong new week of training. We have continued to insist on physical preparation to get fresh and energetic to the next. Also, after seven months training together, the most important thing is to focus on the details and try to continue with those positive feelings. So I think that extra day has been good for us.
Is coach Sergio Miguel Camarero pushing them more now that the decisive moment of the season arrives?
Squeeze, we all squeeze. Sergio is very demanding and wants the best of us, but it has been like that all season. Even so, at the moment it is not necessary to squeeze us more than necessary because the players are aware of what we are playing and it shows in training. You see a change of chip with which we have gone to more. The team is united thinking about the objective, when I say the team I mean the board of directors, the technical staff and the players. When we all go together, it becomes so much easier.
"We take the pressure off the favorite by focusing on a single goal, and that is now Melilla"
At what point is the Guaguas for this final stretch of the season?
These playoff games are what everyone wants to play. You train and prepare all year round to play these qualifiers. It is the most beautiful of the season. We are in a good moment and our mentality is to go to death for Melilla. We have to leave everything on the court to close the pass to the final, we cannot hesitate now.
How does Guaguas take the pressure of being favorite to the title?
We are very focused on tomorrow's game and we don't think beyond that. Since we started the playoffs, we have thought that every game is a final. We don't look at what's being said or the regular league standings. We try to take the pressure off ourselves by focusing on a single objective, and that is Melilla.
Do you look askance at the other semifinal with everything that is happening, with the first point for Teruel after not playing the first match due to a positive at Almería and then not finding dates?
Everyone is trying to take advantage of the situation we are experiencing with Covid. Whatever happens between Teruel and Almería, I didn't like that that first game wasn't played. I don't think it's a problem for either team, the rules should be a bit more flexible.