Guide to get a new emoji to join mobile phones around the world | Innovation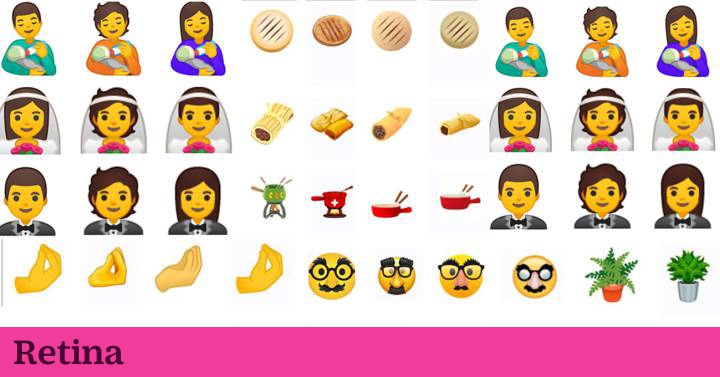 The olive will have its own emoji. Its incorporation into this list of symbols was approved on January 29 and throughout this year it will appear in the applications of our mobiles along with other developments such as a polar bear, an accordion, a plunger, a matrioska or the flag that represents transgender people.
Although the queen of tapas was already part of the pictogram symbolizing a cocktail, for the Lebanese entrepreneur Ziad Wakim was not enough. "I am passionate about Mediterranean food and I feel a special connection with this ingredient because my paternal grandfather had olive trees in his town in Lebanon and was selling olives and oil to complete his salary," he tells EL PAÍS Retina from Paris , where he lives since he was 8 years old.
So when Wakim learned that anyone can propose the inclusion of new emojis to appear on WhatsApp, Twitter, Facebook and other applications, he did not hesitate: "They are closely linked to the Mediterranean culture, but in reality the olives are quite universal and easy to represent with a drawing, so it seemed like a good idea to incorporate them into the language of emojis. "
The extension of this vocabulary does not obey anyone's whim, but the decision of Unicode, the consortium that regulates the encoding of characters and symbols so that they can be reproduced correctly on any device. And as a general rule, convincing this association is a slow and laborious task that can be expedited with the help of Emojination, an online community that Wakim turned to to refine its proposal and ensure that it fulfilled all Unicode requirements.
There are currently 3,304 emojis, including variants of gender and skin tone.
Emoji 13.0, the latest Unicode update, includes 65 new emojis. As many of them include variants of gender and skin tone, the final figure of this consignment is 120.
Of the 65 new emojis, 40 have had the help of Emojination, 15 were ideas presented by individuals and the remaining 10 were from institutional Unicode members.
Unicode marks a fork of between 50 and 100 new emojis for each update, although the figure approved each year is usually about 60.
Emoji activists
Wakim discovered Emojination during a talk from its founder, Jennifer 8. Lee, which in 2015 created this network of collaborators with the purpose of making the process of choosing new emojis more participatory. "Until then it cost much more than a particular request to overcome the entire Unicode bureaucracy, so the approval mostly fell to the white engineers of San Francisco who were part of that consortium.
Their decisions were not malicious, but they were quite biased because they were based too much on their own experiences, "according to Sebastián Delmont, a Venezuelan software developer who collaborates on Emojination and responsible for the arepa emoji, also included in the last batch of January. As Delmont explains, this community is usually coordinated through a group of Slack with more than 300 members (although of them there are actually about 30 assets on a regular basis) to which Wakim went.
"I felt an emotional connection with his proposal because my uncle had a dozen olive trees in the French Mediterranean, so I immediately joined his idea and we started working on it together until we had the final document", Recalls Delmont.
In practice, this network of collaborators provides free technical help to individuals who initiate a campaign in favor of a new emoji: from how to submit the application in the appropriate format to the design of the first draft of the icon, through data collection that demonstrate the relevance of the proposal and justify that it will be widely used globally. "Unicode is very receptive to this kind of help. In fact, the founder of Emojination is now part of the Consortium Emojis Subcommittee, so we are very involved in the process, "says Demont.
To get an idea of ​​the Emojination success guarantee, 40 of the 65 new emojis approved in January they had the help of this community, while another 15 were ideas presented by individuals and the remaining 10 were from institutional members of Unicode, among which are large technology firms.
For example, Google, very involved in this matter because it is responsible for designing emojis for Android devices, has been accepted five of their requests, presented with the following names: person with veil, person with tuxedo, person who feeds a Baby with a bottle, two people hugging and slightly smiling face with tear.
Jennifer Danil, Director of Design for the Emojis Program for Android, said in a statement that these proposals respond to two objectives: prioritize inclusive designs that support all gender variants and help people express empathy. In the same vein, Google and Microsoft have supported the campaign initiated in a private capacity by seven activists for the approval of the transgender flag emoji.
One of the authors of this candidacy is Tea Uglow, creative director of the Google Creative Lab in Sydney, who points out that all those groups that are not represented in these symbols understand the importance of having visibility on the screens, in the movies, in the magazines and in any language. "Trans people can be proud to say transgender with an emoji. Having our Unicode partners support us by giving visibility to this has been a great step for our community, "says Uglow.
Applications for emojis that will be approved in 2021 must be submitted before March 31, 2020. If the proposal is to convert an existing pictogram into Unicode into emoji, the deadline is extended until September 1, 2020.
Once submitted, the applications will be sent in order of reception to the Unicode Emojis Subcommittee, which meets weekly by phone to evaluate the proposals. Jennifer 8. Lee, founder of Emojination, is part of this subcommittee.
The subcommittee will reject proposals that do not meet the selection criteria, which are generally those that ask to represent logos, specific people or deities. If there are applications that need improvements or clarifications, the authors will be informed so that they can be sent corrected again.
Proposals selected by the subcommittee will be sent to the Unicode Technical Committee (UTC), which meets for one week every three months to discuss all issues concerning the consortium, not just those related to emojis.
During the first three meetings of the UTC, candidates will be provisionally selected to be part of the new shipment of emojis. In the fourth quarterly meeting, those that will finally be incorporated into the Unicode list will be approved. The voting members are Adobe, Apple, Facebook, Google, Huawei, IBM, Microsoft, the Ministry of Goods and Religious Affairs of the Sultanate of Oman, Netflix, Oracle, SAP, the Government of Bangladesh, the Government of India, the Government of Tamil Nadu, the University of Berkeley, Monotype Imaging and Emojipedia.
In early 2021, the consortium will communicate the new emojis. From there, the owners of the different operating systems and applications (Apple, Google, Facebook, Twitter ...) must design the corresponding icons for their respective platforms, so that they will appear in a staggered manner on our phones.