Guide to action against coronavirus | Society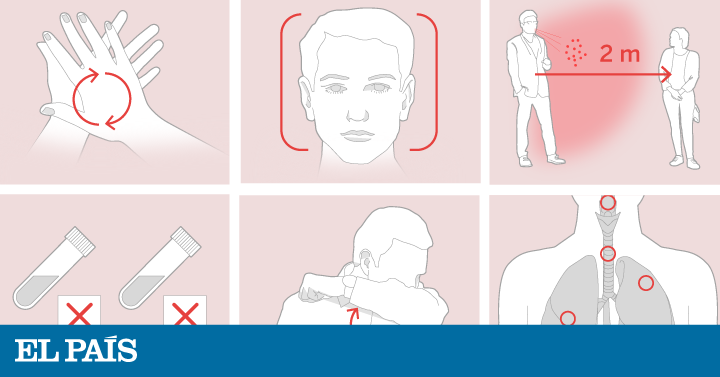 If you suspect you have Covid-19, the disease caused by the new coronavirus Born in the Chinese city of Wuhan, or have questions about how to protect yourself, this guide includes the recommendations of the World Health Organization (WHO) and the Ministry of Health on how to act in the face of the expansion of SARS-CoV-2.
1. How can I prevent contagion?
2. What do I do if I suspect that I am infected?
If you think you may have Covid-19 because it presents compatible symptoms (fever, tiredness or dry cough), has traveled to areas considered as a source of infection (China, South Korea, Singapore, Iran and northern Italy) or has been close to an infected person, follow these steps:
The most common symptoms of Covid-19 are fever, tiredness and dry cough. Some patients also suffer from pain, nasal congestion, rhinorrhea, sore throat or diarrhea.
If you have severe respiratory problems, as difficulty breathing, always seek medical attention or contact 112 or your local emergency service. Any person who is hospitalized for an acute respiratory infection will undergo a coronavirus test when other possible infectious causes that may justify the clinical picture have been ruled out, regardless of whether it has been in close contact with a person infected or if he has traveled to an infection site in the previous two weeks.
3. How do I know if I have been in close contact with a positive case?
It is considered "close contact" when it has remained at a distance of less than two meters from a probable or confirmed case for a continuous time (it will depend on each case and the criteria of the authorities or doctors).
4. What will you ask me if I call emergencies?
5. What is the coronavirus test?
The test is based on the sampling of the respiratory tract. It is done by a health worker at home, usually when the case study is asymptomatic or the symptoms are mild, or in a health center, if the patient is admitted by a serious condition.
If the test is negative, the case is dismissed. Only if it is positive or inconclusive, new samples are taken, which must be sent to the National Center for Microbiology (CNM):
Pair of sera taken with a difference between 14 and 30 days: the first serum should be collected in the first week of illness. If it is only possible to collect a serum sample, it must be taken at least 14 days after the onset of symptoms in order to confirm the presence of specific antibodies.

Stool and urine: To confirm or rule out virus excretion by alternative routes to the respiratory tract in positive patients.
In this chronicle, an isolated patient at home tells in first person how his test was.
6. How is the test in the laboratory?
Physicians perform a test called PCR (polymerase chain reaction) in a microbiology laboratory. These are the steps:
7. What happens if they confirm that I have Covid-19?
If you do not have symptoms or the symptoms are mild, the health authorities will prescribe home isolation and extreme hygiene measures to avoid infecting caregivers, such as the use of masks, handwashing with soap and water or an alcohol-based disinfectant. Most people (about 80%) recover from the disease without the need for any special treatment.
If the symptoms are severe, they will recommend hospitalization. There is no specific antiviral medication to treat Covid-19. Most patients recover with the help of support measures to relieve symptoms.
8. How do I know that I have healed?
9. Can I get it again?
There is no scientific evidence to show that a person who has been infected with SARS-CoV-2 can become infected once the disease is over.
10. What phone number should I call?
Check in this list the phone numbers that the autonomous communities have enabled to report the coronavirus:
| | |
| --- | --- |
| Andalusia | 955545060 |
| Aragon | 061 |
| Asturias | 112 |
| Balearics | 061 |
| Canary Islands | 900112061 |
| Cantabria | 112 and 061 |
| Castile and Leon | 900222000 |
| Castilla la Mancha | 900122112 |
| Catalonia | 061 |
| Valencian Community | 900 300 555 |
| Estremadura | 112 |
| Galicia | 900400116 |
| Madrid | 900102112 |
| Murcia | 900121212 |
| Navarre | 948 290 290 |
| Basque Country | 900203050 |
| The Rioja | 941298333 |
| Melilla | 112 |
| Ceuta | 900720692 |