Guide not to get lost in level 2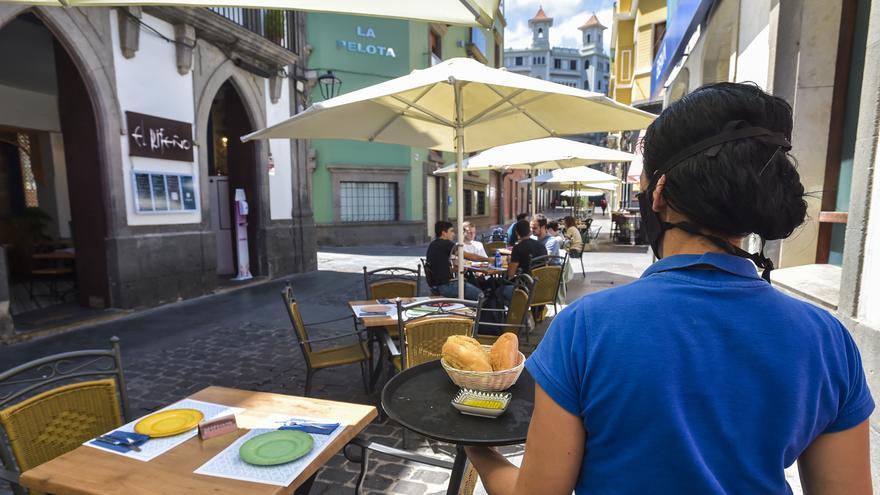 Social life. Level 2 raises from 4 to 6 the maximum number of people that can meet both in public and private spaces -except cohabitants-. As in the other levels, the mandatory interpersonal safety distance of 1.5 meters on public roads and the use of a mask are maintained.
Curfew. The limitation of the freedom of movement of people between 11 p.m. and 6 a.m., authorized a week ago in GranCanaria, is maintained.
Restoration. Outdoor terraces at 75% capacity, with a maximum of six people per table. Inside bars and restaurants are opened, with 50% capacity and four people per table. Bar consumption is authorized in groups of a maximum of two people and marked spaces. Buffet and self-service are only allowed outdoors. The establishment and the pick-up service on the premises must close before 23.00. One of the measures that must be applied for the first time in GranCanaria is the obligation of bars and restaurants to keep a record of each customer who consumes inside the premises. He must provide his name and surname, his ID and a contact telephone number. Said information, which must also include the date and time of the service, must be kept at the disposal of the health authorities for one month. In tourist accommodation establishments the same rules are maintained as in restaurants, but the assisted buffet is allowed inside and outside.
Parks The opening of playgrounds and the use of children's and sports urban furniture are allowed, provided that prevention, cleaning and disinfection measures are respected.
The opening of playgrounds and the use of urban sports furniture are allowed
Sport and physical activity. In this phase the capacity in outdoor facilities of sports centers rises to 75%; and in group activities in which it is not possible to maintain the distance of 2 meters permanently, groups of a maximum of 6 people including the monitor are allowed, with mandatory use of a mask. The safety distance of 2 meters between the different groups must be guaranteed at all times. Inside gyms and sports centers, the allowed capacity increases from 35 to 50%. In federated sports modalities that require a number greater than 10 participants for the development of competitions (for example, football), it is allowed in level 2, to exceed this number up to the maximum; and federated sports competitions are again allowed except for those modalities that require continuous interpersonal physical contact with the opponent. The use of the mask is mandatory except in those individual ones outdoors and in which the distance of 2 meters can be permanently maintained with other participants.
Religion. In places of religious worship and at wakes and funerals the capacity is raised to 50%. The rest remains the same, 20 people outdoors, 10 indoors and a maximum of 25 people in entourage for burial and farewell ceremonies of the deceased, and 5 in cremation.
Labor sphere. 50% capacity in common spaces: toilets, office, meeting rooms or entrance.
Groups of up to six people can meet on the beaches, and the capacity increases to 75%
Culture. In cinemas, theaters, auditoriums and stable cultural spaces, the public can be accommodated by groups of stable coexistence of up to 6 people. In museums, exhibition halls, libraries and other cultural centers, the allowed capacity will be 50% and maximum groups of 6 people.
Beaches. The capacity rises to 75% and up to 6 people can meet.
Perimeter closure. Entry into level 2 implies free entry to the islands that are on level 2 and below by air and sea.