Guanche people and Villa de Agüimes, to the playoff of the Aguas de Teror Championship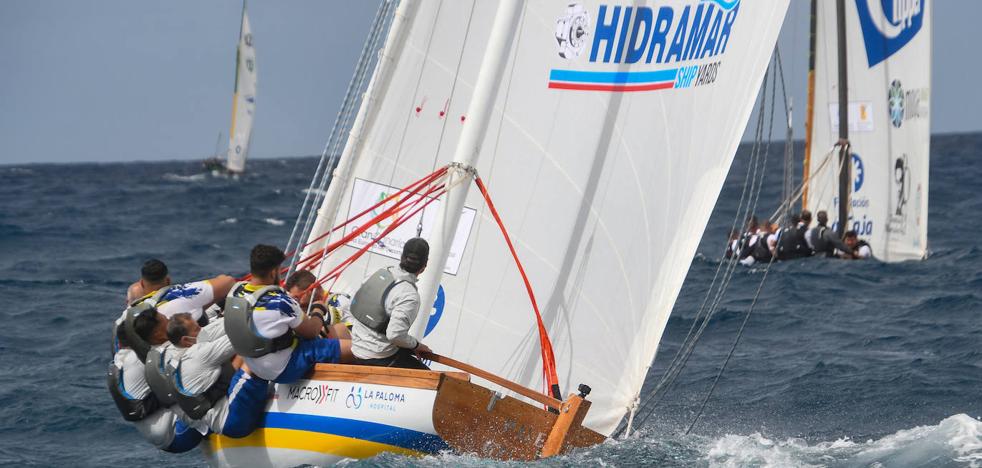 latin sail
They defeated Morales and Villa de Teror in their struggles
Spectacular regatta on the sixth day of the
Aguas de Teror Championship of Canarian Latin Sailing. Two very close matches between four boats with aspirations to qualify for the playoff in which two winners emerged: Hospital La Paloma Pueblo Guanche and Villa de Agüimes Ybarra.
Lace conditions at the start were quite tough, the intense waves made it difficult for the boats to navigate when they started the regatta from La Marfea. Thus, in the first leg of the regatta, the boats that came out ahead imposed their dominance. Villa de Teror, with Cristóbal Peñate at the helm, and Poeta Tomás Morales Clipper, with Gustavo del Castillo at the helm, controlled their opponents well into the course of the regatta course in the bay of Las Palmas de Gran Canaria.
ANDhe Villa de Agüimes by Alejandro Rodríguez would be the first to surprise his rival and take the lead at the height of the cathedral and completed the route in 1:09:49, with almost two minutes ahead of Villa de Teror.
Once past the breakwater, José Ponce's La Paloma Pueblo Guanche Hospital would do the same, beating Morales in an exciting match that was not decided until the end, in fact, it was necessary to wait for the official times to verify that the victory of Ponce's would produce by just two seconds difference, although a penalty at the start of Morales would increase the final distance by ten seconds.
A time of 1:12:16 gave the victory to the Guanche.
Hospital La Paloma Pueblo Guanche and Villa de Agüimes already qualify for the playoff for the title of the Aguas de Teror Championship, where Minerva Hotels Vistaflor Idamar and Puerto de La Luz Fundación Puertos de Las Palmas were already waiting, as first classified in group B.