Guaguas gets into the semifinals of the Copa del Rey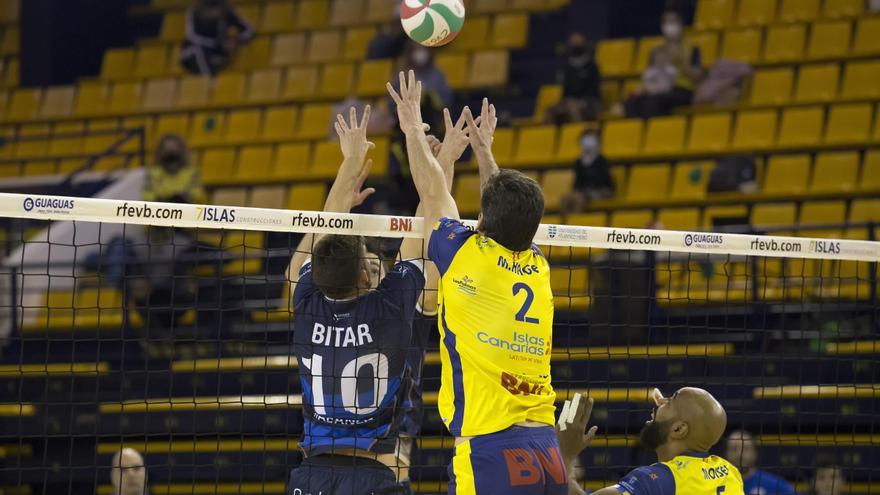 The Guaguas Volleyball Club went to the semifinals of the 46th edition of the Copa del Rey volleyball by beating Rotogal Boiro VB this Friday by fast track (3-0) in the third match of the quarterfinals of the tournament.
The match started with a 4-0 (6-2) run for the Guaguas hosts, who maintained and increased their income a few minutes later (12-4), a difference of eight points that Boiro would be unable to recover.
The players from Gran Canaria were superior to the Coruña players during the first round and they took it 25-18 (1-0).
The second set also started 3-1 for Guaguas and, although Boiro had no problems to equal five, the locals cut their streak and started again with a partial 7-0 (13-6).
The income of the yellows continued to increase and they won the set by a resounding 25-13.
The third and last heat of the game followed the same dynamic as the rest of the game: Guaguas dominated the game from the beginning with a partial 4-0 (6-2) against a very unfortunate Boiro.
The difference in the scoreboard increased in favor of the host team (12-5) and, although the Coruña reacted and got a little closer (15-11), they could do little against the superiority of their rival, who sealed their victory with a (25-17).
Guaguas will face Unicaja Costa de Almería in the semifinals this Saturday, February 6 at 5:00 p.m., which beat Melilla Sport Capital (3-2) in the first quarter-final match.
Data sheet:
3. CV Guaguas: Guilherme Hage, Moisés Cezar, Paulo Renan Bertassoni, Jorge Almansa, Matt Knigge, Alejandro Fernández (libero) and Pablo Kukartsev. Coach: Sergio Miguel Camarero.
0. Rotogal Boiro VB: Joaquín Gallego, Francisco Fernández, Gaspar Bitar, Felipe Benavídez, Mario Iglesias, Adrián Alves (libero) and Juan Pablo Moreno. Coach: Emilio Palacio.
Partials: 25-18 (24 min.), 25-13 (22 min.) And 25-17 (21 min.)
Referees: Ángel Romero Martínez and Antonio Correa Benítez.
Incidents: third match of the quarterfinals of the Copa del Rey volleyball 2021 played behind closed doors in the pavilion of the Centro Insular de Deportes de Gran Canaria.