Griezmann unleashes ecstasy in the Metropolitan in the 101st minute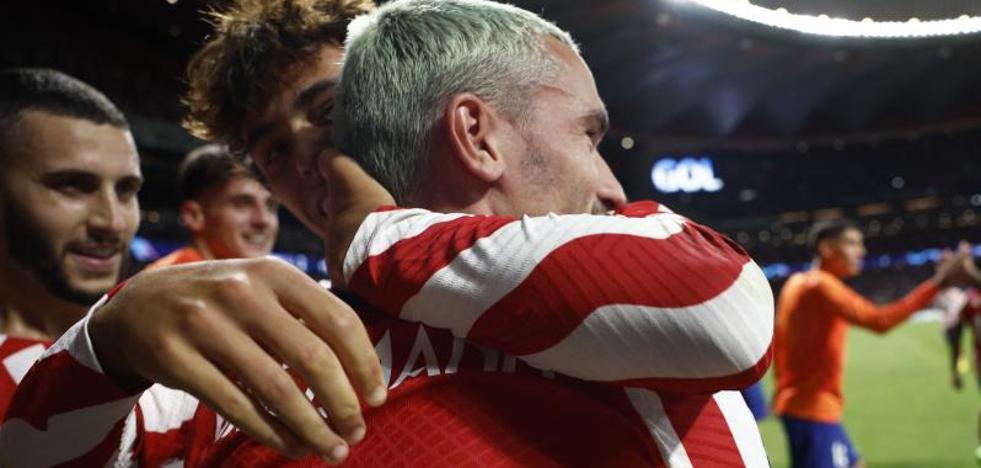 Group B | Matchday 1
After Hermoso was hero and villain in added time, the Frenchman gave Atlético an incredible victory, with many doubts against Porto
When the game was already dying and Atlético was heading to suffer a new disappointment in its debut in the Champions League against Porto, the head of Antoine Griezmann unleashed ecstasy in the Metropolitan. Thanks to a corner kick that Witsel also headed and the French striker finished in front of the goal line, Atlético won an incredible victory in the last play of added time, in which Mario Hermoso was hero and villain. The Madrid defender scored a goal to reconcile himself with the same crowd he recently faced, but just three minutes later he committed a penalty for an absurd handball and Atlético was again forced not to stop believing until the final whistle. Against ten, the rojiblanco team had one last bullet to fix such a black night and it had to be Griezmann, the substitute blocked by Joao Félix and Morata and by the clause that would force Atlético to pay 40 million to Barça, who returned the joy to a team with many doubts, on the field and on the bench, and a crowd that celebrated the victory as a title.
Atlético had to wait until minute 101 to take the victory after a crazy extension time, because until that final stretch the solidity of the Portuguese champion, led in the center of defense by ex-Madridista Pepe, despaired the rojiblancos in a game in which Diego Pablo Simeone's team was weak at the back, lacked football and depth to create clear chances and gave a bad image. At 39 years old, Porto's veteran central defender was imperial against the colchoneros and left in nothing the details of Joao Félix's talent, who, like his teammates, went from more to less, stuck before Porto's order, beaten at the end by the call to alarm of the colchoneros. Very imprecise, Atlético caressed defeat before that unimaginable final stretch, saved twice by Oblak, who recovered from the blow he suffered against Real and was able to defend the goal.
Given Porto's dominance and the inability of the local lanes in defense and attack, Simeone withdrew Nahuel Molina and Carrasco at half-time to modify his usual 5-3-2 system, which did not give him any results in a bland first half in which Atlético was deflating. However, after delaying Saúl to the left back and returning to 4-4-2, he retired the player from Alicante at the hour and returned to another test. The last straw for the rojiblanca fans, after Morata's substitution was called, was the tremendous boo that Simeone received when he took Joao Félix off the field, the only one who, amid so much lack of control and lack of clarity, seemed to be able to surprise Porto. However, it would be the substitute for Saúl who saved Atlético.
two
Athletic
Oblak, Molina (De Paul, min. 46), Giménez, Witsel, Reinildo, Carrasco (Lemar, min. 46), Llorente, Koke, Saúl (Griezmann, min. 61), Joao Félix (Correa, min. 71) and Morata (Beautiful, min. 68).
1
Port
Diogo Costa, Pepé (Joao Mario, min. 62), Pepe, David Carmo, Zaidu, Otávio (Bruno Costa, min. 77), Uribe, Eustáquio, Galeno (Gabriel Verón, min. 88), Evanilson and Taremi (Toni Martínez , minute 77).
Goals:
1-0: min. 92, Beautiful. 1-1: min. 96, Uribe, from a penalty. 2-1: min. 101, Griezmann.

Referee:
Szymon Marciniak (Poland). Yellow cards to Pepé, Koke, Uribe and Hermoso, and to Taremi, on two occasions, for which he was sent off in the 81st minute.

Incidents:
Match corresponding to the first day of the Champions League group stage, played at the Metropolitan. Some 55,000 spectators. In the preliminaries, tribute was paid to Paulo Futre, who suffered a heart attack two weeks ago and was present in the box.
The mattress team insisted on attacking through the center and crashed again and again against Pepe, and also defended very poorly, allowing too many arrivals to a team that lacked forcefulness up front to strike at the Metropolitano. Atlético also scored in the 50th minute, but Koke's goal in an isolated local shot was ruled out for offside by De Paul. Also useless in creation, Atlético had too much anxiety and lacked game and temperance to overcome Porto, who were left with ten in the 81st minute and 20 minutes later could not survive the rojiblanca faith.