Greta's trip to the "right side of the story" | Society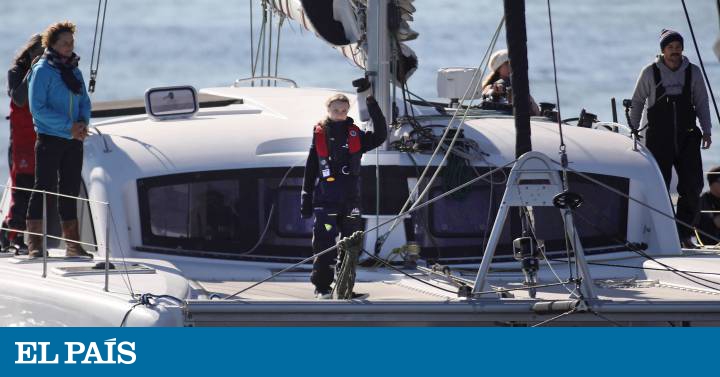 Greta Thunberg crossed an ocean 6,000 kilometers wide in a small boat 15 meters long. It took 21 days and suffered hardships and adversities, but it will be on time at the Madrid Climate Summit, as proposed, without using an airplane to avoid contributing to the deterioration of the planet. The teenage activist who has inspired millions of young people around the world was received this Tuesday in Lisbon as a hero. She then clarified before hundreds of supporters and dozens of journalists who do not expect others to make the same sacrifice. But he added that his trip is a message to the powerful to take action as soon as possible to discourage polluting practices.
"It is impossible to live sustainably today and that has to change," she said. Many of the 25,000 attendees at the Madrid Climate Summit have come to the meeting that began on Monday by plane, a medium responsible for 2% of global emissions from COtwo. Thunberg left the ship at a dock in the port of Lisbon around 1:00 p.m. local time (one more hour in peninsular Spain), carrying as usual the sign with which he began his fight 15 months ago in front of the Swedish Parliament in Stockholm: Skolstrejk för Klimatet (school strike for the weather). He said he will spend a few days in Lisbon without specifying how many, but he will surely be in Madrid for Friday's demonstration to pressure the leaders gathered at the Ifema fairgrounds. His announcement was a surprise for Portuguese activists because they thought he would travel to the Spanish capital on Tuesday night train.
He didn't add much more about his plans because, he explained, he hasn't scheduled anything yet. It is the second time that Thunberg crosses the Atlantic in a small boat. The first was in August, when he traveled to the United States for the climate meeting within the UN Assembly, in New York. This time the trip was more complicated. She had to prepare it urgently in early November, when the UN announced that the summit would be organized in Madrid instead of in Chile, where she planned to attend by land. He also encountered a much more adverse time, as expected at this time of year.
The trip was organized thanks to the power of social networks. She asked for help on Twitter and a couple of Australians who have been going around the world for years, Riley Whitelun and Elayne Carausu, offered their catamaran, The Vagabonde A British racing navigator, Nikki Henderson, lent himself to pilot it.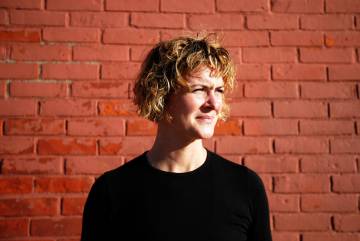 "I understand that a lady needs help to cross the ocean," Whitelun wrote to the Thunberg agent, once they made contact. They told their happy story posing with their 11-month-old baby, Lenny, in the main cabin, still messy with the remains of breakfast on the table, the coffee pot, the almond milk … They had already said goodbye to who knows when Thunberg , his father and Henderson. The three will travel to Madrid. The Australian family will leave for Lagos, Portugal. In that small room they shared a good part of the last three weeks, talking about how to change the world, and playing yaztzy, a popular dice game in Sweden.
Whitelun wanted to say something to the countless critics of Thunberg, who disqualify her as a puppet of greedy parents or billionaire George Soros. "One of the things that people don't know but I think is interesting is how much of all this is led by Greta," Whitelun said. "She is the one who is interested, the one who is motivated, the one that makes her father move, she is the one who has had these ideas," he added, denying the critics and those who have doubts about the child's authenticity. "You can't hide a farce of such magnitude 24 hours," he told them.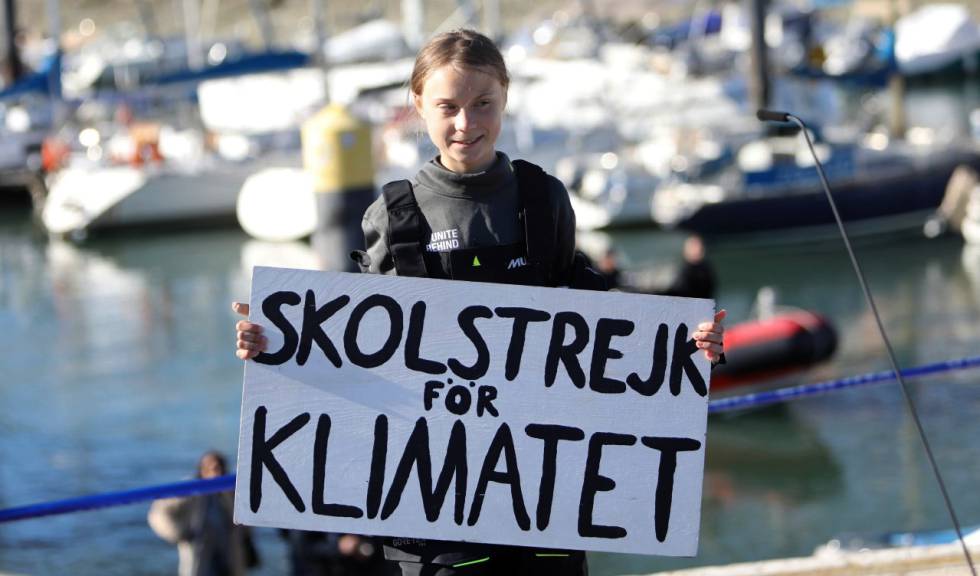 Thunberg is especially admired by minors and young people. Among the activists who approached the port were many parents with children. Rita Sá waited for hours with her eight-year-old daughter, Olivia, and a friend of the little girl, Violeta, because for them Thunberg is a "superhero." "We need inspiration to change the world together," says Sá.
At the press conference two young Portuguese spoke from the local Fridays for Future group, the global movement that follows in its footsteps. They are called that because Greta began her activism by going on school strike that day of the week. They hope this Friday is one of the biggest mobilizations so far. In Madrid, the march will take place between Atocha station and Nuevos Ministerios.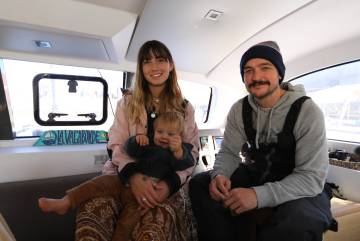 Thunberg has not clarified when or how he will arrive in Madrid, Although people close to her say that she will use the train, a medium in which she has made a good part of her travels through Europe and the United States.
In the port of Lisbon, Thunberg spoke a few words and answered questions from journalists. He said that being isolated for three weeks with so little space and few things to do has made him disconnect from everything, and getting ashore is overwhelming. "I think we need time to rest, especially me, to think about everything. Now I feel good and I want to continue now. I feel energized," he said.
He asked for pressure from the powerful so that at the summit "the voice of the people, especially that of the global south, be heard."
"Everyone has to do what they can to be on the right side of the story," he added.
One of the last night trains, likely transport to Madrid
Thunberg has not said how he will travel to Madrid, but it is very likely that the chosen medium is one of the few night trains still active on the peninsula. This train from Renfe takes nine hours and five minutes to make the route between the two capitals. It is a huge time for two capitals that are only separated by just over 500 kilometers in a straight line. For climate activists the train is preferable to the car, even when it comes to electric cars, because it is a means that demands expensive infrastructure. They believe that collective transport is preferable. In addition, many activists point out that most electric cars on the market use lithium batteries, a mineral whose extraction has a high environmental cost. That is why they defend electric cars with a hydrogen fuel cell, less polluting.
(tagsToTranslate) trip (t) greta (t) right (t) side (t) history (t) Swedish activist (t) (t) swedish (t) arrive (t) lisbon (t) catamaran (t) long ( t) long (t) crossing (t) be (t) message (t) say



Source link