Greta Thunberg, 'rockstar' in Madrid | Society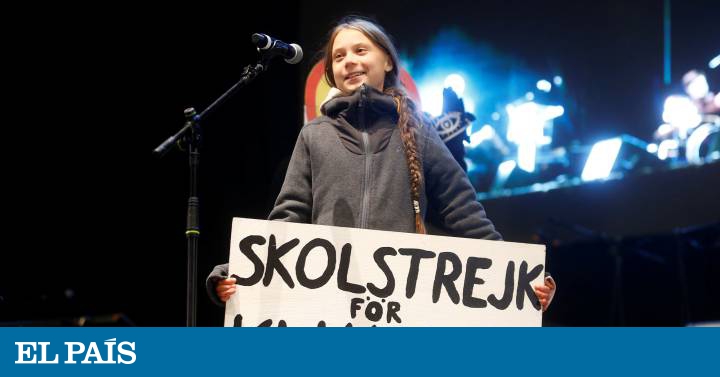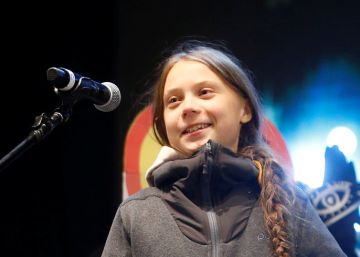 The young activist from Madrid, Tomás Castillo, presented Greta Thunberg as one more young woman, the second of four who went up on a platform to call to save the planet. But in front of them and in extra rooms in the Casa Encendida cultural center in Madrid this Friday had 420 journalists who were there for her. It was probably one of the most massive press conferences remembered in the capital of Spain.
Thunberg spoke to the press hours after his arrival in Madrid, after 36 days of travel from the other side of America, in Los Angeles, where he was surprised by the announcement of the transfer of the UN Climate Summit, from Chile to Spain. Your trip, with a stage of 21 days in a small boat, partly explains the expectation. Also that Thunberg has achieved what no other voice to increase the viability of the climate change problem. A movement of millions of people originated by an autistic teenager who one day in August 2018 missed class to protest with her banner Skolstrejk för Klimatet in the streets of Stockholm.
Thunberg, fragile in appearance and 1.62 meters tall, advanced this Friday in Madrid with that banner, often surrounded by a swarm of journalists. He arrived at Chamartín station at 8.40 with his father and other adults who accompanied her on the ship. They, as always, did not stand before the cameras to protect her. At the station there were races, shoves and some panic. A girl burst into tears in tears when she saw that the avalanche was going to happen near her. Three Mariachis waiting for her in the taxi zone left frustrated because in the midst of the chaos they did not have their chance to receive her singing.
The station was filled with curious people passing by. There were no supporters with support songs, unlike the afternoon, after the press conference. Dozens gathered at the doors of Casa Encendida to accompany her from there to the nearby Atocha station, from where she left at 6 pm the demonstration for the defense of the planet called by its movement, the youth of Fridays For Future.
As he has done other times, Thunberg did not want to monopolize all the prominence. She asked that other young locals accompany her to the press in her appearance, Shari Crespi, Alejandro Martínez and Tomás Castillo. A young woman from Uganda, Vanessa Nakate, also spoke. Thunberg has encouraged the actions of young people from the Global South, partly uncomfortable because of the criticism that their success is due to the fact that it is rich and white, since many other young people from poor countries, more exposed to the climate crisis, have not been heard .
When he saw that the journalists only asked her, Thunberg did not cut himself at the time of suggesting that they also address their colleagues on the stage. In the end, he got away with it. Everyone talked about their messages to political leaders and the future of the movement.
Fans waited for her at the door "We love you Greta." Leire and Irati, 12 and 11, came running to see the TV star. They were accompanied by Noelia, 44, who was the one who confessed as an admirer: "We want Greta despite all the conspiracy against her."
Some who passed by echoed criticism of the legions of skeptics who reacted against it. A neighbor said that girl was too young to be doing what she was doing. Thunberg's childish face deceives many, who believe he is less than his real age, 16 years and 11 months. Some think the activist is 12 or 13 years old.
"It seems too extreme," said Esmeralda Navarro, a neighbor of Navalcarnero who stopped with her husband when he saw the commotion. "It's not as easy as it seems to get what she wants." When Santiago Bueno, a 57-year-old engineer, listened to him, "Greta is only laying the foundations for a long and laborious process."
Thunberg herself is realistic, a star with her feet on the ground. "We have not achieved anything", He said when a journalist asked him about his successes in his 15 months of protests. He clarified that Fridays for Future has managed to raise people's awareness, something that is not enough. "Of course there is no victory because all we want to achieve are real measures, and that has not happened."
When he came out the door again, journalists gathered to take pictures, with elbows, shouts and some other awkward situation. Never in 17 years La Casa Encendida had concentrated so many journalists as before Thunberg, according to Cristóbal Sánchez, the program director of Montemadrid, who manages the center. There were all kinds of media, from the great Americans to other smaller activist parties. Some large news agencies accredited almost a dozen of their journalists.
The agglomeration of media gives an idea of ​​the number of interview requests and other questions that Thunberg receives daily. Several press assistants help her but she is the one who ultimately decides, they say.
For many this unprecedented attention by someone fighting for the weather is very good news. "In Spain we spend a lot of time talking about minor things, but there are other things that are overlooked," says Rodrigo Escorihuela, a 39-year-old lab worker. "This is important for all mankind."