Greta Thunberg, reluctantly star: "I don't want to be the only voice of youth" | Society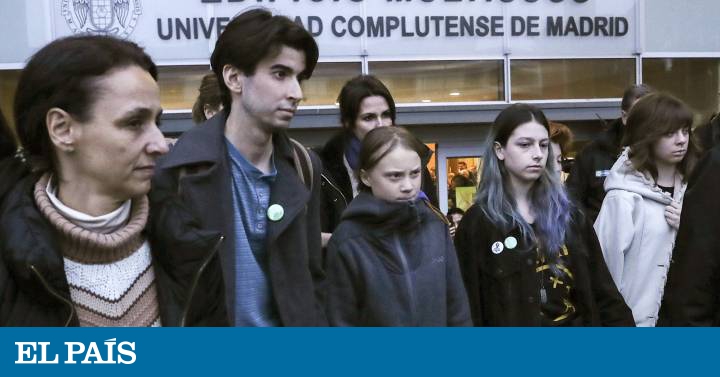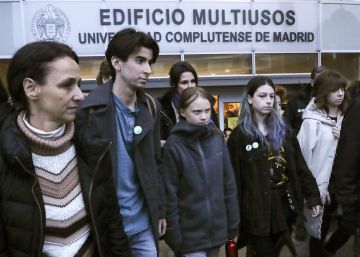 Greta Thunberg He entered this incognito Sunday in a classroom at the Complutense University of Madrid, avoiding journalists who had learned about the visit. He covered himself with a blue sweatshirt and came quickly to a classroom where in normal days Chinese students take Spanish classes. His furtive entry without official notice to the press is the Greta style, a tired star so bright, uncomfortable with a leading role that is a double-edged sword.
Thunberg was together for more than an hour with his father, his press chief and other activists in a room where the only cartel said in Spanish: "Latin America will defeat fascism! Our north is the south!" They prepared the plans for the second week of the Climate Summit, the most decisive, and had chosen the Complutense because it is the headquarters of "the Counter Summit", the meeting place of hundreds of lobbyists in favor of environmental protection .
Thuberg took the floor to say that in the two events where he is scheduled to participate, he wants a secondary role. "I don't want to be the only voice of youth at the Summit," he told them, according to people present. Journalists who had heard the rumor began to gather outside the room. The 17-year-old teenager had not appeared in a public event in Madrid since Friday, in the great march through the weather. He had to withdraw from there urgently for security reasons, although he later appeared on stage to give a short speech. Media attention is a ball that has not stopped growing since in August 2018, it started a solo protest in Stockholm. In Madrid, they had accredited for press conference he gave on Friday before the march 420 journalists, an extraordinary figure for an appearance in the Spanish capital.
It is the paradox with which it has been found. He began his first action to be heard and now his voice is preventing others from hearing. "It's absurd," he told the Swedish newspaper on Friday Aftonbladet, after causing a commotion on arrival in the morning at the Chamartín train station. "It's funny to me. I don't understand how we got to this."
"I don't like being in the center of focus all the time, but it's a positive thing," he added. "As long as the press writes about me, they also write about the climate crisis. If it's a way of writing about the climate crisis, then I think it's good."
He has dosed the interviews for a long time. She also asks journalists to look at other activists like her. Thunberg is sensitive to criticism that points out that part of his success is because he is white and from a rich country. He does not want his voice to prevent those of other young people from poor countries, more exposed to the disasters of climate change, from being heard.
At this Sunday's meeting he scheduled his agenda for next week. There will be two events at the official headquarters of the Summit, at the Ifema site: one, this Monday morning with German policy Luisa Neuebauer and other young activists. Another, on Wednesday accompanied by the American actor Harrison Ford and representatives of the movement for the weather in Chile and Spain.
According to people who participated in the meeting, Thumberg is frustrated because he does not feel that delegates from more than 200 countries gathered in Ifema are listening to the voice of the street. They have not noticed more ambitious positions, facing the final phase of the summit.
Upon leaving the classroom, he advanced protected by a dozen Spanish activists from Fridays for Future, his movement. She climbed a floor to enter a classroom where dozens of young people were waiting for her and she thanked her for her support and also excused herself for so much attention focused on her. A French activist author of a book saw the uproar and approached with a copy. Right there while Thunberg walked towards the exit he signed it in English: "With love for Greta". The Swedish celebrity rejected him with a "sorry", without appearing to understand what he wanted and the author kept the book in hand.
He left without making statements to journalists. "He is very overwhelmed with media pressure. He feels more comfortable in safe spaces," says Alejandro Martínez, Spanish spokesman for Fridays for Future. Activists say she is upset with the scenes lived on Friday. He arrived late to the demonstration that left the Atocha station because he could barely advance from the cultural center near that point where he gave the press conference, Casa Encendida. Curious people stood in their way, wanting to record it with the mobile; the press surrounded her at all times.
Thunberg is looking forward to returning to Stockholm to meet his mother, sister and dogs, according to people who have talked to her in recent days. They assume that he will not stay until Friday, the last day of the summit. At Christmas he will decide what he does in the next stage, if he adopts a more secondary role or continues to lead the movement. But whatever you do, you know that your icon character will not disappear.