Greta Thunberg in Paris: "Don't listen to the children, listen to the scientists" | Society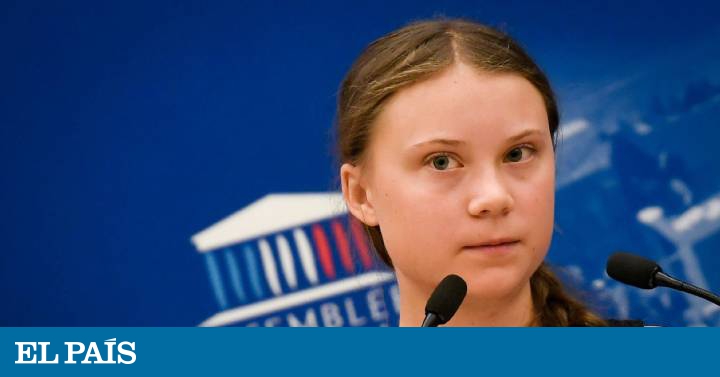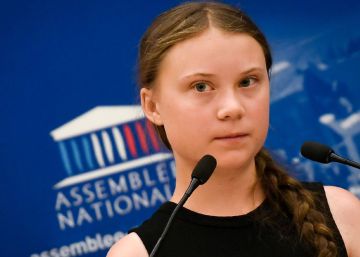 The staging for Greta Thunberg in Paris I couldn't be more eloquent. Not because she was invited to discuss in the French National Assembly, a rare, most extraordinary honor still seen at the young age of 16 years. Above all, because the Paris that Thunberg arrived on Tuesday is a city – and an entire country – almost melted by a heat surge, the second in a few weeks, which shows that the risks of climate change against those he has been warning For more than a year, the young Swedish activist has been a problem that, more than just around the corner, they are already at home.
"By 2030, if we do nothing, we will not be able to reverse climate change," he warned, very seriously, before the almost 200 deputies who came to listen to it.
The presence of Thunberg has caused a strong controversy in France. Deputies especially from the right and from the extreme right criticized in recent days the presence of the young woman, whom they called to boycott after describing her, among others, as "prophet in shorts", "apocalyptic guru", "Nobel prize of fear "Or puppet at the service of environmental lobbies. Some qualifications and absences – Thunberg and three other young French activists finally spoke in a room and not the hemiclo – that did not immute the Swedish teenager.
"Some have decided not to come here today, some have decided not to listen to us. Nothing happens. You are not obliged to listen to us, after all, we are just kids. But you do have a duty to listen to science. It is all we ask: to unite after science, "Thunberg replied, waving in his hand the latest report of the group of intergovernmental experts on the evolution of the UN climate, the Giec. In addition to against political leaders, the young woman also charged businessmen and journalists, who was responsible for "lying" about what young people like her do and for not telling what is happening or for warning of the seriousness of the climate emergency to raise awareness to society
While Thunberg spoke, all of France was sweating. The country suffers its second heat wave in a few weeks, after having registered in June the absolute record never recorded: 46 degrees in the south of the country. Paris is also preparing to beat its own record in the coming days with temperatures up to 41 degrees. The last record, recalls the France Presse Agency, dates from 1947, when the capital thermometers marked 40.4 ° C.
The drought is already a national concern and sectors such as wine are preparing for the coming coup, with a drop in production between 6 and 13% over last year, according to official estimates. In many cities of the country, "refreshment" rooms have been set up, traffic has been limited and measures have been decreed, especially for the elderly, the most vulnerable population at the moment, with a view to avoiding an episode such as the wave of heat of 2003, which left 15,200 dead in France.
From the National Assembly, Greta Thunberg took sips of water from a recyclable aluminum bottle – he has also come to France by train to pollute less – while continuing to demand that political and social leaders act at once and do it for real, not only as "beautiful public relations campaigns." "The weather emergency is today and now, and it just begins, and it will only get worse"he insisted.