Green hydrogen, the new star element of the sustainable revolution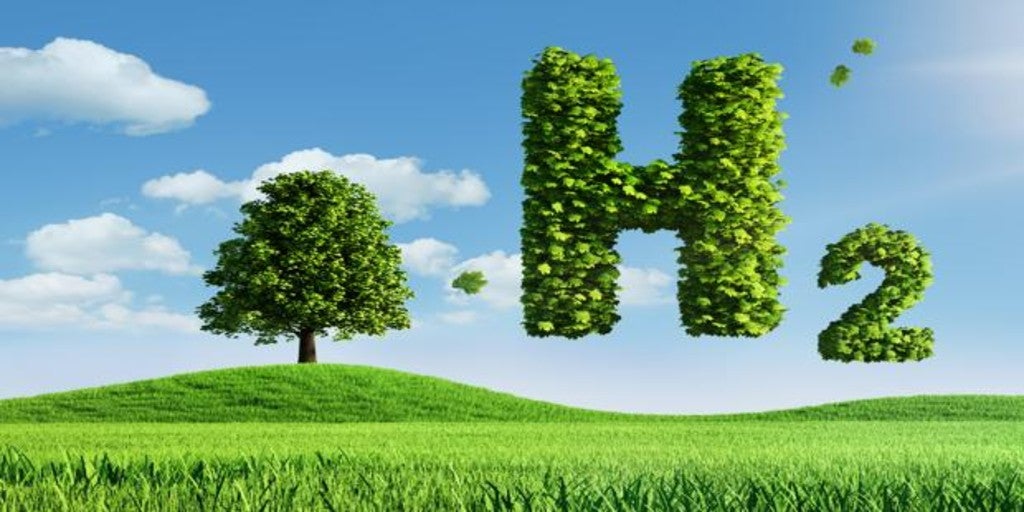 MADRID
Updated:
Keep

Hydrogen is the most abundant chemical element in the world and in its green version - there are gray, blue and turquoise - it is postulated as the best bet to decarbonize the planet. A future that Jules Verne was clear about 125 years ago when he claimed in one of his novels that water would be the coal of the future. And he was right:
green hydrogen, also called sustainable or clean, is obtained thanks to the electrolysis process, technology that allows separating the components of water, hydrogen and oxygen. A production that does not generate CO2 emissions.
The technology for its production is developed, but large-scale commercialization is lacking, a challenge that has been accepted by both the European Union (EU) and the main companies in the sector. Of the first batch of money received from the EU recovery fund (78,000 million), the Government will allocate 1,555 for hydrogen projects from 2021 to 2024.
The bet is clear, but when will green hydrogen be profitable? Javier Brey, President of the Spanish Hydrogen Association, he is clear that "Spain will supply itself with sustainable hydrogen in the management of renewable energy and in the transport, industry and residential sectors." At the moment its cost is still a stumbling block. "Today fossil hydrogen (the one used in industry), non-renewable, has a cost of two euros. And the renewable costs five euros », explains Brey, who acknowledges that "for this hydrogen to be able to penetrate the industry, the price would have to be lowered to two euros. And if you want to use this hydrogen as an alternative to natural gas, we would have to lower the price to below one euro per kilo. " However, the forecasts are promising: "We will be able to produce hydrogen at two euros per kilo by 2030. And between 2030 and 2040, below one euro," explains Brey.
This expert is clear that "in 2030 it will be cheaper to heat the house or fry an egg with renewable hydrogen than with natural gas" and points out that its implementation will not imply the disappearance of other energy sources: "The electric vector is not going to disappear in 2050. Electric current will continue to reach our house. But so will a hydrogen pipeline, which we can use to produce heat or electrical energy with a fuel cell ", adds Brey.
Future power
The characteristics of Spain show its potential for the production of renewable hydrogen. «Our country has many hours of sun and wind and we have a large geographical area to deploy plants. Spain is expected to be one of the European countries that produces the most and is cheapest, "says Brey. "The geographical location also counts. It is very well located to be the gateway for renewable hydrogen. Northern Europe will need to import renewable hydrogen, not only that produced by Spain, but also hydrogen that is going to be produced in North Africa, says Brey. All that hydrogen will enter through Spain, in the same way that natural gas from Africa enters. And also important is the cutting-edge technology that is being used by companies, companies throughout the hydrogen value chain: electrolyzers, storage, compressors, transportation, utilization.
That cutting-edge technology tastes good Marta Maroño, Coordinator of the Hydrogen Technology Area of ​​the Center for Energy, Environmental and Technological Research (CIEMAT), of the Ministry of Science and Innovation, who details the lines of research: «Now we are working on increasing efficiency and reducing costs of hydrogen production by electrolysis. The focus is on electrolyzer components to try to reduce production costs. ' With their sights set on 2030, researchers have other avenues open. "To take advantage of solar energy, work is being done on new photoelectrochemical technologies, and work is also being done on the development of fuel cell components to take advantage of mobility," says Maroño.
This expert makes it clear that the advantages of using green hydrogen are unquestionable: «Take carbon dioxide production out of the equation. A society of mobility, of industrial development based on hydrogen instead of the use of traditional fossil fuels, would drastically reduce the emission of CO2. For this expert, hydrogen is an indisputable part of the world's energy present and future. And he explains that "the availability of renewable sources and the advantages of hydrogen to fight climate change are two aces up their sleeves that countries will have to play strategically to make the most of their capacities. In this scenario, Spain has many advantages and has started to use them. And sentence: "Renewable hydrogen has come to stay and betting on it is playing a winning horse."
Transport
With 0.8 kilograms of hydrogen you can travel up to 100 kilometers. Today there are already several hydrogen vehicles. Carlos Merino, head of the Applications Unit and head of the Vehicle Laboratory at the National Hydrogen Center, explains the difference between them: "A fuel cell vehicle carries hydrogen in it, where reactions occur that result in the electricity. They have an exhaust pipe, but what they expel is water or water vapor. They are classified as zero emissions ". The autonomy of this model is around 600 kilometers and the refueling time in a hydro generator is less than 5 minutes. Hydrogen Combustion Engine (H2-ICE) engines use hydrogen or a mixture of hydrocarbons and hydrogen as fuel. "In this case there are emissions and it does not represent the model for which the industry is betting," explains Merino.
Regarding mobility, the Hydrogen Roadmap establishes as objectives for 2030 to have a fleet of at least 150 fuel cell buses (Barcelona has just carried out a tender for the acquisition of buses and Madrid has shown its interest in incorporating these vehicles), between 5,000 and 7,500 light and heavy vehicles and two lines of commercial trains powered by hydrogen (train manufacturing companies have already stated that they will have their first prototypes by 2023 and 2024). For the development of this transport, a network of 150 hydrogenerators will be implemented. In Spain we already have commercial hydrogen passenger cars, and ships and planes will also end up using it.
Employment creation
It is estimated that renewable energies will generate one million jobs in Europe by 2030 and five million in 2050. The Spanish Hydrogen Association believes that they could be create 220,000 jobs in the next ten years related to hydrogen and its technologies.
A well-defined roadmap
The UN set 2030 as the date to meet the Sustainable Development Goals (SDGs). Goal 7 aims to guarantee access to affordable, safe, sustainable and modern energy for all. This requires doubling the global rate of improvement in energy efficiency and substantially increasing the percentage of renewables in the energy mix. In 2019, the 27 Member States of the European Union signed the European Green Pact, which committed to total decarbonisation in 2050. The year 2030 was set as an intermediate point, with the forecast of reducing emissions by at least 55% with respect to from 1990 levels. This new challenge made it necessary to recalculate targets. And for this,
In 2020 the Government approved the Hydrogen Roadmap. In a first phase (2020-2024), the installation of at least 6 gigawatts (GW) of electrolysers in the EU and the production of up to one million tons of renewable hydrogen is expected. In the second phase (2025-2030), at least 40 GW of electrolyzers will have been installed in the EU by 2030 and production will be up to 10 million tonnes. In these two periods, Spain plans to reach 10% of Europe: 0.6 GW in 2024 and 4 GW in 2030. The third phase (2030-2050) will involve large-scale deployment.