Great success in the Canarian Championship of Menones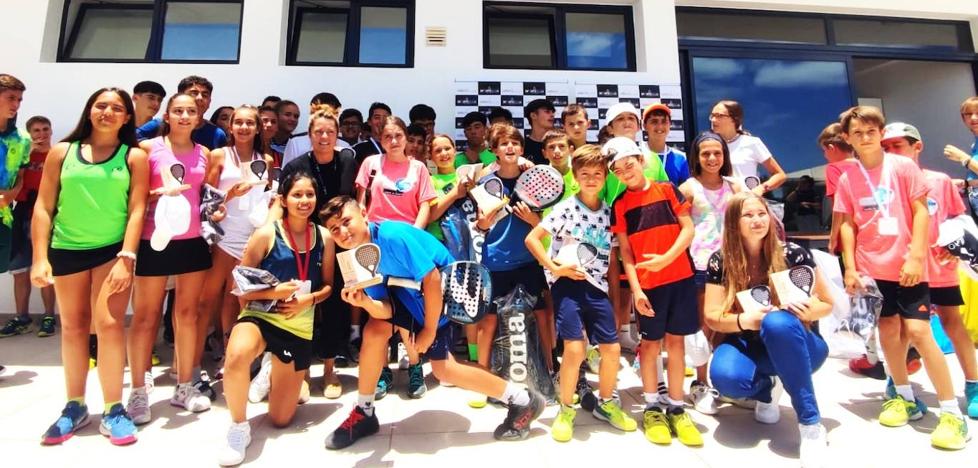 paddle
The tournament organized by the Sportsclub Puerto Calero de Yaiza had the participation of 63 couples
The Puerto Calero Sports Club of Yaiza, It was the scene last weekend of the Canary Islands Championship for Minors in the benjamín, alevín, infantil, cadet and junior categories, with a total of 63 couples. The president of the Canarian Federation, Diego Gil, was present at the closing ceremony.
The Championship was held over three days with 88 matches, the longest day being Saturday. The youngest male and juvenile, child and junior female categories were played by the league system, while the rest were played by draws with their corresponding consolation matches.
In the junior final that closed the Championship, the pairs faced each other, Borja Trujillo-Pablo Fischer and Aimar Megía-Carlos González with a final result of
2/6, 7/6 and 7/6 in favor of Trujillo-Fischer. The female junior would be played by the league system, defeating Ainhoa ​​Navarro-Michelle del Pino by winning all three of their matches.
In the cadet category, the Tomás Díaz-Saulo Torres couple won the final, defeating Diego García-Kai Hernández by 6/2 and 6/3. In the women's draw, Marta Eugenio-Raquel Eugenio and Ainhoa ​​Navarro-Lucía Benítez faced each other in the final with victory for the Eugenios by 6/1 and 6/1.
In the male children's category, Nicolás García-Bentahor Espino defeated Carlos Cabrera-Carlos Flores/6, 4/6 and 6/2and in the women's league, the couple Marta Eugenio-Raquel Eugenio prevailed by winning all four of their matches.
In fry the champion duo was Hugo León-Rayco Rodríguez by 6/2 and 6/4 to Gabriel Aguayo-Gonzalo Aguayo. In female juniors, Andrea Hernández-Nerea Santa Cruz won her three league games. Finally, in Benjamins, the pair Nathan Rubén Montoya-Gabriel Aguayo was the winner by winning both of their matches.