Granca pursues a feat against an enraged Barça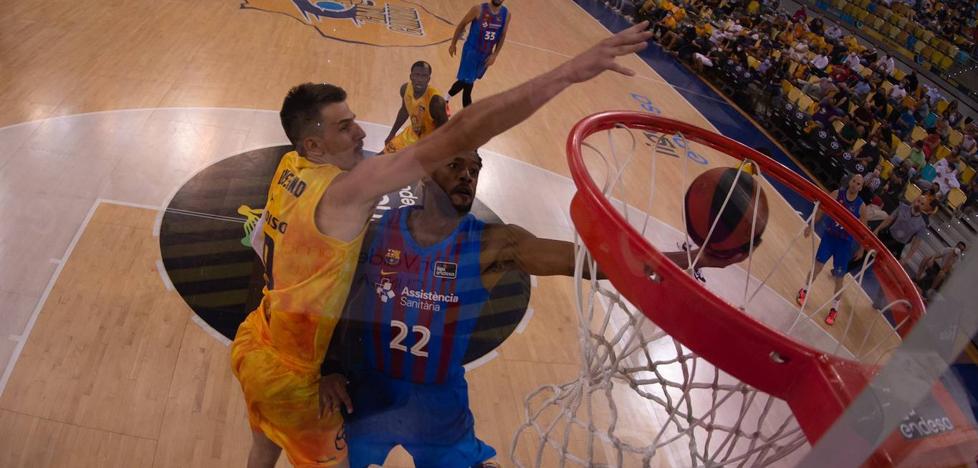 endesa league playoff 2022
The Claretian team visits this Friday (8:00 p.m., #GO) the current champion and leader of the regular phase with the challenge of going to the semifinals for the third time in its history in the Playoff
Playoff time, time to dream and believe to break with the established. It is not usually a time for surprises, but there is no fear of knocking down ocean liners either. The Gran Canaria Basketball Club, which concluded the regular phase in eighth position with a balance of 17 wins and 17 losses, begins its
eighteenth participation -has been in 17 of the last 20 editions- in the fight to win the Endesa League title.
And he does so by visiting Barcelona, ​​leader of the regular phase with 27 wins and seven setbacks,
at the Palau Blaugrana (8:00 p.m., #GO).
The Claretian Combine,
who displaced the 13 available players and must make a discardpursue the feat in a
play off from quarterfinals to three matches. The mission to assault the Barça fort, something that Valencia Basket, Bitci Baskonia, BAXI Manresa and Unicaja achieved in the current league exercise.
Porfi Fisac's squad is obliged to complete a practically perfect matchexhibiting his signs of identity, ambition and balance on both sides of the track to shake up the match against the current ACB champion.
As the Senegalese tower pointed out
Khalifa Diop to this newspaper, his rival is «
clearly one of the best teams in Europe, so it's not going to be easywe have to be very prepared for the small details that we are working on now."
For its part, Sarunas Jasikevicius' squad intends to wake up after the crash in the Final Four of the Euroleague in Belgrade, where they were shipwrecked against Real Madrid in the semifinals. An aspect that adds more pressure so as not to fail in the domestic competition.
An enraged block that, surely, will want to mark its territory and advance on the fast track.
As for the most recent precedents between the two teams, Gran Canaria does not have a pleasant memory, since this season they fell by 18 points both at the Arena (64-82) and at the Palau Blaugrana (98-80). In fact, the balance in the last ten league clashes is very favorable for those from Barcelona, ​​who have won nine times.
The last yellow victory in the Endesa League occurred on December 17, 2017 when they won at the Palau (77-88). It's time to change history.