Granca faces five finals to defend the Playoff place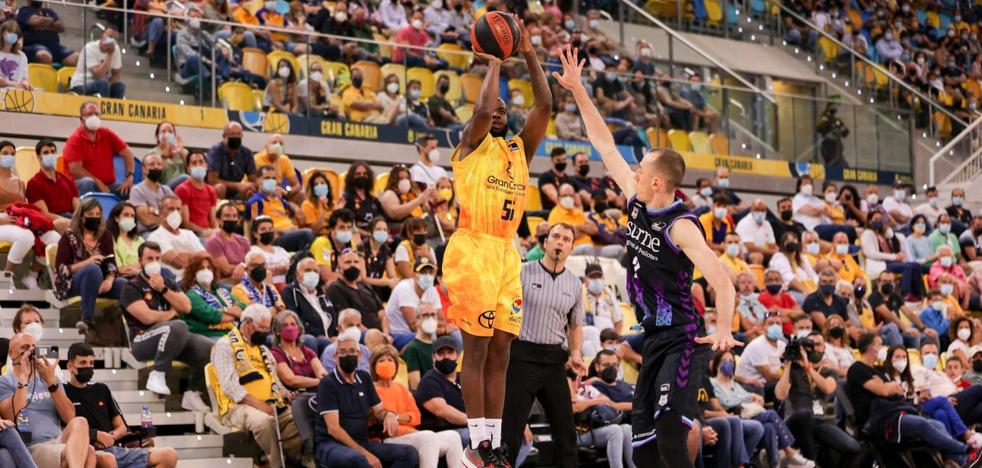 The Claretian team returns to the zone of privilege 17 days later. Sign eight wins in the last 11 dates. Obradoiro, Río Breogán, Valencia, Betis and Madrid, the rivals in the final stretch of the regular phase
Acceleration to compete in the Playoff for the Endesa League wound. The Gran Canaria Basketball Club exhibits the signs of identity, the choral strength and the depth of a complete squad to sign an encouraging dynamic and multiply its options in the final stretch of the domestic competition.
Porfi Fisac's team, which
accumulates eight victories in the last 11 league days -beat MoraBanc Andorra, Hereda San Pablo Burgos, Urbas Fuenlabrada, Casademont Zaragoza, Unicaja, Lenovo Tenerife, Bitci Baskonia and Surne Bilbao Basket and lost to Joventut, Barça and UCAM Murcia-, stormed to seventh place which gives the right to fight for title
after beating Surne Bilbao Basket and take advantage of the defeats of Bitci Baskonia and UCAM Murcia.
The balance is overwhelming in full comeback to achieve an unavoidable goal for a Claretian entity that did not obtain a ticket for the Copa del Rey. And more solid with the roar of
team-hobby binomial at the Siete Palmas venuewhere
the yellow squad has prevailed in the six league commitments played so far in the present 2022.
Some numbers to value and that feed the challenge of defending the Gran Canaria Arena until the end of the regular phase, taking into account that the Breogán River, Valencia and Real Madrid have to pass through the island.
Three major stakes to which are added two poisoned exits in front of the Monbus Obradoiro and the Coosur Real Betis.
There are five dates left full of drama and emotions with many things at stake in the privileged zone and in the quick zone of the classification.
Gran Canaria aims high and, with the challenge of the EuroCup latent as well, he longs to have all his artillery until the end.