Granada – FC Barcelona / Copa del Rey: Griezmann's praise for De Jong: "Frenkie appeared a la Pippo Inzaghi …"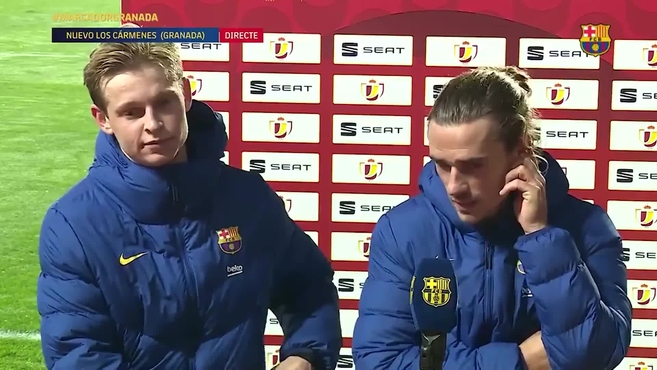 Granada – FC Barcelona / Copa del Rey
New goal for the Dutch coming from behind
De Jong and Griezmann they were together with Jordi Alba the protagonists of the goals that qualified Bara for the Cup semifinals. And the first two attended together the official media of the Bara, where Antoine praised the goal of his Dutch teammate, 3-4 that ended up unbalancing the night on the Barça side. "We have suffered a lot, when we did the third I don't know what happened, we relaxed and tied, but hey appeared Frenkie a la Pippi Inzaghi to qualify … ".
Why De Jong continues to appear in pure '9' finishing areas, with an outstanding physical waste, playing in the middle but also in the center, appearing all over the field and seeing the door again, sixth goal in the last 13 games, along with other three goal assists.
Griezmann alluded to Inzaghi, the former Italian striker who specializes in hunting goals in rejections and situations that he took advantage of thanks to his nose and positioning. A comparison that De Jong thanked him with a laugh, although the former Ajax player was only 15 when he Pippo hung up his boots.