Gran Canaria Urbaser loses in the decisive match (3-0)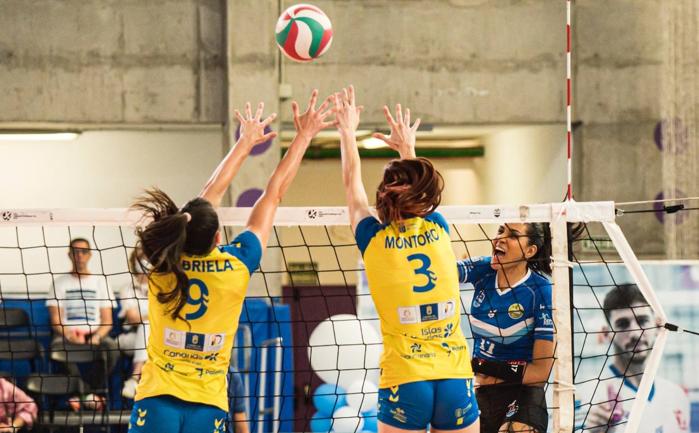 volleyball
The girls from Tenerife achieved the title after winning the last match of the tie by three sets: 25-20; 26-24; 25-23
Sanaya Libby's La Laguna was proclaimed champion of the Iberdrola Women's Volleyball League after beating Gran Canaria Urbaser 3-0 in the fourth match of the tie. A triumph achieved based on comebacks and in the three sets the Blue and Whites were forced to climb the scoreboard.
With a solid start, the yellow team obtained the first advantages (4-8) that lasted until 10-14, at which time the team from Tenerife tied the contest and from then on took the reins in the light (18- fifteen).
With great effectiveness in blocking, Sanaya Libby's culminated their great comeback by taking the set (25-20).
A similar situation was experienced in a second round in which the Gran Canaria team began dominating (8-11). Despite the search for a reaction, the yellow team defended their lead (13-17) but little by little, Haris cut back from the success of Patricia Aranda and Lisbet Arredono (22-23).
With the tie at 24, the game and the tension dragged on but with a small 2-0 run, the island team ended up winning the set.
The third round had a more even start (10-11), however, the Gran Canaria team escaped again until 12-17. The team led by Juan Diego García had to row again and once again, the Blue and Whites' determination tied the game again (21-21).
After having tied the game for the third time and being just four points away from a league championship at home, the team from Tenerife did not miss the opportunity and settled the game at 25-23.
This is how the team from Tenerife celebrates the first league title in its history and he does it with an incomparable atmosphere in his pavilion, the Pablos Abril de Taco before a devoted public. This championship puts the finishing touch to the best season that the club has had since its foundation and it is that to this title we must add the Copa de la Reina and the dispute of the final of the CEV Challenge Cup.