Gran Canaria Sports City, up to the flag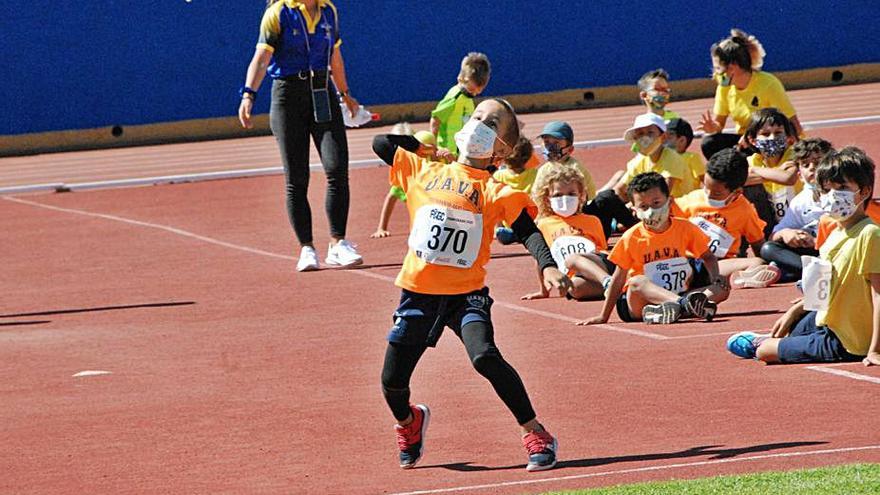 Last Saturday the athletics track of the Ciudad Deportiva Gran Canaria became a real hotbed of athletes. There a double-day marathon took place that brought together about 200 athletes, the athletes of the senior categories sharing space with the youngest promises of this sport.
The program for the athletic event consisted of 31 tests in the morning session and 35 in the afternoon. In the call scheduled by the Insular Federation, valid for the Gran Canaria Games in the case of minors, boys and girls aged between eight and 14 years competed. As for the athletes in the higher categories, from the age of 16 onwards, they competed in a control. All due to restrictions.
As the season progresses, the improvement in the marks is noticeable, especially in runs and jumps, and to a lesser extent in the throws. The junior Lucía Camacho (Tenerife Cajacanarias) stood out in the superior categories in length with 5.73 meters; HPS long-distance runners Francisco Cabrera and Saúl Castro in the absolute 3,000 meters, with times of 8.25.8 and 8.26.5, respectively; seniors Daniel Cabrera (Tenerife Cajacanarias) and Adrián Romero (UAVA) in the 800 meters, both falling in the two minutes (1.58.98 and 1.59.97, respectively); Brian Brito (CEAT Tenerife 1984), with 22.72 in the junior 200 meters; and Paula Luján (Tenerife Cajacanarias) in the 100-meter hurdles absolute with 14.85.
In the minor categories, those who stood out the most were Nira Morales (CAI), with 1.32.32 in the 500-meter fry; Andrea Monroy (Chikillos), with 15.08 in the 100 meter hurdles sub 16; María Martel (San Bartolomé), with 13.49 in the 100 meters sub 12; Emilio Cabrera (Street 1), with 11.64 in the 100 meters; Miguel López (UAVA), double winner in the 500 and 2,000 meters (1.24.64 and 7.04.92, respectively); the athlete from La Palma sub 14 Diego Camacho (Brisas El Paso), with 3.09.44 in the 1,000 meter hurdles; Denis Krasenov (Saint Bartholomew), with 1.37.36 in the 500-meter fry; Brandón Parra (San Bartolomé), with 39.24 in the 300 meters; Niara Morales (CAI), with 1.32.82 in the 500 meters juvenile; María Martel (San Bartolomé), with 13.49 in the 100 meters sub 12.
Beyond the marks and records, last Saturday, on the track of the Ciudad Deportiva Gran Canaria, the spirit and the eagerness that the youngest of the local athletics put in each of their respective competitions stood out. In the image above, a group of them during a 300-meter test. On the left, in action, a very young participant in the ball toss event before the eyes of the rest of the participants. |