"Gran Canaria is too big for us, but the Nou Camp is a boost"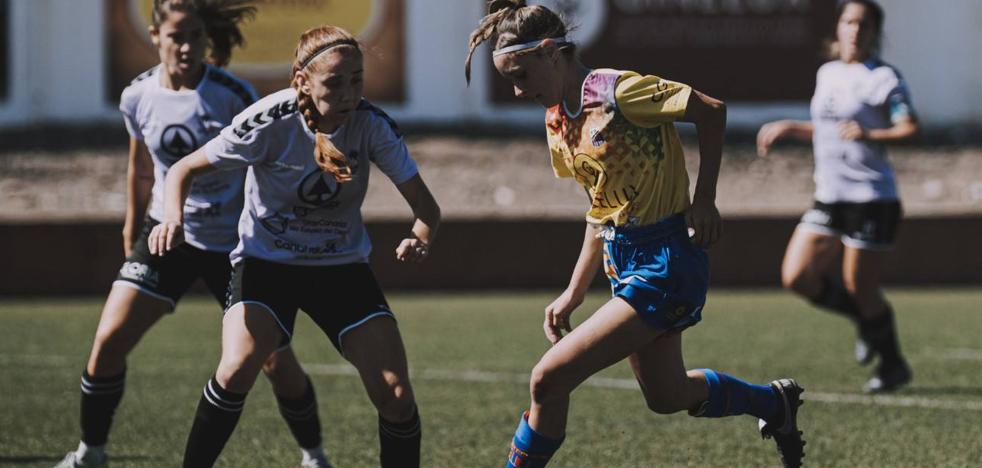 Women's Football
Unión Viera, Juan Grande and Femarguín, flags of women's football in the province, analyze the impact of the historic full in Barça-Madrid
The echoes of what happened in the Women's Champions League match between Barcelona and Real Madrid, played last Wednesday at the Nou Camp before 91,553 spectators, do not stop happening. world record for attendance in a football match played by women. In a general opinion, it lays the foundations for the growth that has been demanded so much in the discipline to reduce the abysmal gap that now exists between the genders. Undoubtedly, the involvement of two of the most powerful shields on a planetary scale has been an unparalleled shuttle in this race because, as it coincides, the media power of Barça and Madrid is unfathomable and, when they cross, it is impossible to establish limits.
In a regional key, women's football also walks on the back of the forefront, with consolidated clubs and projects in which the commitment to the quarry shines and rewards the efforts.
Without going any further, the Real Madrid goalkeeper, María Isabel Rodríguez, Misa, left Telde, with a formative step through Femarguín, to be one of the protagonists of an event already installed in history.
Without forgetting Andrea Falcón, now at Levante, international and champion of everything with Barça and who, after starting at Arucas, kicked the door down at Unión Viera. Precisely from Unión Viera there are currently several members summoned by Spain. In the province of Tenerife they have solid references such as Granadilla or Real Unión.
And in Las Palmas, integrated into the Challenge League, equivalent to the Second Division,
Femarguin and
Big John defend pavilion as well as a
Viera Union Just promoted to Third. They are the most visible and representative actors, those who trust that the Nou Camp is the beginning of a new era for which they have been fighting for countless years, overcoming adversity and grievances. Authorized voices of each of these shields ponder that the aforementioned environmental record "is magnificent news, a before and after due to its magnitude", although they warn that the phenomenon can be extrapolated "with conditions".
«
Nor I believe that the drawing power of our teams exceeds 3,000 or 4,000 spectators. It is an estimate based on historical data. It would not even reach half the capacity of Gran Canaria... We would fill the Alfonso Silva...But, without a doubt, the impact of a match of this magnitude helps us, it is the best possible publicity for all of us who have loved and fought for women's football, "he says
Pacuco Ramos, president of the Viera and pioneer in this crusade in the islands.
In 1978 he founded the Viera women's team, which was not regularized at the federative level until 1994, and still remembers the times of Sanbrit or El Polvorín, precursor teams half a century ago: «Going to play at Las Longgueras in Telde or Costa Ayala and seeing women over 40 participating in those informal matches cannot be erased from my mind... It was very exciting to see how they rebelled, their desire to do sport, of playing football in a time full of difficulties».
«The budget of Barcelona for women is higher than that of its subsidiary. They have been ahead for many years due to their level of professionalism. And Madrid has created a great structure. They are on another scale. Here the demand for support to the clubs comes from a long way. In the program 'La Voz de la cantera' he had a space dedicated to asking for money, whether it was 1,000 or 2,000 pesetas, for all the teams, not just for Viera.
That the big clubs have opted for women's football is a decisive step. Here the UD experiment did not last long, it did not go well. Perhaps it would be very good for us to return to the idea because the repercussion of the UD is what it is, we are not going to deny it. But I can say out loud that the clubs have been raising the bar. In Viera, for example, we have three women's teams, eight players have been called up from the national team and I have 16 cards to formalize in August for girls who want to start in football. We are growing and my commitment is to continue", insists the veteran leader who is on his way to 75 years.
Further south, in Juan Grande,
María Pontejo, current Ginelux coach, is another inescapable opinion in the analysis of women's football in the Canary Islands and the shock wave that can come here from the classic that broke records. In times a player of Carrizal or Arguineguín, she founded Achamán in 2002 at the time that the vocation to train germinated in her. «
Not even I sometimes believe that we can gather 2,000 or 3,000 spectators in a women's football match here, which has taken place in a derby or on special occasions... Well, seeing almost 100,000 in the reports that they took from the Nou Camp ... I'm speechless».
"Until recently we still played here on land. The professionalization that Barcelona or Madrid have is incomparable because they go with shields that are winning horses, world records.
Hopefully what they have achieved will stop being news that the stadiums are filled in women's football matches, that it becomes as common as in men's, although that is not easy. It is a step that we can all benefit from because, in addition, the women's championship, in its different divisions, increasingly has better organization and means. And we put on a show. Let's give an anecdote that we live in Juan Grande: we share a sponsor with San Mateo, Panadería Pulido, and one of those in charge of this brand prefers to come to see us than to San Mateo because he is hooked on what he sees in our matches. It is a small victory but illustrative of the ground we are conquering », he adds.
And I couldn't miss this panorama
Miguel Ángel Sánchez, Micky, founder of Femarguín in 2010 and that he saw the Barça-Madrid match with his players at the headquarters of the Arguineguín team: «The mosaic, the full stands... We were shocked. But, at the same time, it was another motivation because many of those players have been our rivals in other campaigns or teammates, as in the case of Misa, who was here before going to Atlético de Madrid and beginning the journey that has led her to Madrid. If they have been able, also those who continue in the Femarguín can ».
«Madrid has been able to manage wonderfully what it means to absorb a modest club like Tacón and convert it. That was lacking in his day to the UD when he created the women's. The model failed. Without a doubt, the fact that the island team such as UD would return to the women's field would help us to make our football more visible.
For a club like UD to sponsor another would be a great idea. Play in Gran Canaria? With extra stands we have managed to get 1,500 people before the Juan Grande or risking a promotion. I think the stadium would be great for us. Barcelona knew that they could fill the Nou Camp and they hit it squarely. Here it is different. In Tenerife a great job is being done by the quarry, I am not going to discover the tradition of the Unión Viera here... We have evolved and what we saw in Barcelona drives us, makes us look to the future with more motivation because it is a benefit for women's football in general, although we still have a lot to do, "he concludes.