Gran Canaria dresses up to receive Spain on its way to the Eurobasket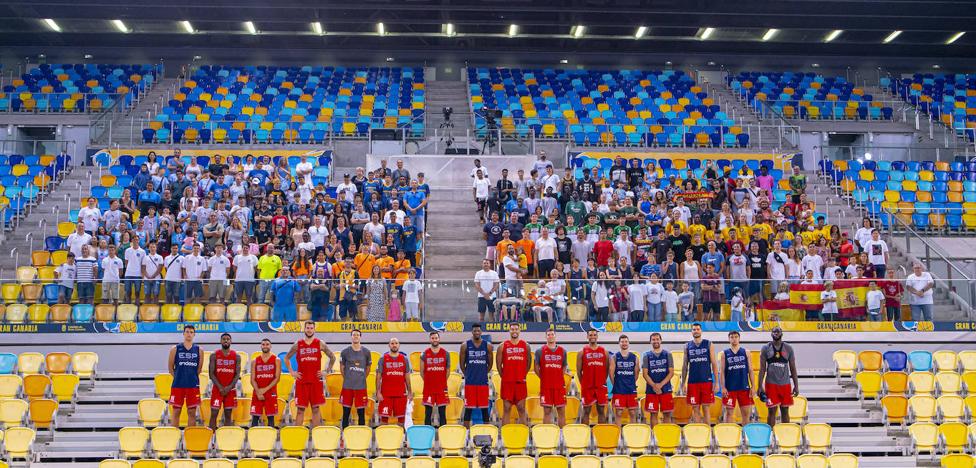 eurobasketball
Scariolo's team returns to Gran Canaria eight years later in the process of setting up for the continental tournament and, of course, of generational change
Spectacle and carats of present and future.
Basketball of the highest international level returns today, starting at 6:30 p.m. -live on Cuatro-, to the Gran Canaria Arena to put the Spanish and Lithuanian national teams into contention on their preparation path for the Eurobasket, which is scheduled to start on September 1st.
After falling to Greece in Athens 86-70 last Tuesday and beating the same rival by
87-80 at the WiZink Center in Madrid two days later, the team trained by Sergio Scariolo, who still has 16 players at his disposal -Alberto Abalde and Santi Yusta are not continuing and Usman Garuba is hurrying to recover-,
among them the Gran Canaria center Fran Guerraspeeds up his set-up and does so against a squad brimming with talent at all positions, including NBA Jonas Valanciunas and Domantas Sabonis.
Spain, in the midst of a generational process and without the brothers Pau and Marc Gasol or the game director from Tenerife, Sergio Rodríguez - together with the injury of Ricky Rubio, returns to Gran Canaria eight years later.
An island that breathes basketball and was one of the venues for the 2014 World Cup organized by Spain. In fact, Spain played a friendly against Slovenia that summer and Lithuania was in the group drawn at the Siete Palmas venue.
As the FEB website collects,
the history of clashes Spain-Lithuania is long, but their last chapters date from five and three years ago respectively, in two friendly matches. In 2017 it was played in Vilnius, with a minimal victory for the Lithuanians (79-78) and in 2019 in Pamplona, ​​with 78-70 in the final score. The last two official matches, a little further back in time, had a clear Spanish color: the 80-63 final of the 2015 Eurobasket and the crushing 109-59 of the 2016 Olympic Games.
"A hot-blooded hobby"

Sergio Llull, captain of Real Madrid and the Spanish national team,
knows the Canarian fans perfectly and, of course, had words of encouragement to support the campus of
Sergio Scariolo in his fort.
«
It is always a pleasure to play here in Gran Canaria», highlighted the Balearic foreigner before the media, while adding that «the fans are hot-blooded and we hope they enjoy the match».