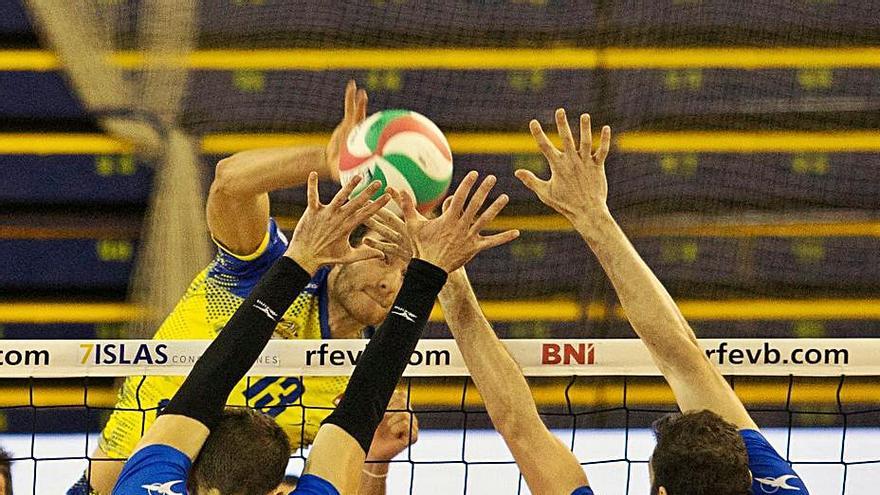 Starting at 4.30 pm, the Olímpico begins the series of four matches against Feel Volley Alcobendas – the winner would be elucidated in a gold set on the Madrid team court in the event of a tie in the tie. Tomorrow, at the same time and identical scenario, the second round will take place. Both duels can be followed live on the island club's YouTube channel.
The Olímpico begins its way in the final of the Iberdrola League against Alcobendas
An unprecedented final, just like it happened in February in the Copa de la Reina on the Avenida Marítima court, with the same contenders. On that occasion, the visitors spoiled the party for the Olympian who was left with honey on his lips when what would have been his first great success in the elite escaped him.
The CCO 7 Palmas faces one of the most important commitments of its existence and it does so with the duties done, after reaching the cup runner-up and seeing its subsidiary lift the Princess Cup, in addition to being co-leader of the most even regular season of recent times in the booming Iberdrola League.
Captain Saray Manzano, one of the banners of the Olímpico quarry, says she is very proud "that this is the first final for the club and for many of us, including myself." "The mere fact of playing it is something very special for the entity, and to be able to win it would be incredible," he added.
El Guaguas, to close with a 2-0
With regard to Guaguas, Sergio Miguel's team faces today (7.30pm) the second match of its Super League semifinal series against Melilla with the wind in its favor after winning last week on the North African court (1-3 ).
Sergio Miguel Camarero's men have two bullets in the chamber to seal his passport – if he loses this afternoon there would be a third game tomorrow. His rival, who arrives in Gran Canaria with little to lose, seeks to become the first team that manages to storm the impregnable Insular Center, where the yellows do not know defeat in an official match in the Spanish competition.
Despite the fact that things are looking good for Guaguas, within the squad they know that trusts are not good advisers and that Melilla's life cannot be spared, because it has enough quality to give more than a scare to his rivals, as he demonstrated in the quarterfinals against Palma.
"I think all the teams in the Super League play against us without the pressure of always having to win. When a team like us finishes first in the regular season, they always become the target, everyone wants to beat you, "said Matt Knigge, center-back of the island squad. Melilla are in a very good moment of play and we have to be at our best level if we want to beat them ", added the American.
The Insular Sports Center today becomes the stage where the spotlights of Spanish volleyball are pointing, with two stellar duels of the highest male and female categories. The day starts at 4.30 pm with a CCO 7 Palmas-Alcobendas from the Iberdrola League final; In the image above, a moment of the match between both teams in the last Copa de la Reina. Then, at 7:30 p.m., Guaguas and Melilla measure their strength in the second match of the semifinal of the Super League. In the photo on the left, a set of the confrontation between Gran Canaria and Melillenses corresponding to the regular league. |