Graduated in Architecture and in determination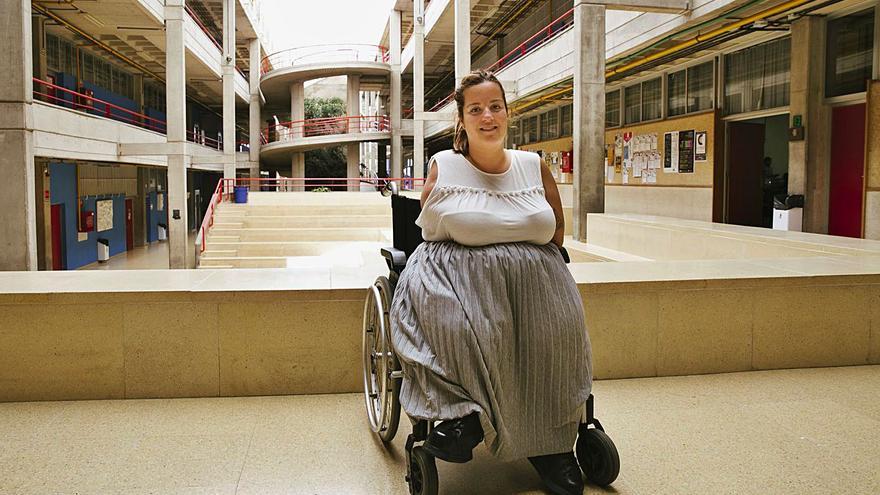 The young majorera was about to throw in the towel in 2015 when her aid was withdrawn
"The best of this path has been the experience. It is not easy for a person with a disability like mine to be able to go to study and live university life, with all that that implies. And the worst thing was always swimming against the current, I think it is unnecessary. It is assumed that we all have the right to study, and the race is hard enough to be fighting against everything, "said the young Majorera.
Her first battle was to get the Government of the Canary Islands to grant her the help to pay a person to accompany her to classes, since Saray was born without hands, without one of her arms and can barely walk, so she is subject to a chair wheel. Finally she got it, and was able to begin her studies in Architecture. However, in the 2014/2015 academic year, she had to face the withdrawal of aid, "without an explanation", and overnight she found herself without assistance to go to the University. It was a difficult time that led her to lose almost a year and a half of studies, although it was finally solved thanks to the Ralons Foundation.
Example
Saray remembers it as a very tough period in which she was about to throw in the towel, but her strength and tenacity pushed her to keep going, thanks to what she has managed to qualify for this year. "Many say that I am an example, and I am happy, but it should not be exceptional for a person with a disability to graduate from university, it should be normal. I shouldn't be news ".
He acknowledges that she was prevented from giving up her way of being. "You win I have not lacked on many occasions, but since I am like this, the more they tell me no, the more I strive to achieve it, because here I am, recently graduated. But I recognize that powerlessness can often lead you to give up ".
For Saray Rodríguez, most of the obstacles that people with disabilities encounter when undertaking goals such as higher education studies are easily solvable. "There really are resources to make things easier. In the universities there should be aids as in the colleges and institutes, where there are personnel who are in charge within the center that the person with disabilities is cared for. That labor figure does not exist in the university. A simple thing like that job would be key for many to have access to higher education easily ".
In this sense, it demands rigor when applying the Dependency Law. "I am from a non-capital island, Fuerteventura, and my case is very complex because I need help throughout the day, I am totally dependent. However, if the Dependency Law were done well, gave each one his due, that part would also be solved, and there would be no problem for any person with a disability who wanted to study, only having to enroll like any other " , stresses.
Saray Rodríguez demands rigor to apply the Dependency Law and facilitate access to the university
Now, with the degree in hand, she dreams of joining the world of work as soon as possible, and feels very prepared to contribute to breaking down the architectural barriers "invisible to many" that make life difficult for people with disabilities. "It is thought that because there is a disabled parking lot or a ramp, there are no longer problems, but it is difficult to quantify all the architectural barriers that exist. People are not aware, they should try a day in a wheelchair to see how we had a hard time, "said the young woman, and gave the university campus itself as an example. "It cannot be more inaccessible, if I had not been able to drive, I would not have been able to access the School of Architecture. Who takes me up the ramp to go to Las Casitas to eat a sandwich between classes, for example? In the end you see yourself excluded because even though you want to do it, there are millions of circumstances that prevent it ".
In this sense, it has the strength and knowledge to work on projects that contribute to achieving barrier-free cities. "I would love it, and I also think that I can have a different vision than other people, because when you see the problem from the outside because you don't suffer from it, a lot of things escape you. I have the vision and the training for it, I just need someone to trust me ".
He graduated from Urbanism and his final degree project focused on a proposal in Haría (Lanzarote), which united in a building all the strengths of the town, from an agricultural research center, combining the tradition of agriculture with science, and an innovative tourism concept, more sports, ecological and gastronomic.
Today Saray is a person happy to have successfully completed a stage, and excited to take the next step towards the job market. Its motto is "who follows it gets it", and trusts that higher education for people with disabilities will cease to be an exception and become the rule.