Goya, 275 years of genius: The forge of a painter who changed art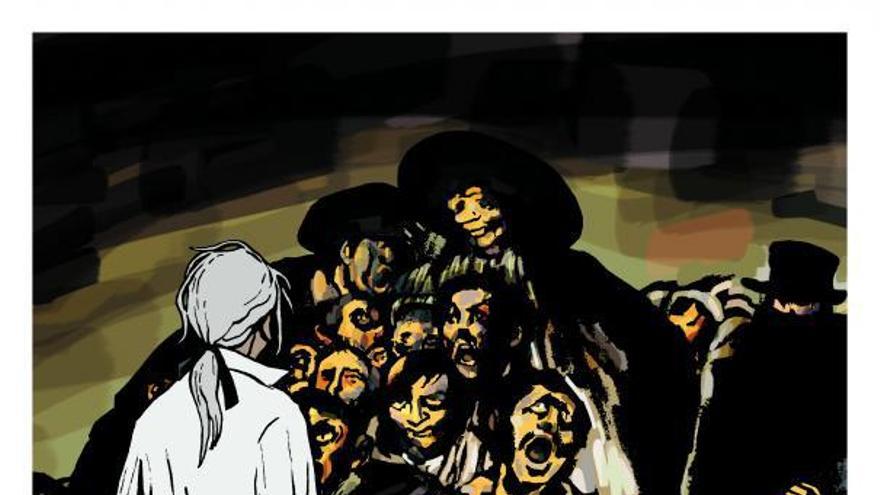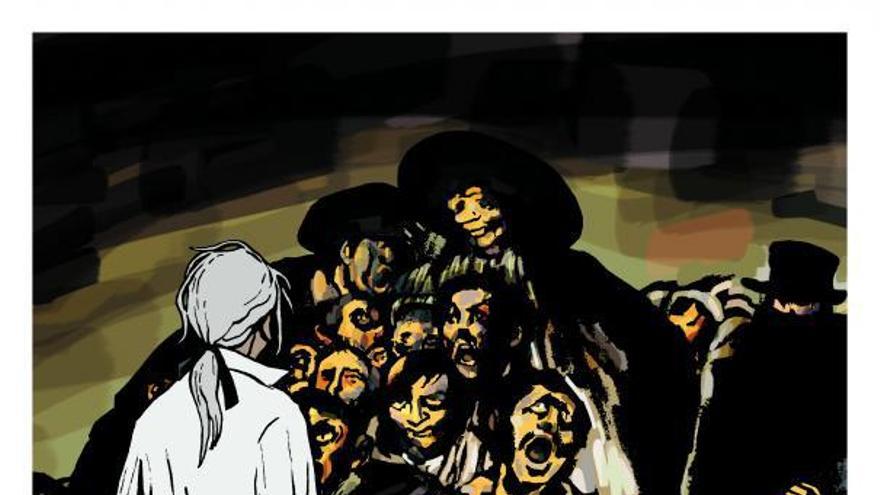 How do you get to this point? What seems clear is that the man from Fuendetodos was not an early explosion painter, although it is known that from a very young age he has a "passion for drawing, an anecdote indicates that perhaps it was José de Pignatelli himself who discovered that passion", recalls Domingo de Buesa that indicates the relationship they had; "He was a person from the Fuentes family who belongs to an area very close to young Francisco because his house is very close to that family's palace." Something that is related to the fact that his father, Braulio José Goya, was a gilded craftsman of a certain prestige (even so, we must not forget that he was born into a family of average social position with serious financial difficulties and that is what forces them to having to change houses regularly) which allows the future painter "to meet many people in the art world and even receive commissions from this world through his father", says Domingo Buesa.
Perhaps due to the economic hardships the family had, and the need for the young Goya to have to work to help support the maintenance, he did not enter the Zaragoza drawing academy until he was 13 years old: "It is not a very early entry, for what was usual is a somewhat late age but when he enters there we already know that he has drawn since much earlier ", recalls Buesa, who explains what that academy was like:" It is not that we know much about what he does at that time because we do not nothing of those works is preserved, at least nothing that has been detected, but he begins to work in that late Neapolitan baroque style of Luzán himself ". From that time it is one of his first recognized works, the reliquary cabinet for the church of Fuendetodos made around 1762 of which only photographs are preserved since it was burned during the Civil War or the Sagrada Familia with Joaquín Santana dated around 1760 That is, "we are already talking about some important works."
While he continues with his training, it is the moment in which Goya tries to enter the national awards, something that he does not achieve. He is presented twice to the prizes of the Royal Academy of Fine Arts of San Fernando without success. "The first time they didn't get any votes, which is what things are …" Buesa analyzes, "but we must bear in mind that we are at a time when the Bayeus are taking over everything and they are the ones who control the prizes." Goya's intention with these awards was to get a scholarship to be able to travel to Italy, something that he did not achieve but did not give up his intention and, in the end, after several unsuccessful attempts, in 1969 he embarked on his trip to Italy with his own resources: He is going to pay for the trip by painting along the way, portraying and drawing people, "says Buesa. From that time is the beginning of the Italian Notebook, nowadays kept in the Prado Museum, where he tells everything that happens and is being carried out in Italy, drawing works that mark him or any other visit, a notebook that provides a lot of information to the study back of your job. "There he will be in Turin, Milan, Pavia, Rome… which allows him to meet important people and paints very remarkable works such as Hannibal, the victor, contemplating Italy for the first time from the Alps with which he is presented for the painting prize of the Academy of Parma. He does not win the highest award but he does win the gold medal, a special mention since he receives six votes ". It is May 29, 1770 and Goya's painting has already undergone a change to the one he made in his early years in Zaragoza: "He is going to abandon that baroque chromaticism in Italy because he is going to have a much more neoclassical palette, opens up to the world. He is going to try to recover allegorical motifs, the historical fact with Hannibal puts him in contact with another series of painters. That work was attributed for many years to Conrado Giaquinto. Definitely, by then, Goya has changed a lot. The one who undertakes that trip to Italy was a painter very closed to a baroque tradition and the Goya that returns is a much more modern Goya and a great connoisseur of what is being done in Italy at that time, something fundamental for the history of art " , recalls Domingo Buesa.
He returned to Zaragoza a year later, in 1771, probably due to his father's illness and stayed, in fact at home, and shortly afterwards received the commission for another of the great works of the painter of that time, The Adoration of the Name. of God for the choir of the basílica del Pilar. The Board of the Fábrica del Pilar chooses his sketch to paint that choreography and gets down to work with the mural work: "It is a very important piece, he handles himself perfectly in the fresco and you can already see Goya's brushstroke, with that very personal style. That own way of understanding art is also clearly visible ", explains Buesa. Something that leads him to have serious conflicts with the Cabildo that does not quite understand the painting of the Fuendetodos: "Certain members of the Cabildo do not like what has been painted and that begins to generate tensions. In fact, he does not feel comfortable and when he remembers that time he suffers. As we see in his letters, he does not have a good time remembering that story ", reveals the president of the Royal Academy of San Luis.
It is in the next few years that Goya begins to feel frustrated with his own city. At that time, he had already painted the pictures of the pendentives in the hermitage of Muel and has just painted Aula Dei where "he has made a series of large oil paintings." Also from this time is his work in the parish church San Juan Bautista de Remolinos. It is a classicist baroque building in whose pendentives the four ovals painted on canvas are housed. The most likely theory that is prevailing is that the ovals in the church were conceived for another place given the reduced scale of the figures because it is suspected that Goya's original paintings were cut to fit the current oval format. The consequence is that part of the composition disappeared.
Regarding those of the Muel, the Goya Foundation study in Aragon is also very precise in its artistic analysis: "As in the church of San Juan el Real in Calatayud, but with some iconographic differences, these pendentives have depicting the four fathers of the Western Church on a dark blue background, arranged on clouds that timidly overflow the golden moldings, accompanied by little angels and, as the painter has a smaller space, with a more limited setting ".
Therefore, with all that work and that folder under his arm, he first moved to Madrid to marry Francisco Bayeu's sister, Josefa Bayeu, in 1773 and from there, "Goya began to work fundamentally in Madrid". Only two years later, in 1775, Mengs himself called him to work at court as a painter of tapestry cartoons and he himself points out in the Italian Notebook that on January 3, 1775, he began his definitive trip to Madrid with his wife and his first son. "There begins his great stage that would lead him to make his art much better known. Let us not forget that he is going to the capital of the kingdom, and secondly, the court painter is going to be what projects him in that environment and in the environment, "says Buesa. But how much does his brother-in-law Bayeu have to do with Goya making a place for himself in Madrid? Perhaps not as much as has been speculated throughout the history of art claims the expert: "They have a complicated relationship. He marries his sister and at that time he is a dictator in the mildest sense in the art world because he controls the institutions, the Academy, he has great power in the court as well and yes, he takes Goya there, but not forget that he comes to court because it is Mengs who is calling him, not Bayeu. You will have moments of tension with your brother-in-law of course and moments of greater closeness but it is a relationship that must be classified as very powerful. It must be made clear, of course, that he did not learn from Bayeu, when Goya entered the environment of that family in 1773 he already had the style formed, he had been in Italy, he painted the Charterhouse of Aula Dei … He is already formed by so much that sometimes it is interesting to give another idea ", insists Buesa.
While in Madrid, Goya received the commission for one of his great works, the Regina Martyrum del Pilar. The Metropolitan Cabildo, in fact, commissioned Francisco Bayeu to decorate the vaults before and after the holy chapel of the temple with themes of the Litany of the Virgin or Lauretan Litany, but in order to extend this Marian program to the rest of the vaults located around the holy chapel, the council entrusted Francisco Bayeu himself (at that time he was one of the most valued academic artists) to continue the work with the help of his brother Ramón and his brother-in-law Goya, positions under his direction . Of course, they forced him to present a sketch of his work to Goya, who finally began to paint the dome around the year 1780. But problems soon began with Bayeu himself and with the council. So much so that his brother-in-law asked to be exempted from having to supervise Goya's work, something that the council accepted. A confrontation that reached its peak when the reasons for the pendentives had to be decided. Goya, not without showing his reluctance, ended up bowing to the wishes of the junta and Bayeu and, having finished his work, he left Zaragoza with a great accumulated disappointment that would drag on throughout the rest of his life. It is the end, now definitive, of the first stage of the artist who had already left the city on January 3, 1775 and who had agreed to return to his city to work given the importance of the project that was offered to him in the basilica of Pilar , one of the most important of the time.
And it is that in January 1775, Goya had landed in Madrid with all the baggage accumulated in Zaragoza and from that time are the Cartones de Goya, a set of works painted for the Royal Tapestry Factory of Santa Bárbara. Although they are not the only tapestry cartons that were made in the Royal Factory, they are the best known and to which art history has given the nickname of tapestry cartons.
But that is already the beginning of another stage in the artistic career of the painter born to Fuendetodos although, by then, when this happens, the reality is that Francisco de Goya y Lucientes already had a career formed that he had started in the Aragonese capital that was the one that forged the artist who would later astonish the world.