Gossip, rumors and gossip about a bullfighter named Enrique Ponce | Blog The bull, by the horns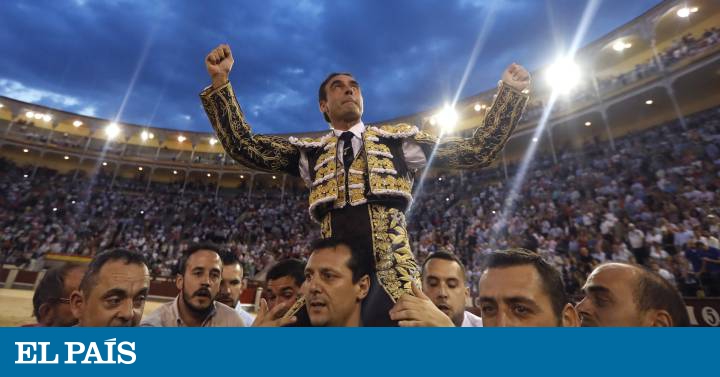 Journalists from different media dedicated to the lives and miracles of popular figures have examined different bullfighting critics these days to dive into the personal circumstances of Enrique Ponce, a bullfighter in the pillory of national gossip.
And the questions, more or less, were repeated in all cases: is Ponce considered a figure of bullfighting? How much do you think he earns every afternoon? Have you heard that I can go through a difficult economic situation? What is said in your environment about your love life? What do you know about the intimate relationship between the Ponce-Cuevas couple and the singer Luis Miguel? …
The only possible answer is yes, that Enrique Ponce is a recognized figure of bullfighting, considered by all to be a professor, a bullfighter of the time, full of excellent bullfighting qualities and dotted with some defects. Everything else does not interest the critic, and belongs to the privacy of the person.
It is striking, however, that what is important – that he is a bullfighter in one piece – is not a matter of knowledge of current journalism. Too often, the journalistic profession speaks of bulls and bullfighters as if they were neighbors of an extraterrestrial galaxy.
It is true that being a fan of bullfighting is not politically correct, modern or progressive in the eyes of the well-thinking society in this country. For this reason, perhaps, journalists ask with some distance, with detachment, so as not to contaminate themselves …
Perhaps, for this reason, Enrique Ponce, one of the greatest bullfighters in history, is interested only as a popular character. But since that is unfair, partial, unjustified and arbitrary, it is good to use this blog and a groundbreaking and striking title, but true, to attract the attention of skeptics about the figure of the Valencian bullfighter.
Surely more than one will start reading with these three magic words – gossip, rumors, gossip – that most of this country is clouded by reason. But if anyone is tempted to follow, here is a ration of good reasons to recognize and admire a bullfighter.
Enrique Ponce has turned 48 years old; was born in Chivas (Valencia) on December 8, 1971, and has wasted no time. His childhood, adolescence, youth and maturity -all his life- he has dedicated to the bull. And he's not crazy. On the contrary, it has shown that it has a privileged head, an unusual intelligence, and a vocation-that is-unhealthy.
Few people like a bullfighter are able to subject their existence to the realization of a dream. And Ponce has also been lucky because his effort, his sacrifice and his efforts have been worth it. Ponce has achieved glory as bullfighters understand it, which is to have the recognition of amateurs and professionals, and the consideration of a figure, equivalent to an excellent artist, who enjoys a privileged position on the podium of the greats. His critics, who also have them, highlight his cold academicism, which has prevented him, perhaps, from being a captivating mass. But he has the unanimous respect of all fans, even those who do not agree with his bullfighting.
Almost everything has been said about Ponce torero -historical figure, a chosen one, fireproof artist, owner of the technique, (which has allowed him to visit infirmaries a few times), knowledge and elegance, clairvoyant, who has broken all records, who has gone out on the shoulders of all the squares, has embraced all the trophies and has pardoned enough bulls (it seems that 52) ​​to make a livestock-, and Enrique's person -maintains his face as a good, discreet, simple, exquisite, charming boy , good son, loving father, Catholic with strong convictions, 'a godsend', said his wife in 2015-, and something else: lover of fashion, golf, hunting and skiing, has a good ear, sings boleros and rancheras, and is a friend of Julio Iglesias and the Mexican Luis Miguel.
He was only 8 years old when he fought his first calf, and at 9 he mounted the sword before a calf. At 10 he entered the Bullfighting School of Valencia, and at 15 – on August 10, 1986 – he made his lights debut in Baeza. And the culprit was his maternal grandfather, Leandro Martínez, who, when his grandson was a child, convinced him to abandon the ball ("Do you see, Enrique, how dangerous is football?" , and will direct its steps towards the bull.
The veteran hobbyist had no bad eye.
Ponce debuted with picadores on March 9, 1988 in Castellón, and on March 16, 1990 he took the alternative at the Fallas fair, with Joselito as godfather, and Litri as a witness.
Very soon he surprised by his good manners and furnished head in front of the bulls. The triumphs came in cascade, and the fans of Madrid, Seville and Bilbao, among others, surrendered to him unconditionally while still retaining his beardless appearance.
Four afternoons he has gone out on his shoulders through the large door of Las Ventas, once he has enjoyed the honey of the Puerta del Príncipe de la Maestranza, on six occasions he has been the winner of the Bilbao fair … and so for each and every one of the Spanish, French and American squares.
Because America is the other great fief of Enrique Ponce. He is an idol in Mexico, and an indisputable figure in Colombia, Peru, Ecuador …
In total, almost 2,500 celebrations (from 1992 to 2001 did not drop below the 100 annual bullfights), more than 5,000 bulls fought …
He has already been active for 30 years. A long career; as extensive in time as it is artistically fruitful, but excessively long.
No one is perfect, without a doubt.
Ponce does not think about withdrawal; on the contrary, he repeats that he is better than ever and, amid rumors that he has been in a difficult economic situation for a long time, he points to all kinds of celebrations, in first or fourth places, in Spain or beyond the Atlantic, such as if life were in it. In fact, his name is the one that is most repeated in the few posters that are announced this unusual summer. Almost always, yes, with bulls that allow a certain relief in the ring. This insistence is certainly a mistake. Ponce has already said it all and his presence in the posters does nothing but block the way for the youngest.
Likewise, his bullfighting has become corny, prim and artificial – like his own image – in the search, perhaps, for new artistic springs that he has not found.
It is true, on the other hand, that he has combined his profession with an intense social life with the hand of his wife for 24 years. Both have been the parsley of many parties and magazine cover of the heart.
He has also cultivated high-profile friendships in the world of music. He likes to sing and not long ago announced that this year he would record an album that was being prepared by the group Materia Prima, in which Julio Iglesias would make a special collaboration.
The bullfighter should not be surprised – he himself seems to feel comfortable in this field – if the so-called 'heart press' is now interested in his most intimate ravings; That is the toll that must be paid by those who enter the swampy world of popularity.
But the journalists of 'social life' and the millions of gossips who follow them must not forget that Enrique Ponce is a winner in his own right, a benchmark of courage, effort and dedication to a vocation, a heroic artist, a bullfight … imperfect After all, a privileged human being with his mistakes in tow …