Google Maps: so you can check the incidence of covid in your area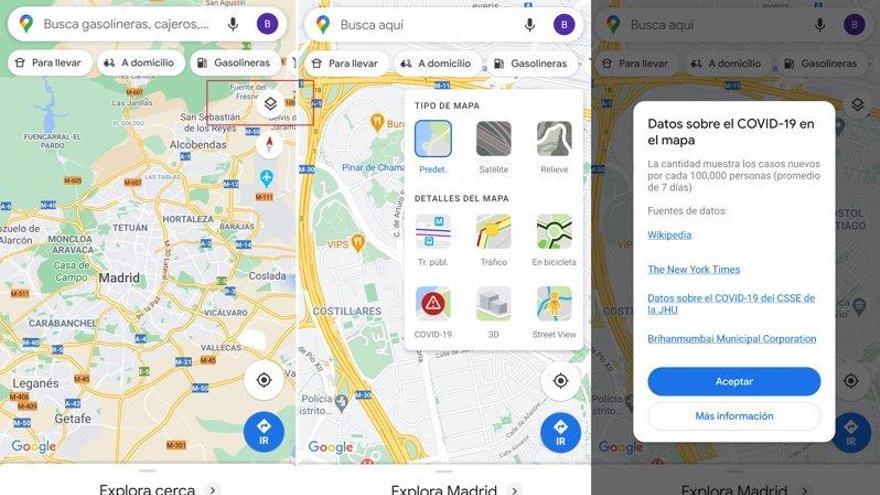 Google maps has added an additional layer of information about the coronavirus, with which it allows see the incidence of the disease in a certain area of, so that users can plan their trips or have one more tool to check how affected the region where they live is.
The information layer on Covid-19 It is now available in the Google Maps service. To access it, you just have to look on the screen for the layers icon. By clicking on it, they unfold different map options, such as satellite or relief, or the public transport details or the Street View view. This is where the new option of Covid-19, shown with a red alert icon.
By clicking on the icon of the Covid-19 layer, the application displays a window, in which it informs that the data it collects comes from sources such as Johns Hopkins University, the New York Times and Wikipedia -already used in the data shown in the Google Search Engine-, which in turn take information from the World Health Organization, health institutions and hospitals.
If accepted, that is when the map can be seen in different colors, which vary from yellow to redder, depending on the incidence of the disease is less or greater in the different regions of the country. The data below the name of the community indicates, according to the company, it is the average of new cases per 100,000 inhabitants in the last week, which also indicates whether the trend is downward or upward.
The information layer on Covid-19 is available for the mobile version of Google Maps, both on iOS and Android.