Google dedicates its 'doodle' to the arrival of autumn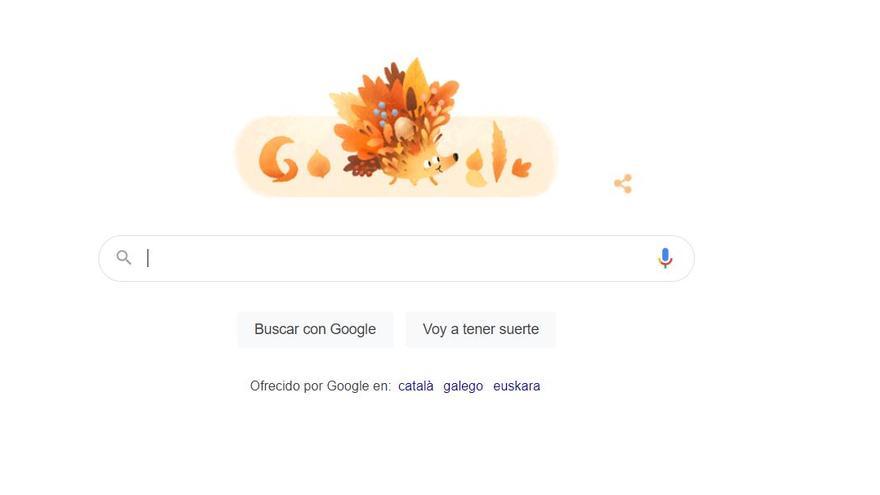 The most used Internet search engine in the world, Google, has once again winked at a global event in the form of Doodle, the header drawing that accompanies your website, traditionally simplified.
On this occasion, the leading role is for the arrival of autumn, since the season starts this Wednesday, September 22
The station will start at 21 hours and 21 minutes Peninsular official time, they have announced from the National Geographic Institute, according to calculations of the National Astronomical Observatory.
As reported by the institution under the Ministry of Transport, Mobility and Urban Agenda through its website, this season will last 89 days and 20 hours exactly, and it will end on December 21, when winter will begin.
In addition, according to the data obtained by the Observatory, this fall there will be a partial lunar eclipse "visible in America, Europe, Asia and Australia", as well as in Spain, on November 19. AND on December 4 there will be a total solar eclipse which will be visible in Antarctica and southern Africa, as reported.
Likewise, it will be Sunday, October 31, when the clock is delayed one hour. Specifically, at 3:00 a.m., Peninsular time, the clock will have to be set back until 2.00 o'clock. In the case of the Canary Islands, at 2.00 hours it will become 1.00 in the morning, thus resuming winter time.
On the other hand, the National Geographic Institute explained that the beginning of autumn is given, by agreement, when the center of the Sun, seen from the Land, "crosses the celestial equator in its apparent southward movement". It is at that moment when the duration of the day and the night practically coincide and therefore the autumn equinox takes place.
To this information, they have added some "fun facts" Like the moment when autumn begins in the northern hemisphere, spring begins in the southern hemisphere. They have also highlighted that during the beginning of autumn there are the days of the year in which the length of the day shortens more quickly.
Regarding the meteor showers of this season, the Geographical Institute has pointed out that the 'Draconids', with a maximum around October 8; the 'Leonids', whose maximum will occur around November 17, and the 'Geminids', which become the most intense fall rain, as they have been described, and whose maximum will occur around December 14.
Finally, as for the planets that can be observed, the observatory has revealed that, at dusk, they will be able to be contemplated Venus, Jupiter and Saturn, while at dawn you can see the planets Mercury, during the months of October and November, and Mars, From November.