Google celebrates Grandparents Day with a 'doodle'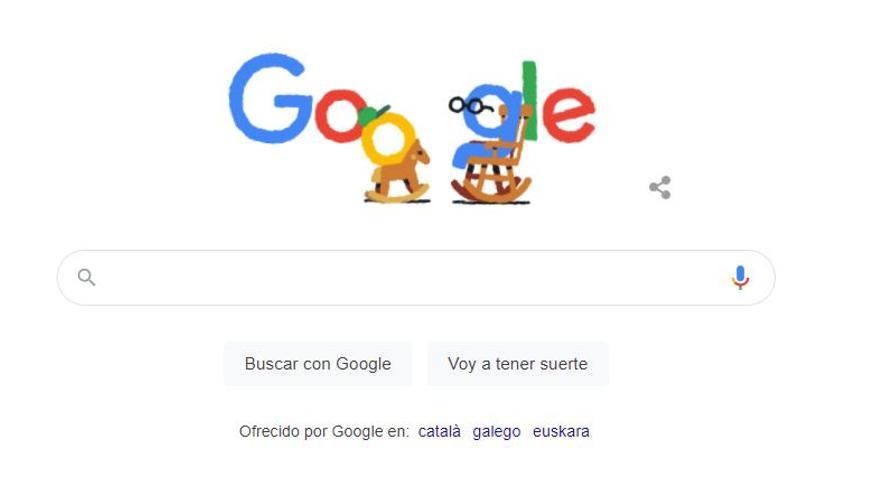 The searcher Google has dedicated this Monday a nice 'doodle' to the Grandfather's Day or Grandparents' Day, which is celebrated every July 26. The American giant has designed a animated illustration in which its letters 'o' and 'g' depict a tender situation in which a grandfather and his grandson star.
The endearing 'doodle', only visible in Spain, celebrates a commemorative day dedicated to grandparents and grandmothers within the family, which complements Mother's Day and Father's Day. Even if the UN promotes the celebration of a day dedicated to the elderly in general which is celebrated on October 1, in countries of Christian culture July 26 is dedicated to remember the grandparents and grandmothers. And it is that, in the Catholic liturgy this day is commemorated to Saint Joaquin and Saint Anne, parents of the Virgin Mary and, therefore, grandparents of Jesus.
The 'doodle' made by the world's largest search engine represents the figure of the grandfather through a rocking chair on which sits the second 'g' of Google who also wears glasses. Next to it, the second 'o' appears, which is on a wooden horse and with a cap, thus representing a small child.
Grandparents' Day has been celebrated in Spain since the NGO Messengers of Peace promoted this holiday in 1998.
Google honors historical milestones or dates with its doodles
The Internet is a large newspaper library and therefore you can consult the most important 'doodles', such as the Gregorian calendar, as well as its history or creators on the following page: http://www.google.com/doodles/search
Are small virtual works of art, like the anniversary of the determination of the speed of light, they can be purchased and even decorate any type of object such as t-shirts, stamps or skateboards through your virtual store.
The history of the 'doodle'
Google usually decorates the letters of its logo to celebrate the anniversaries of famous people or key dates in the world of science or culture, such as the birth of Charles Chaplin, the Nobel winners, the anniversary of 'Don Quixote' or some relevant or novel event or the Gregorian calendar.