Goodbye to the Blue Dog of Tropical Beer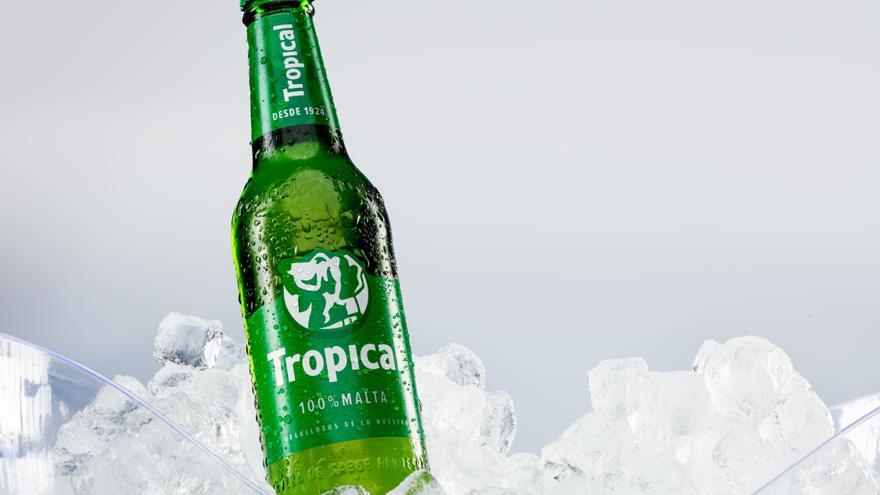 Tropical launches its new image to the market with which it endorses its commitment to environmental Protection, through the incorporation of more sustainable materials that allow recycling about fifty tons of paper a year.
Seven years after its last update, the Compañía Cervecera de Canarias brand reinvents its traditional green dog logo with a more modern and minimal graphic design In which it also includes a nod to the origins of Tropical, with the incorporation of the silhouette of Gran Canaria in the animal's skin.
The new image of Tropical is applied to its two varieties, Pilsen and Limón, both in the bottle formats of 75, 33 and 25 centiliters, as well as in can containers, with the expectation that by next month it may reach supermarkets and hospitality establishments on all the islands.
One of the main aspects of this makeover focuses on the removal of the thermochromic ink that made the dog's logo turn blue when the container reached the desired temperature. This change is necessary in order to use environmentally friendly materials that, in line with Cervecera de Canarias' commitment, result in caring for the environment. Thus, It has been chosen to use inks of vegetable origin, formulated with vegetable oils and products from sustainable natural resources.
Another novelty responds to the incorporation of labels made from recycled fibers, which, in turn, are 100% recyclable, which guarantees the reuse of around 45 tons of paper per year.
On the other hand, the redesign of the label has been carried out with the collaboration of Litografía Romero, a Canarian industry that has contributed its knowledge in the search for a sustainable solution that affects the protection of the environment. This process will allow recycling around 15% of the waste left over from the manufacture of the labels. At the same time, this collaboration will have a multiplying effect with the consequent impact on the economic development of the Islands, in particular of the Canarian industry.
Looking to the future, Tropical plans to continue advancing its waste reduction policy, with special emphasis on reducing the use of plastics and promoting the use of recycled and recyclable materials.
In line with its commitment to sustainable development, Compañía Cervecera de Canarias will extend the sustainable renewal strategy initiated by Tropical to the rest of its brands, through changes with new materials that respect the environment.
These actions are in addition to others that the entity has already been developing, such as the commitment to returnable formats, which represent 56% of sales, above 44.5% of the national average, as well as the recycling of 70% of non-returnable glass containers, which account for 16% of the product.