Gonzalo Cobos Najas, mechanical engineer of the SLS rocket: "It was like putting together a huge puzzle"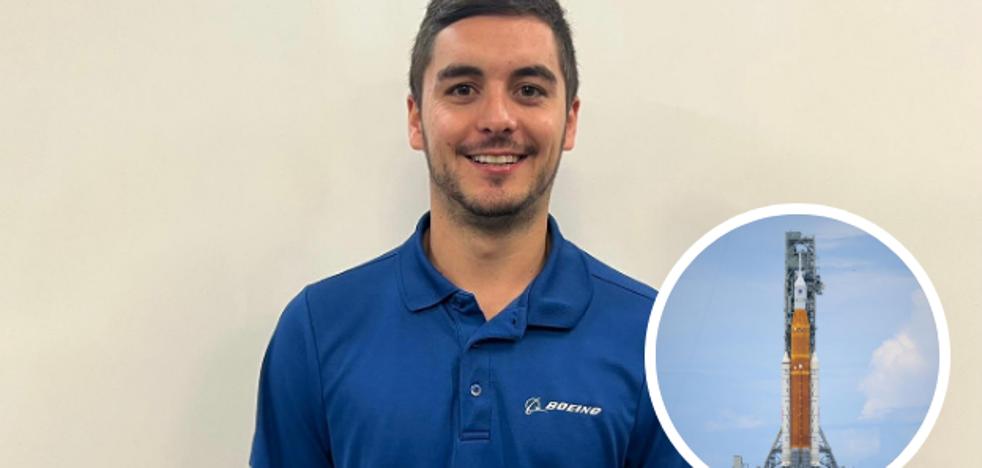 After postponing the launch date several times for different reasons, the last one last Friday as a result of Hurricane Nicole, in the early hours of this Wednesday, November 16, NASA plans to launch the Space Launch System (SLS, for its acronym in English), a 64-meter-tall rocket that will carry the Orion spacecraft on a mission around the Moon.
This uncrewed flight test, part of the Artemis I mission, is the first to the neighboring satellite since 1972, when the last Apollo mission ended. With it, the space agency intends to lay the foundations for the first woman and the first person of color to visit the lunar surface and, later, for humans to reach Mars.
The construction of the SLS has required the collaboration of a large international team, including the Sevillian Gonzalo Cobos Najas. After graduating cum laude from the University of Florida as a mechanical engineer, this 25-year-old was selected by the American aviation company Boeing to help build the central part of the SLS. That led him to move to New Orleans, where he has spent the last two years working.
How do you feel about having participated in the construction of the most advanced rocket in history that will put humans on the moon again?
Many children say when they are little that they want to be an astronaut, and I wanted to be an astronaut too, but I never saw myself with the ability to become one. By being part of this project, in a certain way, I feel that I have fulfilled part of that childhood dream, and it fills me with satisfaction. It is true that at first I did not give it so much importance. I just went to work every day and couldn't see the impact of my collaboration on the project. But with changing jobs, and now with the launch of the SLS, I realize its importance and am truly proud to have had the chance to be a part of something so big.
What part of the rocket were you working on and how important is this part to the ship as a whole?
The core stage of the rocket, which is the part that Boeing manufactures, is divided into five parts: the front skirt, the oxygen tank, the hydrogen tank, the intertank part, and the engine section. All of them have a characteristic orange color, except the lowest one, which is the one containing the engines, which is where I worked. Curiously, that is the most important part of the rocket, because it is what enables the propulsion of the ship and its operation.
Detailed image of the section of the engines of the SLS ship in which he has worked.
or Gonzalo Cobos Najas. /

NASA

How was your day to day? What were your functions?
I am not allowed to give very precise details of what my tasks were. What I can say is that when I started working there, what I did was write the work instructions that the mechanics used to build the rocket. However, that was not what I was really looking for in the industry, so I talked to my boss and she allowed me to diversify my tasks. Since then, my job has been to determine the order in which it was best to assemble certain parts of the rocket and explain why. In other words, it was as if we were assembling a huge puzzle and I had to think about which pieces to put before and which after so that they all fit together in the best way.
What were the main challenges or difficulties you had to face in carrying out your duties?
It seems that when you get your engineering degree you already know everything you need to know, but the technology that the SLS rocket incorporates is unique and very advanced. Especially at the beginning, I needed a lot of help to understand many complex aspects that I had not been taught in my degree. Luckily, I had the support of my colleagues. Thanks to being part of a very solid team, in which there was always someone willing to help me, I was able to grow professionally and learn a lot.
What did you like the most and what you liked the least about the experience?
I loved being able to work with many teams. There are so many knowledgeable people who collaborated on this project that it was amazing to be able to share a workspace with them.
What I liked the least, unfortunately, was the city, which is pretty, but more to visit for a few days as a tourist than to live in it. Also, there was not a large Hispanic community. Yes, there were many Mexicans and Hondurans, but perhaps they are not the Hispanic cultures that are most similar to the Spanish. That, and the pandemic, made me feel a long way from home.
2020 image of the B-2 test stand at NASA Stennis Space Center with the first core flight stage for the new Space Launch System (SLS). /

nasa

Did you meet many Spaniards who also worked at the SLS?
In the project as a whole, I am sure there were many Spaniards, but in the development of the Boeing core stage, I only knew and collaborated with one Spaniard, and I worked with many different teams.
How many hours do you work a day and how many days a week?
I usually worked 40 hours a week, but a time when I worked more hours because there was so much to do and I really enjoyed what I was doing.
Did you have the ability to contribute ideas on the fly to improve the project or was it a highly protocolized job according to pre-established orders?
They let us contribute ideas at any time. In fact, Boeign strongly encourages workers to express their ideas freely, but it is true that many times there were solutions too complex to implement, especially given the scale of the project. Even so, I was lucky enough to come up with a good idea and they let me carry it out. They won't let me share it, because it's quite technical, but it allowed me to improve the installation of parts, reducing the total time quite a bit and creating much fewer defects. It is one of the things I am most proud of from my time at SLS.
View of the SLS and the Orion spacecraft on Launch Pad 39B, at NASA's Kennedy Space Center, in Florida, on September 15, 2022. /

nasa

How did you feel when previous releases had to be postponed?
It made me somewhat sad, but looking back, I'm happy, because I know there are more launch opportunities, like the one on November 14. Postponements or failures are part of the process, and things are being done in good time to make the mission a success.
What do you do now?
I left the SLS program very recently, this very summer, and I only did it because a unique opportunity came to me. I have entered a rotation program that allows me to work in different agencies within Boeing. That is something that I value a lot, because I have always been very curious and I love learning about other fields of work. This position will allow me to investigate various areas, such as commercial, defense, global services, or R&D, and with this I will be able to really know what I want to dedicate myself to in the future.
Would you like to return to work on a project for NASA?
If I could, I would seriously consider it, because NASA is always developing technology that isn't actively used yet, and to be able to be a part of that innovation and have the opportunity to do something that no one has done yet is very exciting.
Do you see your long-term future in Europe or Spain or the United States?
I don't have a clear answer. Right now I am in the United States because I have found something that I like to do here, so I am very lucky in that sense. It is true that I miss my culture, my home and my country a lot, which is why I believe that, in the very long term, I will return to Spain, but for now I am going to take advantage of the unique opportunity that is offered to me here.