«González Sosa was demanding and polished his poetry in maturity»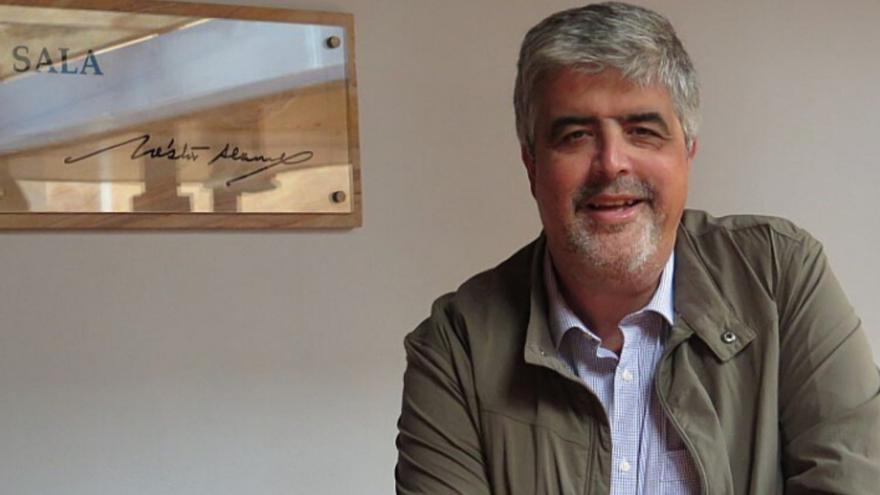 The subtitle of his book describes González Sosa as secret poet, but the text reflects a creator with a great cultural presence on his islands and abroad...
González Sosa during practically all his life, was a man who he ensured that his work was little known. In fact, many of his works were private editions, which he paid for himself and were not sold or obtained in bookstores. He bet on that, but it's a bit contradictory because he made a great cultural work throughout his career, so he inevitably had to be known, for example, through the magazine or special page he created in the Las Palmas Journal, Poster, from the year 63, also collaborating a lot with LA PROVINCIA, which gave rise to value many of the poets of the Islands from that moment on. He struggled to tiptoe through all this general activity, but his own fellow poets told him that they did not understand that need to go unnoticed, something very complicated, since it carried out all those cultural initiatives.
The book is subtitled as Data for a biography, but they are so many and so diverse that, in themselves, they seem to exhaust the biographical material...
There is a lot of data still pending. Above all, I have highlighted his relationship with the municipality of Guía, with his hometown, which he called the distinguished village and of which he showed that he knew its history very well throughout his life, but there would be much to investigate, such as , his correspondence, which is a vein that should be seen and in which literary critics specialized in the matter could investigate. actually i did Data for a biography because, above all, through the press published in Gran Canaria, I was extracting data from all those activities where he participated, either on his own initiative or because he was invited.
What sources have you had to gather to give such a vivid image of the poet?
Among the documentary sources, in the first place, his own archive and library that are preserved by donation from the family from the year 2012 in the archive of the Guide Municipal Library. I was also lucky enough to meet him and, until 2001, I had a very fluid contact. He especially liked knowing and remembering Guidance topics very much. Since he was from the old school and didn't understand computers very well, he sent me handwritten letters or typed them. He asked me for things, I asked him and so on for ten years. Then he told me many aspects of his childhood or youth in the municipality. Of course, I have also had the help of his family, especially his brother, Pedro González Sosa, who always answered my calls and questions. I must also highlight Professor Antonio Henríquez, who helped us with the photographic exhibition, thanks to which many images of González Sosa have been preserved throughout its history. In the more professional part, since he worked for a large part of his life or at the end of the 40s until his retirement in the Banco Bilbao Vizcaya Argentaria, in the archive of the entity they also helped me and, of course, THE PROVINCE, Las Palmas Journal and other newspapers from the Islands have been fundamental through the Jable program of the ULPGC, which is digitized and can be consulted. That is why I have quoted many of those articles that I published in Las Palmas Journal and THE PROVINCE, mainly.
From what I read, his poetic work is not copious but very select and perfectly made. How many poems did he leave published?
He was a very demanding poet with himself, who throughout his life was revising all his poetry. He did not value the youth one because he did not really bet on it. With maturity he polished it and published it in non-general editions and for friends. The idea of ​​wanting to pass in secret and not stand out made him publish a lot of his work or even texts of literary criticism under a pseudonym.
"He brought together and bet on many people; that figure who brings together poets is missed"
Those who knew him speak of an extremely sociable, cordial person, without vanities and very generous with his colleagues...
He was a very generous, concerned person, who opted for young poets, for cultural activities in Las Palmas, above all, related to Canarian poets. He studied Tomás Morales, Alonso Quesada or Domingo Rivero. Throughout his life, he not only made literary criticism about them, but also supported the creation of exhibitions and all kinds of activities related to making these authors known. I would point out that, silently, like almost everything he did, he financially supported certain editions of Canarian poets and narratives. Manuel Padorno, another great writer, said that one of González Sosa's sonnets, very heartbreaking because it is the vision of the grandson looking for his grandfather, placed him among the five or six great poems of Canarian literature.
In the affiliation of the texts of González Sosa, or about him, LA PROVINCIA, Las Palmas Journal and the Canarian Press Club are constantly cited, as mentioned. It's not strange, because you directed or wrote a lot for the cultural supplements of this house, but was that compilation easy or complicated for you?
In the pages of the ULPGC everything is digitized. The only difficult thing is after transcribing and selecting, because it is impossible to put all the articles. That is why I highlighted those related to Guía and Domingo Rivero, who also lived his entire childhood and youth in the municipality.
His friends say that Manolo González Sosa had a great sense of humor and easily laughed openly. In short, an open character who never had enemies.
I laughed a lot with him because he had the canary humor, sarcastic, fine and ironic. He was a man who reached out to people and was very helpful.
His relationship with all the contemporary writers and artists of the Islands reflects one or two generations with great names of creators and relatives. In short, an intense cultural life and a sense of community that is not seen now. Are figures like him missing?
Facing his hometown, above all, he published articles in the press on several occasions where he asked the City Council of Guía to take note of those cultural activities that were taking place in Las Palmas and to take them to the municipality. He was a man who brought together and bet on many people, while currently the opposite is happening, there are many egos and that figure who brings together poets, creators is missed.
Wouldn't it be fair to now dedicate his name to a street in Las Palmas, as the City Council of the capital agreed many years ago (Isabel García Bolta being Councilor for Culture) and never came to be?
Yes, there is an agreement from a cultural commission of the Las Palmas City Council that approved the name of a street in the municipality based on its great work in the capital, but it was never carried out, despite being cited in the local press. It would not hurt since he deserves it very much.