Golden Ball: "Messi goes out to prove that it is Messi" | sports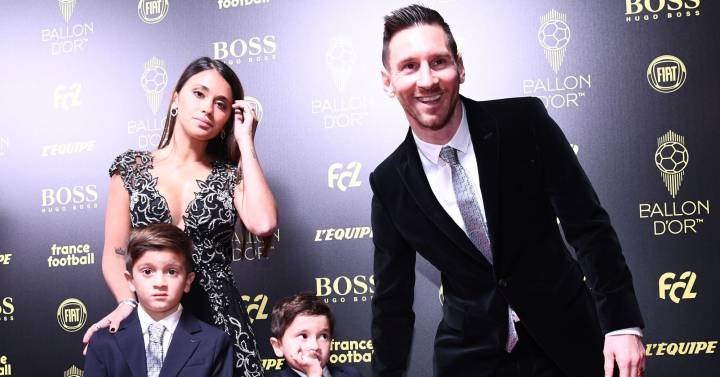 Ronaldo Nazario He was 21 when he conquered the world in 1997. It was the first time that a South American footballer took the Golden Ball after France Football, the magazine that awards the prize, broke the borders of Europe. The Phenomenon repeated five years later, in 2002, when he had already celebrated the 26. He then surpassed Franz Beckenbauer's mark, which had taken four years, from 1972 to 1976, to be crowned again as the best, when he was 31. Until appeared Messi and Christian. CR7 won the first in 2008 and the fifth in 2017 at 31 years. Messi beat the Portuguese brand last Monday in Paris. "The first time I came here I was 22 years old and I came with my three brothers. Today, 10 years later, I am with my wife and children. I never stopped dreaming and God willing me to have many years left in football, "he asked.l Barça captain when raising his sixth prize.
Messi looks to the future embracing the past, as if he were still walking hand in hand with his grandmother Celia to play at the football school of the Grandoli Flagman club, in the Las Heras neighborhood of Rosario. "You will be the best in the world," his grandmother predicted. He was not wrong. What he surely did not know was that his grandson canon was going to achieve what he had never seen in the history of football: getting on the top of the podium six times. "One of the aspects that characterize this type of players like Leo Messi is that they continue to play as if they were in the neighborhood," says Inma Puig, clinical psychologist, author of the book The emotional revolution, and that he worked at FC Barcelona from 2003 to 2018. "And this is the really difficult thing," Puig continues; "Because people put pressure and that paralyzes them. Instead, Leo continues to act as if everything happens, because that gives him confidence, but he doesn't forget where he comes from or where he goes. "
When Messi was sent to buy bread in Rosario, he didn't even sigh. He took the ball and started. "Messi is miscegenation between the street and the academy," says also Rosario Jorge Valdano, world champion with Argentina in Mexico 86. "Until the age of 13 he had an upbringing in Argentina that was important no matter how much it could be messy. The street lets you be. And then all that he learned in Rosario polished him in the Masia. It is one of the few cases in the world of formative miscegenation. " Andoni Zubizarreta, exporter and sports director of Barcelona, ​​is struck by Messi's last target against Atlético de Madrid. "If you analyze the goal in Wanda, it is the same as what I could have done when I played extreme with Rijkaard when I was 18 years old. It is a singular detail, it is reinvented, but it remains the same ".
Messi has been on the podium of the Golden Ball 12 times. The first, in 2007, was third behind Kaka and Cristiano Ronaldo. He won in 2009, 2010, 2011, 2012, 2015 and 2019. Only in 2018 he was not among the top three. He had won LaLiga and the Cup with Barcelona, ​​but he quickly said goodbye to the World Cup in the round of 16. "He is a winner, he can't stand losing. It is a competitive beast. In addition to his ability to sacrifice, he makes him an insurmountable athlete. And that's why today, at 32, he is at the level he is at. There were people who did the same thing he did 30 or 40 years ago, but then there was no level of professionalization today, "says Xavi Hernández, Messi's partner at Barça from 2003 to 2015.
"Soccer is a pyramid," says Ramon Cugat, traumatologist, sports medicine specialist; "There are many players at the base and very few at the top. For perfection, not everyone is prepared. And if being on top was already difficult in the past, it is much more today. For example, in 1965 in Catalonia there were 6,500 federated players, today there are 170,000. The base of the pyramid has been enlarged and the cusp is still just as small ". Cugat, known in the surroundings of Barcelona for the number of players he has intervened, analyzes why Messi has resisted so much time in the elite: "The longevity of athletes has to do with food, rest, care and daily work. "
The Rosario has suffered 20 injuries in his career. "Messi does not notice anything of physical wear and tear," says Vicente del Bosque, former coach of Real Madrid, world champion with Spain in South Africa 2010. The 10 has received 995 fouls in his 461 matches in LaLiga (2.15 on average ). CR7, 572 in 292 (1.95). "He has learned to take care of himself," Zubizarreta justifies. "The first big change in diet and care level is done with Guardiola. And then after the 2014 World Cup, because in that season he had suffered several muscle injuries. It's smart in everything, "completes the Dream Team goalkeeper.
"Genetically he is a very gifted guy, with impressive muscular quality," says Del Bosque. And Valdano joins: "There is nothing more important than what his father and mother gave him. But this boy never attacked his body, on the contrary. He took care of it. Diego (Maradona), for example, lived against his body and Leo did it in his favor. " Maradona was given an honorary Golden Ball in 1995. It was the way to compensate the Fluff because during his heyday he had not been able to enter the dispute for the award. Pelé, winner of three World Cups and author of 1,281 goals, took his turn in 2013. With Johan Cruyff nobody had to rectify. The Dutchman received his three Golden Balls while still wearing a short dress: 1971, 1973 and 1974. The same as Alfredo Di Stéfano, who was established as the best in Europe in 1957 and 1959.
Nothing compared to those won by Cristiano Ronaldo, Messi's eternal rival. The Portuguese won five times: 2008, 2013, 2014, 2016 and 2017. "He understood that I would not win it," Messi told France Football, after spending four years without receiving the Golden Ball. "In Barcelona we did not meet the objective of winning the Champions League and that is the competition that gives more opportunities to win the prize. When Cristiano Ronaldo was winning the trophies it was because he had very good seasons and won the Champions League and, moreover, being decisive. " And the Barca 10 did not like anything to see how CR7 swarmed the scepter of world football. "When Cristiano matched me, I admit that it hurt a little, I was no longer alone at the top. But at that time he had merit to take the Golden Ball and I couldn't do much more, "La Pulga completed. "The competition with Cristiano has surely been a great stimulus for Messi. It was a Barça-Madrid on an individual level, "says Zubizarreta.
Messi, however, is not encouraged to wear the crown of the best ever. "Honestly, I don't know who is the best footballer of all time," completed 10 of Barcelona. Xavi Hernández, however, does not hesitate. "He is the best in history without any doubts," says the now technician of the Qatari team Al-Sadd. Valdano, on the other hand, does not label. "I will never say that Messi is more than Pele, Maradona, Cruyff or Di Stefano, but I would never say otherwise," says the former Real Madrid player and technician. "In a sport like football, the collective is ahead of the individual. But that does not mean that Messi is the best and that he deserves individual recognition, "said Del Bosque.
Challenge or threat
Eleven jump to the field, but nevertheless in the tunnel of changing rooms of the Camp Nou all look at 10. "It is not the pressure of the public only. It is the pressure of yours and yours are very good. We are talking about the best in one of the best teams in the world, "Zubizarreta understands. "That pressure is terrible. He doesn't go out to play a game. He goes out to prove that it is Messi. Living with it is tremendous, but it was born for that. Your body and your mind are prepared for that. We tend to underestimate these types of characters because we confuse the illustration with intelligence: those who reach the highest level have a higher capacity, "adds Valdano. And the psychologist Inma Puig completes: "For the big players the pressure is a challenge. They think: 'Will I be able to do it again, will I be able to win again?'. On the other hand, good athletes live it as a threat: to see if I am not able to measure up later. That is the difference between the great and the good: challenge or threat. "
Pablo Aimar knows Messi well. He shared costumes with him in the Argentine national team when the Barça captain was still a pipiolo in Germany 2006 and joined the Albiceleste coaching staff in the last Copa América. "There are so few, but so few athletes who have reached that level. Who are we talking about? Messi, Cristiano, Federer, Nadal and Lebron? These people have something in common: passion. After everything they won and what they did for the sport, they still think it's a game. And they do it with impressive professionalism. These guys they work a lot to be what they are. "
"These athletes do not get tired because there is a desire to perpetuate themselves. But they don't do it for the big masses. They do it for them, for people who care. If you go deeper in some cases, a father who died, a grandfather or a brother who could not be as good as him appears. There is always an emotional point behind this intention to be the best. And behind that emotion is a person, because if it were for themselves they would already be tired, "closes Inma Puig. And as if he had never let go of his grandmother Celia, who has dedicated all the goals he has scored, Messi today plays for his children: "I wanted them to see me win the Golden Ball."
The field player with the most minutes in the league in this decade
Exceptional player, unique in terms of individual awards, Messi also transcends from the regularity as the field player who has played the most minutes in the last 10 years of those who line up in the major leagues in Europe. A study of CIES Football, which affects 42 clubs of the five major continental tournaments, argues that the Barça striker has played 83.4% of Barcelona's total minutes in LaLiga in the decade started on January 1, 2010. A Record record (28,309 minutes) that has only been surpassed by Steve Mandanda, the Olympique de Marseille goalkeeper, with 84.2% (28,419 minutes). The third position is for another goalkeeper, Stéphane Ruffier, of AS St-Etienne, with 80.9% and 27.232 minutes, and the fourth falls again under sticks: David de Gea (Manchester United) with 77.1% ( 25,814 minutes). The sixth is Real Madrid's Sergio Ramos (74.2% and 25,172 minutes) behind German Thomas Müller of Bayern Munich (76.6% and 23023 minutes).
From the continuity, the Argentine still has some records to break, and especially that of being the top scorer in history in a single club, held by the Brazilian Pelé with 643 in Santos for 614 Messi in the Barcelona.
Nor is he the player who has played the most games with the Barca team: 701 against Xavi's 767. Not the one who has played the most matches in the Champions League: 140 against 181 of Iker Casillas.
The Champions League is the biggest challenge of 10 in Barcelona. The top scorer of the tournament is still the Portuguese Cristiano Ronaldo (Juventus), with 127 goals for 114 of Messi, and the player who has won it most times responds to the name of Paco Gento: six times four of Rosario.
The Real Madrid player, in addition, has won the record number of up to 12 leagues, two more than Messi, captain and saint and Barcelona's sign. La Pulga has up to 34 titles, an extraordinary record and at the same time lower than the one held by Brazilian Dani Alves (São Paulo), a former Barca player, who totals 39.
You can follow EL PAÍS Sports in Facebook, Twitter or subscribe here to the Newsletter.