Gold Medal for Cultural Merit: "An act of justice for a unique and unrepeatable editor" | Culture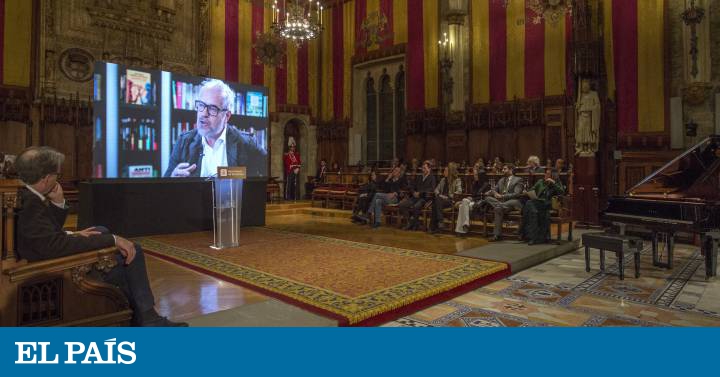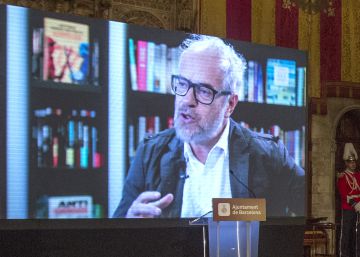 It would have been unlikely, said the critic Ignacio Echevarría, that the City Council of Barcelona would have granted this year the Gold Medal for Cultural Merit to Claudio López Lamadrid if Claudio López Lamadrid, the titan editor "and powerfully human" who wanted to expand and He did, as Elvira Navarro said in his opening speech, "the battlefield", follow between us. "I would have been still too young to receive something like that," he recalled, the night of the day he had turned 60. "But let's imagine," he ventured, "that, despite this City Hall had decided to distinguish him, would Claudio have accepted? The distinction?". Would I have accepted it? "Imagine yes," replied the critic, who joked about how bad it would have been, to agree, waiting for his turn to speak.
"Claudio, who was to sneak away from any imaginable situation, would have been sitting there, looking shamelessly at his phone, on his nerves, feeling very honored to receive such a distinction, not for vanity but for what it means: recognition of a job that he developed with true passion, "Echevarría said, from the lectern of a crowded Saló de Cent. His team, and virtually the entire literary division of Penguin Random House headed by Núria Cabutí, its CEO, and the editorial directors Pilar Reyes and Miguel Aguilar, occupied a bench. The rest was packed by family members, some writers, agents, journalists, and, above all, friends, who attended, excited, at the moment when López Lamadrid himself took the floor from a screen to remember how invisible his work should always have been. .
In the small tribute clip, the work of Poldo Pomés, which was spent in the center of the act, the editor reviews, from his office, and with the impatience that always characterized him, how were his beginnings - moving the Tusquets publishing house warehouse - , and how he came to project the meeting of the literature of the different Spanish-speaking countries, the project on which Echevarría wanted to point out. "It has been said that his work has helped prolong the status of Barcelona as the capital of the Hispanic world at the editorial level, but Claudio's great bet in Latin America was to provide each headquarters with personality and autonomy to break the colonial imprint of Barcelona. Thus Barcelona works on an equal footing with Santiago de Chile and Mexico in un map capable of integrating all voices, styles, imaginary, poetic, "he added.
His speech followed that of Elvira Navarro, who drew a portrait of what was its editor, an editor who, "of all the works preferred the editor with an emphasis on the e", the one who takes care of the texts, surrounded by "a wonderful team that was a reflection of his huge human stature. " "Claudio did not want to be an intellectual locked in his office, he wanted to show his face, establish a direct dialogue with his readers," said the writer, and his note, which extended to his omnipresence in social networks, added to something more later Echevarría would say when compared to "the legendary Herralde", An absent face in the tribute, that López Lamadrid" coined the most plausible model of the editor of the 21st century "who" did not perpetuate the classic model of editor "but instead faced" without prejudice and with an adventurous spirit, the challenges of a new epoch".
"Our city would not be the same without passionate people like Claudio," said Joan Subirats, deputy mayor, in charge of delivering the medal to his children, Jimena and Jacobo López Lamadrid, in the absence of Mayor Ada Colau. "Today is an act of justice for a unique and unrepeatable editor who helped prolong the magical idyll that this city has with books," said the politician, before giving the floor to the editor's children who, excited, said some words. "My father's modesty did not let him enjoy his triumphs, but he would have loved to receive this great recognition of his soul city," said his son Jacobo. "My father was not a tribute, he understood his work as something discreet, but today I think he would be very proud to receive this recognition, as much as we do," said Jimena.
The closing of the act corresponded to that of his partner, the writer Ángeles González-Sinde, who read Antonio Machado's poem Know how to wait, and an exciting "partial portrait" of the editor who had published that same day in which it refers to the corporeality of the living and to what remains after, something "very similar to the soul", which "can be expanded in those that remain." "The good thing about the world is that it is big," he said he used to tell him, and that he liked the idea that the possibilities would never end. "If I had been alive today, I would have read before coming his speech, seeking to tie me to him, with a need for childish and tender praise that is what I loved about him," he added, and concluded with a "heartfelt , thank you, thank you for recognizing a neighbor from Barcelona. "