'God hand in hand with Maradona', by M. Vallés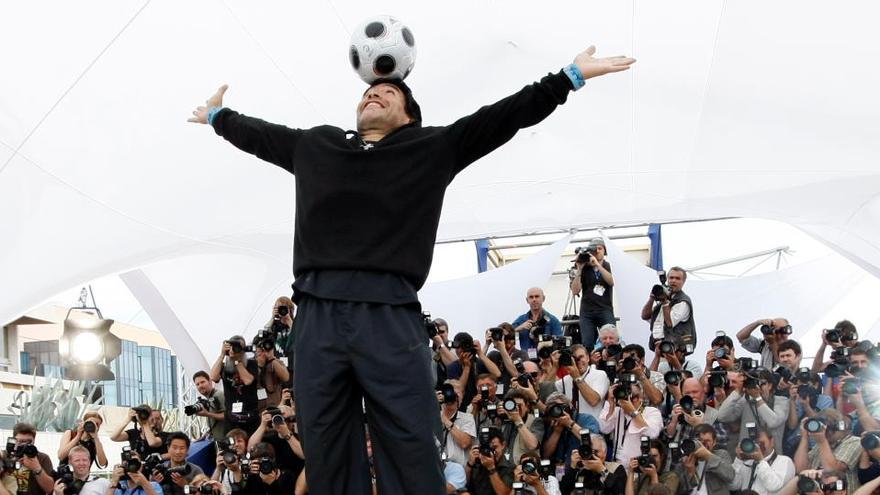 Maradona is dead the public has died and Messi is not very comfortable. Football is only conjugated in the past tense. Don Diego gave him so many chances to death that on some occasion they had to end up tied. Accustomed to dribbling the shadow, he imagined that in life as in the field he would always sculpt a mischief towards the exit door. A premature idol dies, because he never matured. He protected Castro, but his shirt and silhouette compete with the Christic image of Che.
God shakes hands with Maradona, now literally and not like against England. He dies without getting off the divinity, an inflatable doll statue of himself, losing his breath at every great word. We must hastily rescue the documentary Diego Maradona, by Asif Kapadia. There the convictions that Messi has been the greatest falter, because his predecessor herded a disoriented flock to glory. In the film he confesses that he fell in love with cocaine "in a bowling alley in Barcelona", a disco in translation.
Maradona is a religion, arguing with him makes less sense than being amazed at his disappearance. Death is the least painful outcome for the unbridled celebrity, the Argentine delayed his destiny to avoid incurring the twentysomething martyrdom of Amy Winehouse, Janis Joplin or Kurt Cobain. The exceptionality of sports idols lies in the virtue of "reading the pitch", the superhuman ability of a Fischer to sweep the board.
Maradona accumulated compensation in his brain at a short jog with a narrow hip. He teleguided the ball with his eyes, the foot was a junior. Thousands of parents are wondering right now if their children could be Maradona without the counterparts. No way Jose. Glory is a double-edged sword, and before condemnation, remember that the gangster is not called Maradona, but elite football.