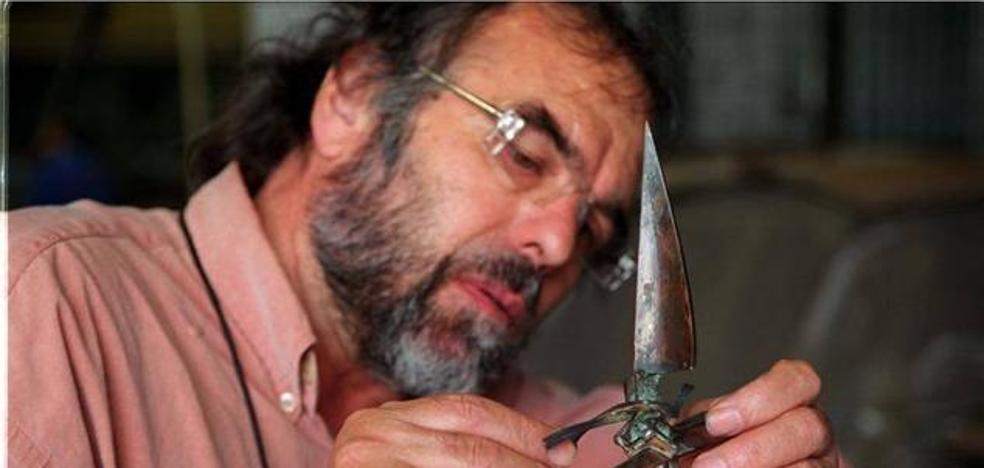 The recently deceased artist leaves behind an immense legacy on the islands
Juan Antonio Giraldo Fernández de Sevilla (Ciudad Real, 1937-2023) was, like a good Castilian, an introvert. Even during the years in which he acquired a little more notoriety, he was practically disconnected from the circle of cultural criticism and perhaps, for that very reason, he believed himself a forgotten author.
On the other hand, it is inevitable to travel through Gran Canaria without coming across part of its legacy, from
the monument to the lateen sailuntil the restoration of the stained glass windows of the Cathedral of Santa Ana and the Benito Pérez Galdós Theater, emblems of the capital city.
"He was a man from the studio, not from the corridors, with full and absolute dedication to his work," says Antonio Almeida, an author who has reviewed the life and work of the artist in a publication that will soon be published, and which also includes his work. more intimate portrait.
His character, with an elusive point, was marked by two factors. To begin with, it was
a critical person, "that he did not bite his tongue" and that could forge the rejection among some circles. Secondly,
territorial mobility between its three residences -the place where he was born, Villanueva de los Infantes, where he lived, Las Palmas de Gran Canaria, and where he met his wife, in Finland- prevented him from deepening certain affective ties, so he dedicated his free time to his work.
But that discipline did not emerge suddenly. It was on one of his trips through France and Amsterdam, admiring the work of Van Gogh, when the thought survived that
I would never achieve such prowess in painting and that frustration was what led him to explore other artistic languages ​​that brought him closer to Auguste Rodin, Marta Pan or Constantin Brancusi.
Giraldo defined himself, thus, as a craftsman and explained his work not with a "rational" pattern but rather an instinctive, subjective way. The inspiration was generated by the environment itself (his sculptures of him were adapted to a time when there were no foundries) and that is why he considered himself, for all intents and purposes, a Canarian artist.
In this line, what stood out the most was his self-taught character, and even in his last years he was perplexed
what a feat it is to emerge from a poor family into the artistic world, without academies or teachers to train him beyond the occasional summer course in his teenage years. In a look back at his long career and in which, Almeida says, he "resurrected", this was what he was most proud of.
On the other hand, the death of the artist coincides with the year in which an anthological exhibition was scheduled in Caja Canarias for December.