Ginebras: you will look for his name on the posters | Miss Festivals Blog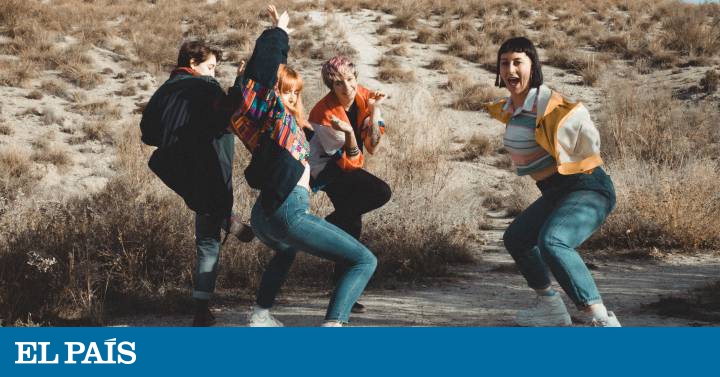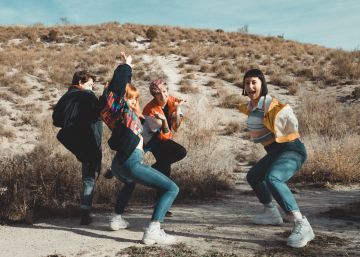 Juls (25), Magüi (23), Raquel (28) and Sandra (23) are Gin, the new one girlband of the independent Spanish scene that will conquer the calendar of national festivals. Its history as a group is very short, but this summer it has served to heat engines. They have gone from composing at home "without any intention" to publish their first EP in a very short time. In the middle, a unique experience, to play in the concerts prior to the FIB, an appointment to which they have gone as groupies and as a local band. A year ago they exist as such but their great moment began this summer and has culminated with the publication of their first work with Vanana Records, four songs that are collected in Give me 10.36 minutes. They will ring you for The typical song and for getting you to dance without a dog With height through a version of this success of Rosalía and El Guincho.
The main voice of this festive pop is made by Magüi, an original member with Sandra of that group: "we want to convey good vibes, we look forward to playing at festivals and for people to forget about their dramas and dance." They recognize that before everything that comes, they flow: "we are not afraid to change style, we just want to connect with the public," Sandra acknowledges, insisting that the next thing they publish will play several sticks "while still being Gin" because "the styles unite. " A good example of this and its lack of musical prejudices is the version of Con Altura: "we were rehearsing versions for the concerts and this came out, you're welcome Rosalia." They are spontaneous and their naturalness is not only perceived in their lyrics and rhythms, but in their speech, which gives off the desire for everything.
They are not called gins for the spirit drink, they say that "it sounded good" but in reality they prefer beer to gin "because it is cheaper." What does keep a message are his songs: "They are all stories of our own and of friends, we talk about our lives, we are like a reality show but of songs, we are based on real events, although then we load the songs with a little drama." One of their songs, All my ex have a boyfriend, is a good example and Magüi knows it: "the lesbian sector is very identified with our letters". This is one of the tricks of this young band, its dose of truth, the other is in Malasaña: "We have many friends with bands, we know what it is to pay to play in places, we have been very lucky, entering is not easy" . And part of this luck has a name and surname, producer Pau Paredes, with whom they had a real crush.
Festivals are the natural space of this emerging band that already has hundreds of thousands of listeners on Spotify thanks to the spirit of the 'emerging fan'. This is what one of his songs is called and with these terms they refer to the numerous followers of this type of groups that are part of the small print of the posters. Camellos, Amatria, Zahara or Miss Caffeína have been some of the talents that they have pursued in these events. And for asking that it not be left, they would like to share the top of the festivals with ELYELLA, Crystal Fighters, The Koos, Paul McCartney, Noel Gallagher or Tash Sultana, a variety of elections that matches four of their profiles: Magüi, which qualifies its passage through the FIB as a "7-day religious experience", is more identified with the roll of the Rock Vine. Juls pulls to his land and opts for Weekend Beach, Raquel for Sonorama "because she is more lady" and Sandra, who is more ambitious, opts for Glastonbury. Write down his name, you will look for them on the posters.
Meanwhile, you can listen to the playlist that they have created for Miss Festivals and in which they have programmed the artists they would choose for their perfect emerging festival:
. (tagsToTranslate) gins (t) search (t) name (t) poster (t) new (t) new (t) girlband (t) scene (t) independent (t) be (t) group (t) pop-up ( t) listen to (t) festival



Source link