Gil: "Friedrich will make a 'tour de force' by playing a Brandenburg concert"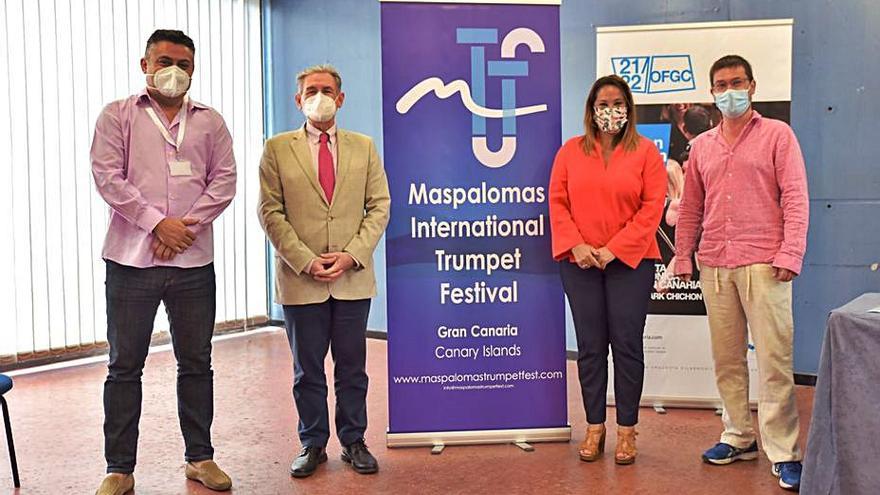 Sebastián Gil, director of the Maspalomas International Trumpet Festival, said yesterday that «Reinhold friedrich he is going to do a program that we call a tour de force because he is going to play one of Bach's Brandenburg concerts, a difficult work and not all trumpeters are willing or able to perform and he is going to end the event with the Hummel Concerto, in E major, temporarily straddling the Haydn concerto, so well known to trumpeters ». This is said because the German musician will participate as a soloist in the Gala Concert of the XIV International Trumpet Festival, together with the Gran Canaria Philharmonic Orchestra, which will take place tomorrow at the Expomeloneras Conference Center, under the direction of conductor-concertmaster Gregory Ahss.
The presentation of this event was attended by Pedro Justo Brito, vice president of the OFGC Foundation; Elena Espino, Councilor for Culture, Historical Heritage and Local Development of the City Council of San Bartolomé de Tirajana; Gregory Ahss and Sebastián Gil.
Espino stressed that the Trumpet Festival has become a benchmark for different instrumentalists around the world. «This year we have doubled the economic allocation to continue promoting the training of musicians, artistic creation and musical quality. This edition is loaded with news and has already established events such as the OFGC concert, which participates, for the sixth consecutive year in the Festival and this time it does so in a special way, in a Gala Concert that is part of the celebration of the 300th anniversary of the Brandenburg concerts'. "From my council we have been working for a safe culture for more than a year, which is an essential good."
According to Gil, Maspalomas is full of international trumpeters this week who will meet the OFGC, our groups, "which is a great pleasure." For Ahss, it is a fortune to meet friends here, especially Friedrich, «with whom I have had a long relationship and with whom I have met under the leadership of Claudio Abbado. We have been members of the same orchestra for 15 years, so I love conducting a concert where this trumpeter participates. I also feel like a lot of work with the OFGC ».
Brito remarked that it is a special festival because apart from listening to some pieces, "it has an educational character. Every day there are master classes by first-rate trumpeters who come from abroad, who also work with trumpeters who come to receive classes and cooperate with each other, an essential aspect for the development of the quality of artists in this type of activities. . It has a certain connection with the Maspalomas Summer University ».
The Gala Concert program commemorates 300 years of the performance of Bach's Brandenburg Concertos, with the Brandenburg Concerto No. 2 in F major and the Symphony No. 52 in C minor by Joseph Haydn, in addition to the Concerto for trumpet and orchestra in E major by JN Hummel.
Reinhold Friedrich is regarded as the maximum exponent of the trumpet classical and gives multiple master lessons to former students, teachers and trumpeters of the best orchestras in the world. He is a professor at the International Foundation Trumpet Chair at the Reina Sofía School of Music in Madrid.