Ghosn appears in Beirut for the first time since his escape and accuses Nissan of a plot to end him | Economy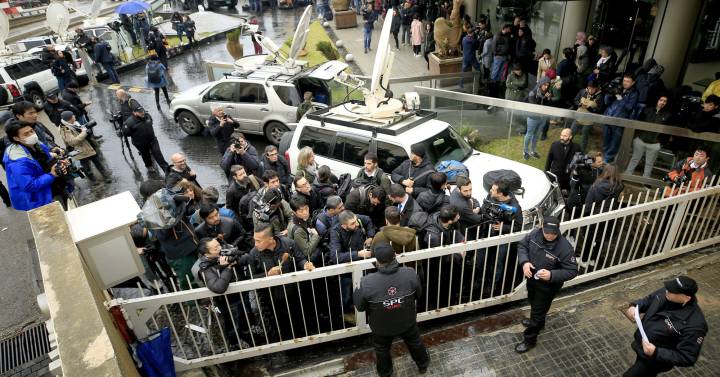 Carlos Ghosn, defenestrated president of Nissan, will star in his first public appearance since that on December 30 he escaped from Japanese justice and sought refuge in Lebanon. Accused of financial embezzlement, Ghosn will keep his innocence from Beirut against a Japanese system that calls it "unfair." A day before his appearance before the media, the businessman's defense lashed out against Nissan, whom he accused of deliberately fabricating false accusations to prevent further integration between the Japanese company and Renault.
"To say that Nissan carried out a robust and thorough internal investigation is a perversion of reality," says the press release released on Tuesday afternoon.
"The investigation began and was carried out with the specific and predetermined purpose of demolishing Carlos Ghosn and thus preventing it from integrating Nissan and Renault further, something that threatened the independence of Nissan, one of the most emblematic companies in Japan," he adds. The document.
The rocambolesque escape of the 65-year-old motoring tycoon, holder of three nationalities: French, Brazilian and Lebanese, has left a stir after him: he has left the Japanese security services in evidence; seven people investigated in Turkey, where he made a stopover; and puts the Lebanese Government in trouble, which has received an extradition order from Interpol.
Citing information obtained by the Turkish authorities, the French weekly Le point points out as accomplices of the escape to former US military Michel Taylor and Georges Zayek, eCombatant of what was the Christian militia Lebanese Forces. According to this version, Ghosn left his residence alone, despite meeting on probation and under strict surveillance measures. He took a train to Osaka, where he embarked on a private jet to Turkey inside a perforated box with holes to allow oxygen to enter. There he changed planes to finally land at Beirut airport, where he allegedly crossed the police control with a French passport. Since then he remains with his wife, Carole Ghosn, in the home they keep in the Lebanese capital.
Your allegations have been of little use. "My family had nothing to do with it," he said as soon as he stepped on Lebanese soil. However, Tokyo prosecutors on Tuesday obtained an arrest warrant against his wife Carole for "alleged perjury."
The businessman was arrested for the first time on November 19, 2018, accused of tax fraud, for which he spent 108 days in provisional prison. Ghosn was accused of diverting company funds for personal purposes, as well as hiding part of his salary for years to avoid taxes. Through this framework, the Brazilian businessman allegedly pocketed up to 9.2 billion yen, more than 70 million euros.
After meeting with Lebanese President Michel Aoun on Tuesday, Japan's ambassador to Lebanon, Takeshi Okubo, called for "greater cooperation from the Lebanese authorities" with the aim of avoiding "negative repercussions" on relations between the two countries.
Like France, Lebanon does not have an extradition law for its citizens, so Ghosn can rest easy and know that he will not be handed over to that country's justice.
"This man has been French until today, and he only remembers that he is Lebanese when he becomes a thief and is persecuted for justice," protests Beirut Hussein Hutet, a 47-year-old merchant. It does so in a city that today lives on the 84th day of anti-corruption protests, in which they call for the blockade of a political class that the protest movement accuses corrupt and responsible for the looting of the country's coffers.