Germany, the child prodigy for an economically strong Europe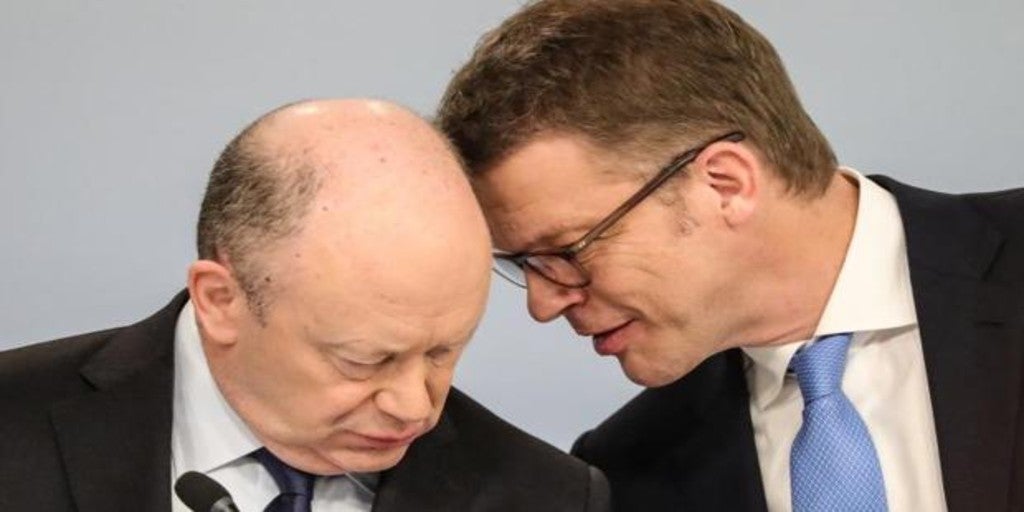 Berlin
Updated:
Keep

Deutsche Bank is one of the largest financial institutions in the world and Christian Sewing has been its president for more than three years. During the Economic Conference organized by Die Welt and less than a week before the general elections in Germany,
Sewing has called on the candidates to agree on an economic policy agenda for Germany as a business headquarters and has warned that "this country is at the end of a golden age and now it needs to reinvent itself." "It is not just that the stakes are high in these elections. It is more than that. This is the last day, so to speak. We are facing a decade in which, as in the twenties of the last century, the decisive course will be marked. With the difference that setting the course this time can give very good results, "he began his speech. "Last week in London I realized how important this vote is. For the first time since the outbreak of the pandemic, we had brought together our largest institutional clients, people who manage a total of more than € 30 trillion in assets. I was surprised by how interested investors were in the elections in Germany and how much they knew about it. It was clear to me: the world is watching us at this moment, and not only investors are holding their breath to see what will become of this child prodigy in Europe, who has done so well during the last decade, "he said, associating the immediate destiny from the German economy to a series of European reforms that he considers essential. "I am convinced that Germany is at the end of a golden age and at the beginning of great upheaval," he predicted, pointing to changes in the European mindset that will determine success or failure.
Sewing defended a 2030 Agenda, for Germany and Europe, based on five pillars. As the first of them pointed out investment. "We will need billions of dollars to become more digital and sustainable fast enough and, above all, it must be invested in the private sector. There is no shortage of money: after all, we Germans have been generating a gigantic current account surplus for decades, of which we are very proud. The problem is that we are investing this wealth in a suboptimal way, "he said.
"We have to become more attractive as a place of investment in general, with less bureaucracy and simpler laws. We must avoid overburdening companies and individuals with even higher taxes, which slow down investments and we need an attractive European capital market to be able to distribute investments correctly, "he continued with his argument," I agree with those who say that it will not work. completely without state capital, but it certainly won't work without a European capital market. ' "We simply will not be able to finance the transformation of our economy. In other words: there will be no Green Deal without the Capital Markets Union, indispensable to avoid massive social problems such as poverty in old age. The combination of negative interest rates, rising prices, poorly financed old-age benefits, and loss of returns on invested assets is toxic to a social market economy. The middle class, the backbone of our society and democracy, threatens to shrink, "he added.
The second of the pillars that he proposed is related to understanding sustainability as an opportunity. "Climate protection doesn't just cost money: current estimates assume a global investment requirement of more than € 2 trillion per year by 2050. It also means a great opportunity. As one of the largest manufacturers of capital goods in the world, we have to manage to combine digital with sustainable … Our aim should be, for example, to become the world market leader in sustainable mobility solutions, whether for cars, trains or airplanes. We have the technology, we have the engineering knowledge. So we could experience a kind of export 2.0 boom, this time not only exporting technology, but also knowledge about sustainability and data-driven solutions, "he argued.
The third pillar of his presentation is related to entrepreneurship. "The construction of the Tesla battery factory in Brandenburg cannot possibly be completed but has not yet received approval. Nor is it possible for poorly digitized and networked authorities to slow down businesses and increase administrative costs. It is not possible that we spend a lot of energy in preserving the existing structures, consuming a large part of the state budget and clinging to the unsustainable, 'he complained bitterly about the slowness of bureaucratic processes in Germany and Europe, before calling for successive and immediate steps of European integration that facilitate business on the continent. 'Germany remains the fourth largest economy in the world and, together with the 26 other EU countries, is even the third largest. The problem is that we are not perceived as a unit on the world stage and we weaken ourselves and our negotiating power, "he lamented. 'To change that, we urgently need to complete the internal market. And that's not all: Europe must finally be able to make decisions again. For this we need a new governance in the EU: majority decisions must become the norm and, wherever possible, replace the overwhelming requirement of unanimity. Many rules that we unnecessarily impose on ourselves are also not practical. I am thinking in particular of the antitrust law, which prevents European champions, because we are so concerned about competition within Europe that we ignore competition with the rest of the world. '
'If Europe is so strategically important, then we need a clear economic policy plan. Where is the strategy for an economically strong Europe? Without answers to these questions, we will not live up to our leadership role, "he reached his fifth pillar. "We need a culture of responsibility and personal ambition. We lived it ourselves in our bank: when we decided to radically reorganize ourselves more than two years ago, it was not only the individual measures that were decisive, but above all the attitude, the conviction among our employees that something really changed. And here also I would like to remind you of the Agenda 2010. It worked not only because of the measures it contained, but above all because of the signal it sent: that from that moment on each one was initially responsible for their own work, their own life.