Germany, Austria and the Netherlands stand against the ECB package of measures | Economy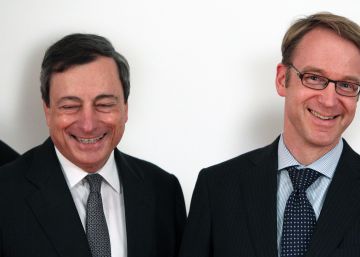 The central banks of Germany, Austria and the Netherlands have positioned themselves against the decision of the European Central Bank (ECB) of approve a complete package of measures to stimulate the economy, including the restart of net asset purchases.
The president of the Dutch central bank, Klaas Knot, said Friday that the "broad package of measures, in particular the resumption of asset purchases, is disproportionate to current economic conditions", adding that there are" serious doubts "of its effectiveness.
In the banker's opinion, the economic slowdown implies that it is "inevitable" that the ECB will take longer to reach its inflation target, but discards that it is out of reach. Also, for him there is no risk of deflation or signs that point to a recession. "All this is worrisome, but it does not imply that restarting a measure of such scope as the asset purchase program is the appropriate instrument," Knot added.
On his side, the president of the Austrian central bank, Robert Holzmann, has also charged against the package approved by the Governing Council of the ECB. Asked in Bloomberg TV On whether the new measures were a mistake, the banker has indicated that he was "sure" that this idea "crossed the minds" of some people during the ECB's monetary policy meeting. "And definitely crossed mine," he added.
In an interview with the German medium Bild, the president of the German central bank, Jens Weidmann, has affirmed that the monetary authority of the euro zone went beyond its objectives with the announced package. "A far-reaching package by the ECB was not necessary," Weidmann said, adding that he will press other members of the Governing Council to ensure that the rate hike "will not be unnecessarily delayed."
When communicating the package of measures on Thursday, the president of the ECB, Mario Draghi, reported that there were conflicting visions among the central bankers of the eurozone. However, when deciding whether or not to approve the entire package, there was a consensus broad enough to not even have to take a formal vote.
. (tagsToTranslate) germany (t) austria (t) netherlands (t) position (t) package (t) measure (t) bce (t) president (t) bank (t) central (t) dutch (t) ensure (t) be (t) disproportionate (t) condition (t) economic (t) economic (t) current



Source link