Germany accuses six Volkswagen employees of por dieselgate 'fraud | Economy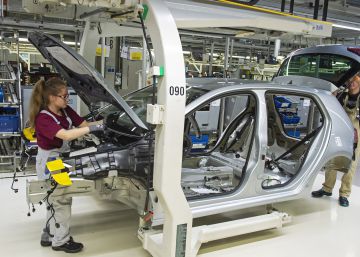 The Prosecutor's Office of Braunschweig announced on Tuesday the indictment against six seniors Volkswagen charges, relapsed with the manipulation of software to camouflage pollutant emissions, the so-called dieselgate. The former president of the group Martin Winterkorn, had already been accused by German and American justice.
Specifically, they are accused of fraud, tax evasion and false documents, according to a note issued by the prosecution. The alleged crimes would have occurred between November 2006 and September 2015. Three of the workers are accused of having committed the facts and the other three, of cooperating with the perpetrators, knowing what they were doing.
In the indictment of 876 pages, the prosecution accuses them of being "widely responsible" deliberately fooling authorities and customers in Europe and the United States with software installed on the engine of vehicles that falsely gave the impression that it complied with the pollutant emission limits.
"In total, nine million tricked vehicles were sold and registered. As a result of the deception, the authorities wrongly cataloged the vehicles, which enjoyed improper tax exemptions, "always according to the prosecution. So far, eleven people have been indicted in the context of the investigation of emissions software manipulation and another 32 employees and former workers, most senior positions are being investigated. The Braunschweig regional court must now decide whether to admit the accusations and a trial is held.
When the car company was consulted, it indicates that "the criminal investigations of the Braunschweig prosecutor's office have been closed following the fine imposed in 2018, which the company accepted and paid that same year." Volkswagen spokesman refers to the fine of one billion euros imposed as a result of the criminal investigation against the company. Regarding the accusations made public on Tuesday, the company adds that "they are related to specific individuals so Volkswagen will not comment."
Manipulate markets
Last September, the German justice accused the CEO of the car company, Herbert Diess, the president of the supervisory board, Hans Dieter Pötsch and the former CEO, Martin Winterkorn, for having committed the crime of manipulating the markets by informing Investors "deliberately too late" about the risks of the scandal.
In April last year, German justice announced its first accusation against Winterkorn, the former president of the group that He left office in September 2015 because of dieselgate. the Prosecutor's Office of Braunschweig then accused Winterkorn and four other people of committing, during his tenure at the head of the group, a serious scam, of violating competition and trust abuse laws. In the US, the Department of Justice prosecuted Winterkorn, in 2018 for the fraud of the emissions of its diesel cars.