Germans buy 7.7% less food to support the rise in prices in the supermarket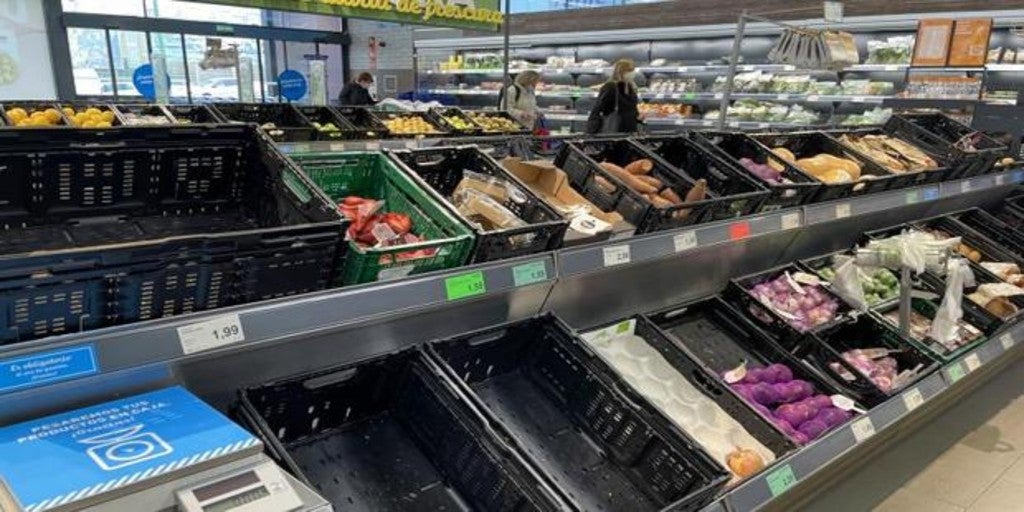 Rosalia SanchezCONTINUE
Updated:06/02/2022 14:02h
Save
Related news
During the first months of price increases, the behavior of German consumers underwent only superficial changes. The savings accumulated during the long months of the pandemic, in which economic activity was considerably reduced, served as a cushion and a means to carry out purchases and long-deferred projects. But that mattress is over and the change in consumption habits has now taken place radically. And it affects more the sectors in which the rise in prices is more pronounced. In one month, from March to April, the turnover of grocery stores collapsed by 7.7%, according to what has just been published by the Federal Statistical Office.
As a whole, German retail sales have reduced their turnover by 4.7% compared to the previous month.
"Real sales reached the lowest level since February 2021", reports Destatis about a period in which economists expected an average decrease of only 0.2%, "it is the biggest monthly drop in sales since the start of the time series in 1994.
"I just buy less, less treats. I buy only what is strictly necessary because, if not, I have to give up 8% of my salary. I try to minimize that percentage by buying less, "explains a nurse at the door of an Edeka supermarket in the Mitte district of Berlin. «I have changed the brand of coffee and butter. Also detergent. I have switched to the cheapest ones because with the rise in prices the pension is narrowing », says Helena, a retiree, on her part. "The only way to stay on budget is to buy more pasta and less protein, but I have to because prices are going to keep going up and we'll have to keep eating," adds a mother.
No one doubts that the cause of this change in the consumption model is due to inflation: 7.9%, which has not been seen since the 1970s. The Economy Minister, Robewrt Habeck, has anticipated that prices will not begin to down until at least a year from now and until then they will continue to rise. Analysts expect inflation to continue rising above 10% until the end of the year. This is estimated, for example, by a study by Allianz Trade.
German trade is further hampered by problems in supply chains. If in April 6.1% of companies declared themselves affected by this problem in a survey by the Ifo institute, in May the percentage is 80.1%. The Farmers' Federation has renewed its demand for higher food prices: "We urgently need higher sales income to be able to continue doing business," justified its president, Joachim Rukwied, on behalf of a sector that is in turn very affected by the rise in energy prices.
"These massive cost increases cannot be borne by farmers alone, they must also be passed on to consumers," he said, and the large supermarket chains react quickly by changing their strategy. "In view of the high rate of inflation, many customers are becoming more price sensitive," confirms an Edeka spokesperson, "we are finding that the majority are switching from branded products to private labels."
The Aldi chain, which had invested in more attractive stores and in issues such as animal welfare in recent years, now decides to focus again on cheap own brands in its communication, while its competitor Lidl has launched a campaign in which it distributes prizes to buy free. The price is again the main argument, if not the only one, instead of the green labels. Egg farmers report, for example, that there is little demand for organic and free-range eggs, hurting those farmers who produce to higher standards. Organic meat is also proving difficult to sell.
The German Retail Association (HDE) recorded 20% fewer visitors to stores in May. "Retail remains in crisis mode. Although the pandemic is not over yet, the economic impact of the Russian war in Ukraine poses additional challenges for the sector that we still do not know how to solve, because the consumer has been buying significantly less than before for weeks," explains the executive director of HDE, Stefan Genth. And this trend also affects online commerce, which during the pandemic did not experience a crisis, but rather a period of increased sales. Fashion retailer Zalando, for example, has reported for the first time in the first quarter that it has not increased its turnover, compared to the previous year. Also Otto's boss, Alexander Birken, warned this week that the company will earn less this year than previously expected, due to customer reluctance. "The flaws are big," he attests.
Minister Habeck has launched a "concerted action" involving parties, employers and unions as an opportunity to jointly combat inflation. "We must prevent inflation from leading to a recession", he pointed out after the first meeting of the "Alliance for the Future of Industry". "If we turn it into a deep economic crisis, we will have done everything wrong," he has sentenced.
View commentsTopics

Source link