Georgia O'Keeffe, beyond her flowers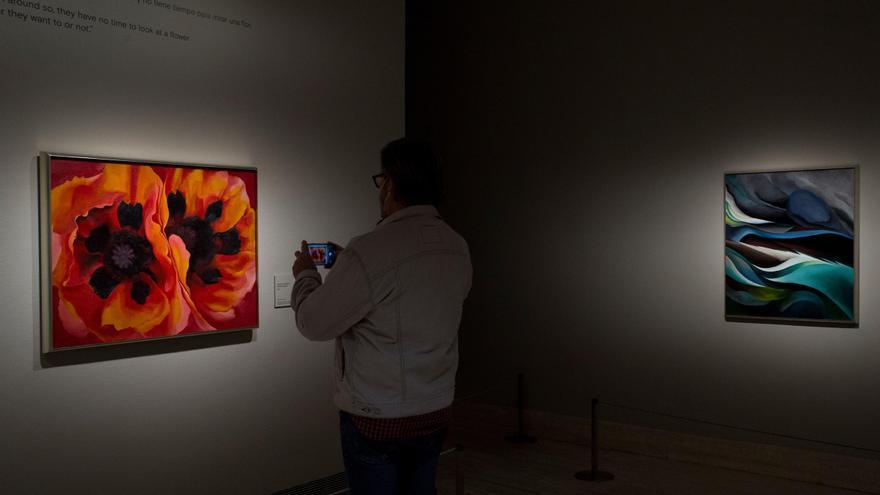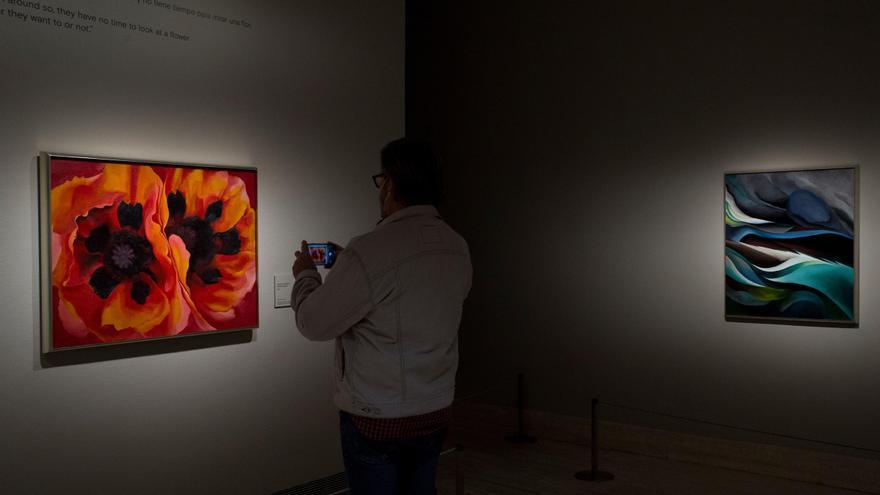 The Thyssen Museum claims the figure of Georgia O'Keeffe, an artist who had overwhelming success in life, something that was not reserved for women. His flowers, in which many saw female genitalia, made him famous, but his universe, always connected to travel and nature, is much more.
'Georgia O'Keeffe' is the first retrospective dedicated to the great American artist in Spain. It covers six decades of its trajectory through 90 works and will remain until August in the Madrid museum, and then travel to Paris and Basel. In it you can find a large collection of his famous flowers, but also landscapes, his impressive views of New York City and his first watercolors, always linked to his connection with nature.
"We want put the focus on your creative process, which always started outside the workshop. We vindicate her as a walking and traveling edge -said the curator, Marta Ruiz del Arbol-. She was an artist who needed movement to be able to create ".
The exhibition is in that sense a travel to all the places O'Keeffe visited throughout his life: Texas, Lake York, New York and of course New Mexico, the place where he settled for much of his life.
The success that accompanied her from the beginning and that turned her into a media figure was "a combination of factors", as explained by the commissioner. But of course she was linked to the photographer Alfred Stiglietz, who would first become her lover and patron, and finally her husband. In her first works – around 1916 – it was just Stiglietz, who used to photograph her naked, who promoted that Freudian interpretation that appreciated female genitalia in the sinuous forms that O'Keeffe painted.
Without wanting it, or wanting it, it is difficult to know, it became "symbol of the modern woman par excellence". "At first she doesn't reveal herself sharply with these readings, she was a newcomer artist, but as she consolidates as an artist, she wants to change that image and rejects it outright, because that reading was never at the origin of her works. ", Argues Ruiz del Arbol.
In the United States, O'Keeffe (1887-1986) is quite a media figure and today is still a benchmark for many female artists. She is considered 'the great American painter' and, of course, the most sought after to date. One of the paintings in the sample shows the record for the most expensive work sold at auction by a woman with 44 million dollars. In it you can see a delicate flower of Jimson weed, a poisonous species that only blooms at night, and a good example of how the artist used nature to talk about other issues such as death.
O'Keeffe's work is always linked to nature, but also "to the trip, to the walk and to walk", always the result of his curiosity and his desire to know, explains the curator. "When he arrives at the places where he is going to spend a season, he walks every day," he adds, and on those walks he collects stones, flowers, leaves and any object of nature that catches his attention and takes them to the studio to take pictures of them.
In the 1940s, she settled in New Mexico, a place to which she was drawn to the magnetism of its landscapes and his Hispanic heritage. "When I got to New Mexico I knew it was mine (…) it fit me exactly," he said on one occasion. From that stage there have been beautiful images of landscapes with vibrant tones and colors that can be seen in the exhibition. He learned to drive and transformed his car in a workshop to be able to travel even more distant territories where he also camped.
Many think that when he settles in New Mexico in the late 40s he will settle down, he is already over 60 years old, but it is also just when he travels the world the most. From then on, trips to Peru, Japan or Polynesia arrive. His first two trips, curiously, are to France and Spain (1953 and 1954).
In Madrid she is completely fascinated by the Prado and Goya's work. From her second trip to Spain, where she traveled attracted by Holy Week, she kept "millions of brochures" of the bullfighting fairs, in one of them you can see how the color of the bullfighters' costume points out.
O'Keeffe was very Jealous with her creative process, meticulous and determinedHe was very clear about what he was going to paint, even the measurements of the canvas. The exhibition shows some of the tools that he used, such as the color tone charts that he made to find the right tone for each of his works.
The opening of 'Georgia O'Keeeffe' has been difficult: it was scheduled for last year, but was postponed due to covid-19, the arrival of the works has been very complicated by the successive waves of the pandemic and with the museums of United States closed. The exhibition is "almost a miracle," said Evelio Acevedo, the museum's managing director.