Genealogy of Spanish corruption | Babelia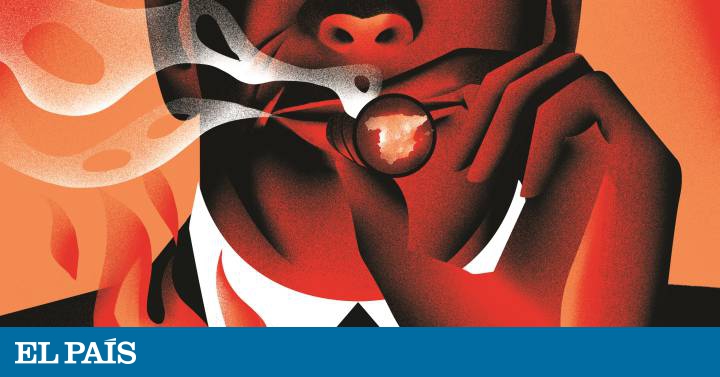 Corruption can also laugh. In Spain, public money has been tricked to adjudicate the monopoly of the extermination of rats, urns have been placed in pigsty or roofs to deter electoral participation, historic monasteries have been deconstructed and volatilized by William Randolph Hearst's heel and It has favored the installation of roulette roulette in casinos by a whole president of the Government of the Second Republic, Alejandro Lerroux. But the 775 pages (168 notes) of the new book of Paul Preston, A betrayed town (Debate), which goes on sale next Thursday 24, produce mostly an uneasy unease: corruption has corroded the backbone of the State for the last 140 years.
The rehearsal opens with the continued electoral fraud of the Restoration, with two parties – liberal and conservative – who took turns in power from which they distributed privileges and monopolies (the liberal Práxedes Mateo Sagasta sometimes slept in a hotel to avoid queues of job seekers who were trained before their home), and concludes with the black cards from Bankia, Bárcenas' papers, the scams of Iñaki Urdangarin, the ERE socialists in Andalusia or commissions paid to the Pujol family by awards from the Generalitat. A vigorous and well rooted family tree. As if corruption, no matter how much society has democratized, is capable of surviving any regime and almost any ideology. Although this does not have to feel different either. "I have tried to emphasize that it does not happen only in Spain, and not only in the usual suspicious countries like Italy or Greece. It also happens here, "says the historian during an interview held at his home in London. "There is a boom in corruption and it has to do with the way capitalism, the consumer society has developed. In this country, thanks to the conservatives there has been a contempt for the welfare state and all that are public services. Corruption here is more sophisticated than in Spain, but just as delectable, "he emphasizes.
Preston (Liverpool, 1946) has needed his five decades of Hispanicism and each of his historical essays to be able to reach this. "I don't get books like this, it builds on what I've done since I started in the late sixties and about the work of the last five or six years on corruption, which is very difficult because the corrupt, if not he's dumb, doesn't record what he has done. " The result is a solid history of Spain permeated with such dirt that the author himself was wishing to shake off his weight. "This book has been made in the shadow of Brexit. The depression caused by Brexit has infected the book, which in itself was not happy. I am very happy to have finished it. I don't want to know more about corruption. "
In this essay that includes from 1874, when the Bourbon restoration with Alfonso XII occurs, until 2014, when Philip VI rises to the throne after the abdication of his father, there are three main axes that often intersect: corruption, political incompetence and the social and territorial fracture. There are stages in which one of the elements is imposed on others, although they tend to go hand in hand: the dictatorships of Frank Y Rivera's cousin They are the periods where everything overlaps. Immoral enrichment is generalized, starting with the dictators. Franco camouflaged himself for years under false austerity despite the fact that he began to fatten his estate since the harsh days of the war. Between 1937 and 1940 he accumulated a personal fortune of 34 million pesetas of the time. "An important source of liquidity for Franco was his appropriation of theoretically organized subscriptions to cover the cost of the war effort of the rebels. In general, the contribution to these initiatives was mandatory. The income was normally kept secret, which facilitated the transfer of funds to one of Franco's bank accounts, "says the Hispanic in his book. As of 1940, the National Telephone Company of Spain rounded up its income with 10,000 pesetas per month and, as Ángel Viñas revealed in The other side of the leader (Critical), obtained seven and a half million pesetas for the sale in the black market of coffee donated to the Spanish people by the Brazilian dictator Getúlio Vargas. "The fortune he left at death amounted to the equivalent of more than 1,000 million euros in 2010," says Preston.
Around it, several generals were enriched with bribes, and his family with urban balls or import business monopolies, with a constant use of power by his brothers, Nicolás and Pilar; his wife, Carmen Polo (the terror of jewelers), and his son-in-law, Cristóbal Martínez Bordiú. A culture of corruption imitated by those around him, of the ministers (José Antonio Girón, 16 years in charge of Labor, was accused of embezzlement) to businessmen and bankers. An elite who lived trapped in the Berlanguian culture of hunting.
Miguel Primo de Rivera was a more sympathetic dictator (sorry for the oxymoron) than Franco, but just as corrupt. With one of the popular subscriptions that he organized, a farm was bought in Jerez de la Frontera, a method that General Queipo de Llano would also take advantage of in order to get a farmhouse in Camas (Seville) in August 1937. The Andalusian dictator was a forerunner in other fields: "There are notable similarities between Primo and Trump. The informal notes that the dictator published in the press, often written at dawn when it was taken, are like Trump's tweets, "compares Preston. "It is an absolutely trumpian moment when he writes a text about himself to emphasize that he was a great lover and insists that he leave in an official biography," he adds with a laugh.
There is a heartbeat in the book that is condensed in the 1921 Ortega y Gasset quote with which it starts: "Starting with the Monarchy and following the Church, no national power has thought more than itself." The contempt for the common good – to summarize in a contemporary concept, a necessity of always – has been a constant among the elites, whether political, business, military or ecclesiastical. The large-scale scams of Alfonso XIII contributed to expanding republicanism. "Now he is not thrown out as unconstitutional, but as a thief," Valle-Inclan wrote after the proclamation of the Republic on April 14, 1931. A period of "less toxic" corruption was then opened because many of the new leaders embraced the regeneration, but it did not disappear at all due to characters such as businessman Juan March or the radical Alejandro Lerroux.
March was in almost all the sauces of the 20th century. The great financial source of the 1936 coup had been lined up during World War I, with tobacco smuggling and food exports to countries at war. At that time he had in his portfolio of bribes the Minister of Finance, Santiago Alba (whose wife gave a bouquet with flowers and 10 bills of 1,000 pesetas of the twenties). His power continued to expand with Primo de Rivera and intensified with Franco. In the few years in which he faced politicians – he was imprisoned and investigated during the Second Republic – he continued to impose his criteria: Preston recalls that his prison days closely resembled a hotel stay and that he finally escaped. One of his great allies of this era was Lerroux, a fiery verb radical (he came to encourage the rape of nuns: "Young barbarians of today, go sack into the decadent and miserable civilization of this country without venturing, destroy their temples, put an end to their gods, lift the veil of the novices and raise them to the category of mothers to virilize the species ") and hungry pockets. Proof that corruption was everywhere is that intellectuals opposed to the 1923 regime, exiled in Paris, such as Blasco Ibáñez, Eduardo Ortega y Gasset and Miguel de Unamuno published a satirical magazine entitled Spain with honor, which threw 50,000 copies. Blasco Ibáñez also sold as donuts Alphonse XIII démasqué – in Spain clandestinely – where he was responsible for the Annual disaster and involved him in murky business.
Preston believes, like Machado, whom he quotes at the beginning of his essay, that in Spain "the best is the people" and that bad management has no ideological exclusivity. The socialist Francisco Largo Caballero was, in his opinion, the most incompetent politician in the recent history of Spain. "The worst thing I can say about Jeremy Corbyn is that he is the Long Knight of British politics," he says slyly.
The alliance between corruption and political incompetence, he writes, "has had a corrosive effect on political coexistence and social cohesion." In two centuries: four civil wars, more than 25 pronouncements, a few bloody revolutions limited in time and space (Catalonia, Asturias …), the definitive loss of the remains of an empire and the annual catastrophe. A bad digestion for the military, who for many decades dedicated themselves to fighting the inner enemy. "In large part thanks to the entry into NATO and the reforms of Narcís Serra, the Army and the security forces have changed a lot," praises Preston.
For once the Hispanicist has wanted to conclude a book and move away from it, also hurt by personal disappointments such as what happened during the last years of the reign of Juan Carlos I, to whom he dedicated a biography in 2002. "I still think that nobody takes away the role he played in the history of Spain. What happened to him in the last five years is a terrible pity that stains his image, but if one were making a psychological portrait he could find no justifications but many explanations of why he ended up like this in the pursuit of pleasure. He was robbed of childhood and adolescence, when he came to power he lived a very dangerous time as the firefighter of democracy, I think he thought: "Now it's my turn." But, against those who say that the Transition was a disaster, I think it was a small miracle in the context in which it was made. "
A betrayed town. Paul Preston Translation by Jordi Ainaud. On sale next October 24. Debate. 798 pages. 27.90 euros.
. (tagsToTranslate) genealogy (t) corruption (t) Spanish (t) Spanish (t) paul preston (t) tour (t) new (t) book (t) 140 (t) year (t) history (t) recent (t) time (t) have (t) be (t) mark (t) venality (t) incompetence (t) political (t) political (t) social (t) territorial (t) gap



Source link