Gemma Cuervo, Max Honor Award: "I hope to always be a worthy of this honor award"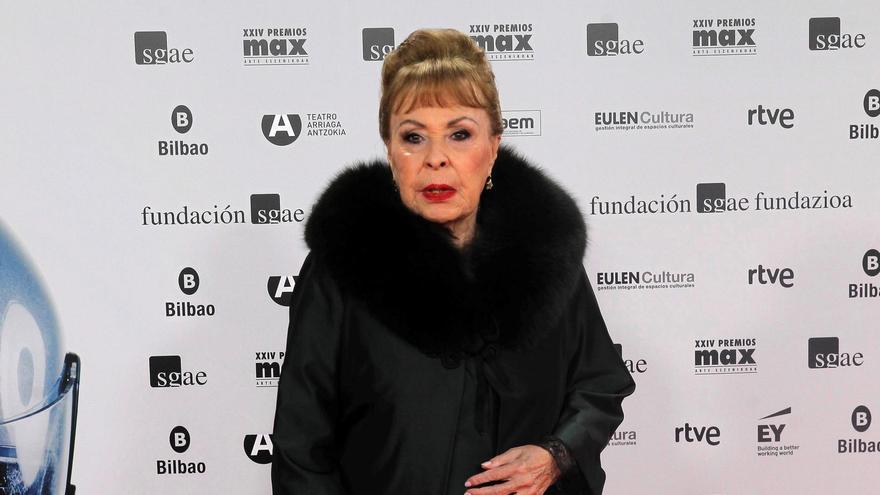 The actress Gemma Cuervo (Barcelona, ​​1936), who received this Monday the Max de Honor Award 2021 awarded in recognition of her vast career as an actress and businesswoman of theater, has stated when picking it up that hopes "to always be worthy of an award like this" and never incur in "wasting the honor" that is bestowed upon you.
The veteran actress was unanimously chosen by the organizing committee of the Max, which highlighted his "vast career as a performer" and "as a pioneering figure" of Spanish theater. She has also highlighted "her work as a Spanish theater entrepreneur and her commitment to the theatrical repertoire".
Gemma Cuervo was received by the audience of the Arriaga Theater, where the gala was held, standing up and with an ovation of more than a minute that made the veteran interpreter, who was accompanied on stage by her daughter Cayetana Guillén Cuervo, tears will come to his eyes and he will be excited.
His other daughter, Natalia, was also present in the stalls. His son Fernando could not travel to Bilbao to accompany them in the award ceremony.
Upon collecting the award, Gemma Cuervo confessed to feeling "very happy and full of love." "And also upset, of course, because receiving at my age a prize in the category of the Max of Honor, because it conditions a little," he admitted amid the laughter of the audience.
"It is a wonderful day and I am having an excellent time, crying, but with gratitude and joy, for finding a thread of goodness"added.
Almost speechless, the actress said she felt an illusion for "as you cannot imagine or express". " "But you understand me perfectly," he added.
Gemma Cuervo incorporates the 2021 Max Honor Award to the long list of recognitions received throughout her career, among which the National Theater Award (1965) and the Silver Medal of the Community of Madrid (2018) stand out.
Actress of theater, cinema, radio and television and recognized image of the mythical drama program of Spanish Television "Estudio 1", Gemma Cuervo has also stood out in the business side, founding together with her then husband, Fernando Guillén Cuervo, her own theater company in 1969.