Gayle's big jump (8,69m) freezes Echevarría | sports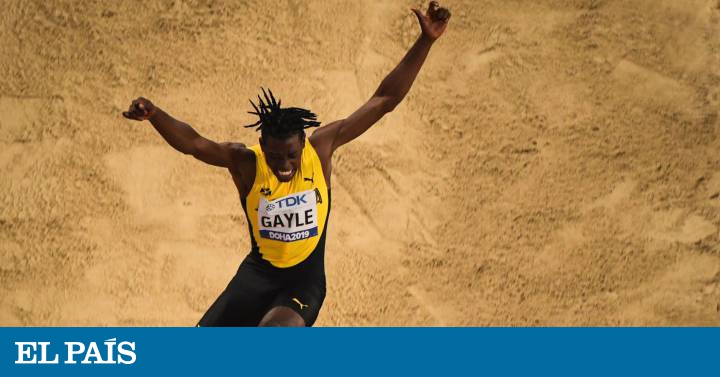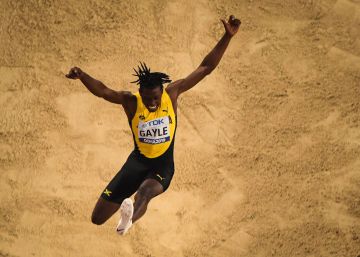 Bolt finish, of the 100m male Jamaica disappears, but not from athletics, so vital is the Caribbean island. About Khalifa Stadium, so pleasant with its air conditioning, Echevarría was expected to fly, the Caribbean of Cuba, the fruit of all the pampering and adulations of the world, but an unexpected Jamaican flew over the sand pit, a boy with elegant dreadlocks, long, very fine , very fast and very launched called Tajay Gayle, who froze the Cuban, bronze, and left fans speechless with a jump of 8.69 meters, a distance rarely seen in a World Cup.
The silver went to the Olympic champion in force, the American Jeff Henderson (8.39m) and the bronze to the Cuban to whom fate has promised to be the first jumper who will reach beyond nine meters (8.34m). Seventh, with 8.01m of his first attempt, was the Spaniard Eusebio Cáceres. At the edge of the medals, the South African Luvo Manyonga (8.28m), world champion in London and dominator of the discipline remained until Echevarría arrived with his exhibitions.
Only four times in the history of the Games and World Cups the 8.69m of an athlete who arrived in Doha with a better mark of 8.37m (the seventh of the participants) and who had passed the qualification last, with some scarce 7,89m, they would not have been enough to win the gold. Once it was in 1968, Beamon's 8.90 in Mexico; the second, in Seoul 88, where Lewis jumped 8.72m; the third, in 1991, the 8.95m of Mike Powell in Tokyo; the fourth, in 1995, when Iván Pedroso won his first World Cup with 8,70m.
And Pedroso is the patron in which Echevarría looks. But Echevarría is not Pedroso, remember those who saw him compete and shrink from the first jump. When Daniel Osorio, his coach for two years, says that the best thing about Echevarría, apart from his portentous physical and technical qualities, is his controlled hyperactivity - and a champion has to be hyperactive, adds Osorio, who takes out a Cuban saying to explain it : a madman is held before a fool - he was not referring to the control, almost fear, that attacked his pupil when in the first jump, the Jamaican arrived from nowhere jumped 8.46m, a level mark. And Echevarría could only respond with 8.25m and looks of doubt. Established the hierarchy, Gayle, who only made two valid jumps throughout the afternoon, went to 8.69m on his fourth attempt. And there Echevarría is over.
Those with athletic memory then thought that Pedroso, in that situation, would have crushed the insolent in his fifth jump, as he did with Yago Lamela 20 years ago. Potentialities, as Osorio says, are left over: his stay in the air is incredible, close to the second; Take a board at 36 kilometers per hour and lose very little speed in vertical transfer. He owns everything.
But to Iván Pedroso, the hyperactivity confessed - "it was a mess," recalls the now coach of Yulimar Rojas and Ana Peleteiro, "he was jumping all day at home and putting everyone in a bad mood" - he was taken care of and cured by his grandmother , to Echevarría (best brand, 8.68m) the responsibility and the weight of millions of eyes were stopped too much.
Gayle does not know much in the athletic world, except that it is from Kingston, like Bolt, from the suburbs, and that he is trained by Stephen Francis, who was not Bolt's coach but that of his great youth rival, Asafa Powell. He arrived this summer in the Diamond League and began to jump safely and regularly. And to win.
You can follow EL PAÍS Sports in Facebook, Twitter or subscribe here to the Newsletter.